Public Relations is all about effective communication which can serve as a boon for startups if done correctly. Startups today face many challenges when it comes to the right connects and getting recognized. It's time to stop shying away and let the world know how awesome your startup idea is and thus thrive.
Some communications hacks that can be useful for your startup:
Connect to Domain Specific Journalists
Today there are many journalists and reporters who are startup focused and cover stories across a wide sector in the startup world. It is a good idea to approach those journalists who writes sector specific stories. Some may prefer writing on IoT, while the others may be more inclined towards Analytics, Robotics etc.
Recognize these journalists' early by following them on social media and try to understand their interests. One should take the time to read and go through their work which would give a lucid idea whether or not they would be interested in your story.
Tip – LinkedIn is a great place to track them and so is Twitter, get connected !
Free PR
In the startup world we're all hustling, aren't we? Networking, word of mouth, social media, blogs, videos etc. can be an effective way of promoting one's startup. One can go ahead and publish their story in places like twitter, guest blogs and tag relevant people who would take interest in the same. Play it smart, you never know when a well know media would consider your story.
Tip – It's great to have a free press coverage but the good news is one can still get their stories covered the advertorial way.
Long Term Vs Short Term PR
Getting covered a few times won't coagulate to your success. In the grand scheme of things, it a good idea to aim for a consistent coverage which will only boost the brand image of one's company. Journalists look for good content and stories, if the story is good it will get covered, that goes without saying.
Tip – Make friends and not just contacts. Having friends in the media could work wonders. Even if the story is not within his or her bandwidth of getting it covered, he or she might refer the story to someone who would just be interested in the same.
Avoid Using Clichés While Pitching to The Media
In the words of Curtis Sparrer, "Write about your company the way your reporters would most likely cover it. Reporters vet pitches by the quality of the first line to determine whether they should read further." Choose your words carefully, it is always advisable to have proof reading done before sending out a story or press release to the media.
Certain words like game changing, disruptive etc. are something most startups tend to overuse these days and journalists don't really appreciate that. It is always a good idea to kill your darlings, keep it simple, add real numbers and validate your point. End of the day, it's your startup and it's your story, even the most efficient PR agency can't make the magic happen the way you would. Strikes a chord?
(Disclaimer: This is a guest post submitted on Techstory by the mentioned authors.All the contents and images in the article have been provided to Techstory by the authors of the article. Techstory is not responsible or liable for any content in this article.)
Image Source: squarespace.com
About The Author: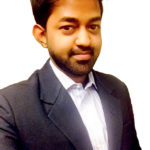 Sayantan Dasgupta, Manager – Corporate Communications, Jaarvis Accelerator.
Sayantan holds a PG in Corporate Communications, MBA in Marketing Management, PG in Media & Entertainment and a Executive Diploma in International Business from Oxford Business College UK.
Comments
comments