"Every failure is a valuable lesson, which if understood correctly and lessons applied moving forward, constantly increases your likelihood of tremendous success. Also, rarely will a single success or failure result in the game being over, it's typically how you get up and get going which will be a more determinate factor."
So says Rahul Mewawalla, the serial entrepreneur who has been making waves in the international circuit. Techstory recently had the pleasure of interviewing Rahul, the CEO and President of Everfave.
Rahul is the former head of the U.S.'s technology program in SF with the White House, and previously ran one of the world's largest and fastest-growing mobile services networks. He has also held global leadership roles with global Fortune 500 companies.
He was named "Top 40" in San Francisco, and has received numerous awards for product, technology, and innovation, and is a regular speaker at institutions such as Harvard, Stanford, MIT, Yale, University of California and also serves on a number of corporate and philanthropic boards. Here are excerpts from his interview with Techstory.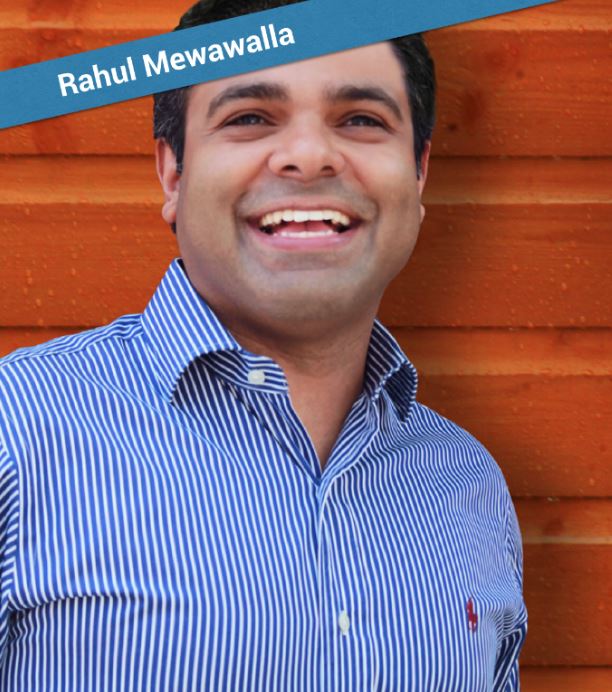 Techstory: You have had a very successful career starting your companies and turning them into successful ventures. Tell us how it all started.
Rahul: I loved math and science, and early on, fundamentally believed that technology and innovation can make everything faster, better, and more efficient. I used to constantly code and build products to see what was possible with new technologies.
Over time, I grew from being a technologist who would build just because, to trying to deeply understand the needs and pain points of people and markets, and then use technology as a solution to drive innovation across the board (e.g. product, business and delivery model, go-to-market and growth) and build successful businesses.
Techstory: How is the Rahul today different from the Rahul who started a company for a first time? What are some of the things that you would do differently if you had to do things all over again?
Rahul: One of the most important lessons I have learnt is to focus on the things that matter the most. The first and foremost is customer delight. Whether you're in the consumer or enterprise market, your singular focus should be delighting your customers. If you delight your customers, all else follows – your growth will ramp up and your revenue and profitability will grow.
I'd also say that striving for employee delight goes hand-in-hand with delivering customer delight. You have to build a delighted and passionate team culture for your team to go above and beyond everyday to delight your customers. Secondly, you have to constantly anticipate change. Just as you disrupted an industry or market, someone else can come and disrupt you.
You can never be complacent, you have to constantly improve and become better, and keep looking around the corner. You have to drive innovation everyday and remain agile even when your company scales to billions of dollars and tens of thousands of employees.
Related Read: Jayant Sood, Snapdeal's Chief Customer Experience Officer On How To Maintain Positive Customer Experience !
Techstory: You have started multiple ventures till date and run them all very successfully. What according to you are the few things that entrepreneurs should look at before starting a business? What are the few check points that you look at before setting up your venture?
Rahul: Having an incredible team around you is a foundation for success. You have to build a team that represents the smartest people who bring both tremendous intellectual horsepower and tireless dedication to having the company be the best it can be. I'd suggest having a smaller group of exceptional talent rather than a large group of average talent.
Also as you grow the team, recruit for the long-term – bring in people who can take on a range of opportunities and challenges and can hit the ground running. Especially in a high-growth environment, roles and responsibilities will keep evolving and it's great to have a team that can grow accordingly.
Also, deeply understand your customer's need and preferences. Sometimes they will express their needs and in other cases, you have to derive it from their actions. The more you understand your customer, the better your products and platforms will be.
Techstory: You work very closely with the startup space. What are some of the trends that you are observing at this point. What are some of the good and bad things about the current trends?
Rahul: We're in a tremendously exciting time. It is now easier, faster, and cheaper to build an innovative product or platform than ever before. What took months before, can now be developed and rolled out in weeks and in many cases, in days.
As we think about all of the emerging technologies and trends like mobile, real-time analytics, bots, enhanced offline and online integration, artificial intelligence, next-gen big data, autonomous vehicles etc., the next several years should be very exciting for consumers and companies.
On the cautionary side, I would say that building a venture that contributes meaningful and sustainable value is a marathon and not a sprint and I'd suggest taking a long-term approach as you lead your company and not be overly concerned with short-term peaks and troughs in the environment.
Techstory: Inspite of all the support, we are still seeing a very high startup failure rate. According to you what needs to change to reduce this failure rate?
Rahul: If you're a builder or an innovator, you have to make "failure" part of your toolkit. When it comes to product or market innovation, you can make smart and calculated bets knowing that all of them don't need to succeed for you to still win.
You have to constantly be willing to try new things, push the envelope, to drive true innovation and outsized success. Every "failure" is a valuable lesson, which if understood correctly and lessons applied moving forward, constantly increases your likelihood of tremendous success.
Also, rarely will a single success or failure result in the game being over, it's typically how you get up and get going which will be a more determinate factor.
Related Read: Going Beyond Fear – In Conversation With Mahesh Murthy On Entrepreneurial Education !
Techstory: You've worked across high growth ventures and major global corporations, how does that experience differ?
Rahul: Each has its own lessons. In a high growth venture, agility, innovation and rapid development cycles are your strengths, and lack of resources and bandwidth are your challenges. In a major corporation, brand, scale and resources are your strength and the lack of agility and adaptability are your challenges.
The best leaders I know bring together the best of both worlds. For e.g. Amazon and Tesla are public companies yet strive to be as innovative as a startup even today, and on the other hand, high growth private companies like Uber and AirBnB are building brand and scale better than many public companies today.
Techstory: What's next for Rahul. Where would you like to go from here?
Rahul: My goal has always been to have a meaningful and sustainable impact, work with a great team, and have some fun along the journey. It's been a terrific ride, and I am extremely thankful and grateful. However, our best days are ahead of us.
Techstory: Any advice to all the other innovators, entrepreneurs and CEOs?
Rahul: I recently read Phil Knight's (founder of Nike) book and I love the "Always Believe" tagline. It's actually great advice for all innovators, entrepreneurs and CEOs – "Always Believe" – every success has had a leader and team who chased the dream – whether it's Thomas Edison (GE) Sam Walton (Walmart,) Henry Ford (Ford Company) or Jeff Bezos (Amazon), Steve Jobs (Apple), Elon Musk (SpaceX and Tesla), you and your team have to persevere and be determined, strive to convert your dreams into reality, and simply don't give up until you accomplish and exceed your goals.
Also Read: Bhavin Turakhia Shares His Secrets To Successful Business Ventures !