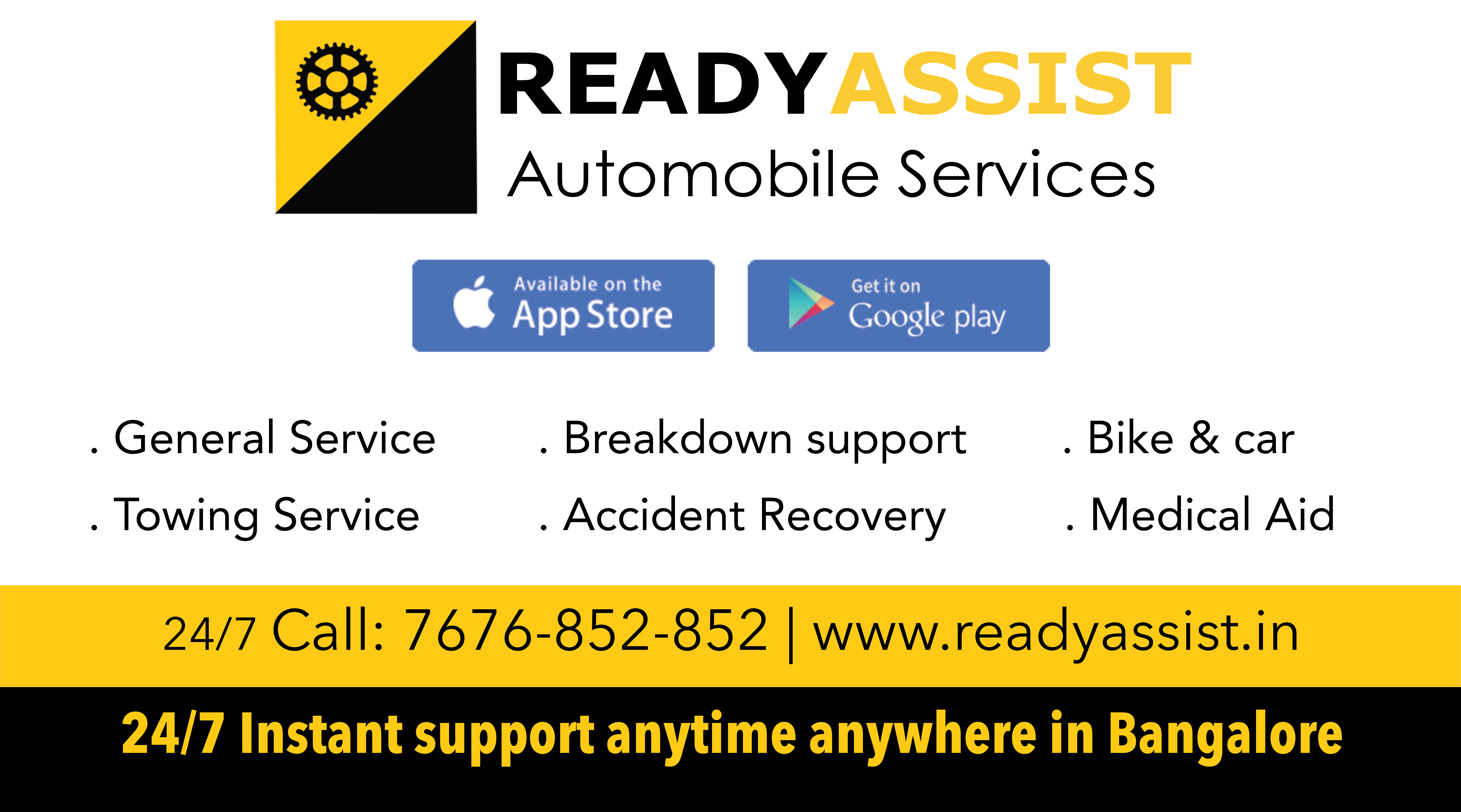 ReadyAssist Automobiles Services is an  AutoTech startup providing on-demand & subscription based breakdown support, towing & regular services.
With the rising vehicle population, declining skilled mechanics, being a real cosmopolitan city, today it is a real need to find a reliable, safe, multi-language and transparent service provider in the city to ensure 24/7 breakdown support anytime anywhere in Bangalore. Team ReadyAssist, understand this problem well and they have mastered at every art in Automobile care with a network of more than 650 service partners capable of providing a breakdown support within 30mins at anytime of a day within Bangalore.
Even I was curious while researching them, to know about the fact that they can reach within 30mins. Today the situation in Bangalore has come to an extend that a pizza could not be delivered with in 30mins. But it is their tight network and a robust intuitive technology that enables ReadyAssist to make this a reality. Sometimes it even makes us to think, what is so serious about getting a breakdown support in 30mins! I have a question to answer this.
Imagine a situation where a couple gets stranded at the midnight in the middle of a road due to a vehicle breakdown. At this point, the male can neither leave the partner to take care of the vehicle nor could he take her along in unknown areas in search of a mechanic. Maybe the only better choice is to leave the vehicle there and find a cab or auto-rickshaw to reach home. But now the question is how safe is your vehicle? What if your home is at the other end of the city? Are you going to spend the whole next day to get a mechanic to assist you? Many of us might face similar situations and it is times like these that makes us think that it would've been wonderful if we had an assistance readily available to handle the problem. This is why ReadyAssist was born.
Early Days of ReadyAssist
For Vimal the birth of ReadyAssist was a result of emotional attachments and market opportunity. His interest towards Automobiles, the excitement in serving customers, the challenge in trying something considered to be impossible, the need for immediate support, the death of a friend, the urge to succeed and the fire from failures had played key factors behind Vimal's brain to shape what ReadyAssist is today.
But the earlier days of ReadyAssist doesn't sound this soothing. Same like many other start-up scenarios, Vimal also had enough challenges on his way. During the initial days of its inception, it was just him and Nivin to start with a dream that they never imagined could be so big today. Nivin left his job and joined Vimal to build a 24/7 service partner network for ReadyAssist. Today with a strength of 650+ service partners from the nooks and corners of Bangalore, ReadyAssist is one of the largest online automobile  service provider in the city.
It was Kritartha's strong technical skills that helped them building a robust system which proves to be one of the prerequisite of an automated platform. They were later joined by Deepu Gowda who brought his experience of over 8 years in the industry along with him. Together as a team of 4 co-founders, they had done enough research and service trials, wherein they experimented the service for around 8 months before opening it to the customers.
Currently they are a 12 member team including an industrial psychologist helping them to understand and serve the customers better. ReadyAssist is planning to strengthen its manpower in couple of months in the area of Technology, Service Quality Audit, Service Partnership and Marketing.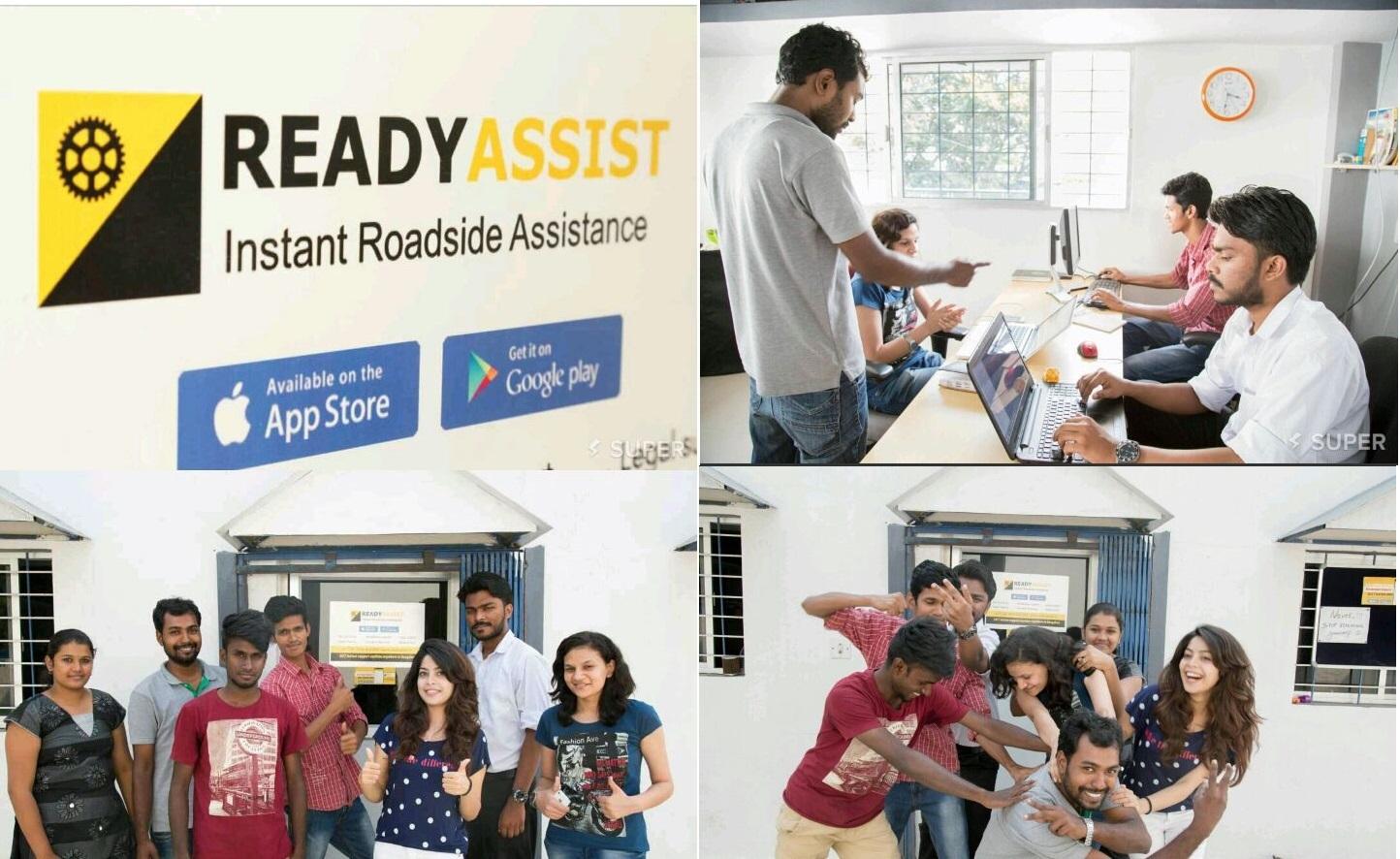 Automobile Service Industry
The automobile population in Bangalore is seeing a never witnessed growth from the past few years having around 2000 vehicles registered in a day. Given the number of automobiles that are being delivered on a daily basis, Bangalore alone is a market of over 4000 crores for the automobile service industry with an YoY growth of 10-15%.
[box type="shadow" align="aligncenter" class="" width=""]Also Read:
Make in India, Digital India, Smart Cities and Skill India To Result In Strong Hiring Activity[/box]
Service providers prove to be the backbone of any industry and this condition is no different for automobile industry too. ReadyAssist with its deepest network of service providers, unmatched quality guidelines and transparency is setting up a trend and proving to be one of the best and preferred player in this sector. In fact looking at the market scenario, where 50-60% are not being serviced in the authorised centres, ReadyAssist is aiming to be the authorised brand in this space with their cluster of experienced mechanics who can handle any hiccups in this sector.
Instant support anytime anywhere in Bangalore
ReadyAssist is known for their instant breakdown support in less than 30 minutes (average reach time of 23 minutes) anytime anywhere in Bangalore.  Their services includes Breakdown support, towing, custody service, general service, wash and polish for both Bikes & cars. All the services can be availed either on-demand basis or through a subscription. There are multiple channels by which a customer can reach ReadyAssist, including 24/7 hotline, web chat, e-mail and the mobile apps. The pricing is transparent and the customers are kept aware on very bit of work in advance before starting the work. They accept both cash & online payments, however they have an agenda to move more into the online payments.
Not just the automobile services, but ReadyAssist also host one of the most essential service in the city; the Free Emergency medical support. Yes, you heard it right. ReadyAssist is in its mission to provide a free emergency medical support during accidents for its subscribed customers. The mission is to reduce the deaths due to accidents. Today the most challenging part is to make an accident victim reach hospital ontime, let his/her care takers or parents know about the situation and proceed to next level treatments and not just the first aid. ReadyAssist has made provision in their app for customers to provide their emergency contact details and medi-claim details which can be used in such critical situations. The Emergency medical support can be activated by anyone by just calling the 24/7 hotline number and providing the vehicle registration number to report an incident.
Helping the Community
It is very clear for ReadyAssist that they will always remain an asset less company owning no mechanics or any service providers under their direct payroll. This is to ensure that they cross leverage the existing skills available in the market and help improving the life and life style of the existing mechanic community than building their own. In their efforts to make everyone understand the vision of the company, they have been mentoring and grooming the mechanics to focus more on providing better experience to the customers to achieve the long term vision than looking at short term benefits.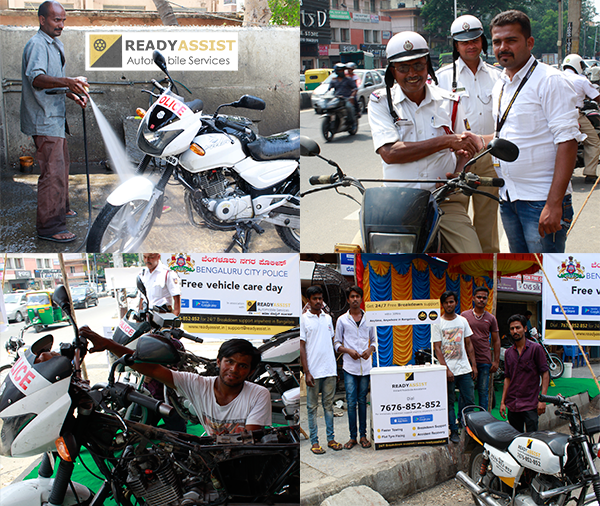 This approach of ReadyAssist has brought in life to many such service providers, including few opening their own garages, making money to pay for vehicle EMIs which were about to be sold otherwise, expanding the business and creating many more job opportunities.
They are also in a mission to help reduce the accident death ratios with immediate medical support, improve the life and life style of mechanics with high volume work, help customers with transparent and reliable service, reduce the carbon foot print with periodic emission tests & suggestions and support Bangalore City police in many dimensions.
As their first little step towards helping the nation run smokeless and fearless. A free vehicle care day for Bengaluru City Traffic police was conducted in Adugodi Traffic Police station on 10-May-2016 saw a great success with 20+ 2 wheelers and a 4 wheeler serviced on the spot. They have planned to continue this on a monthly basis as a free vehicle care day for Bangalore city police.
ReadyAssist Journey so far
The company was officially registered in December 2015 and their services were open to customers from Jan 2016 . They received their first support request on the very same day, which motivated the team to keep serving and by the end of their first month, they had attended more than 100 breakdown supports. Since then it had been an exponential growth for ReadyAssist with a MoM growth of more than 350%. Given the experience and work quality of the service, the customers started approaching the very same mechanics for regular services too through the platform.
"Business should attract customers and the focus of investments should be to improve the quality"
Growth has been very fast and the objective too is very clear for ReadyAssist. The company is completely bootstrapped and has been a positive cash flow company from day one of its inception. However currently they are in discussion with few of the premier angel investors & VC firms in identifying the right fitment to tap in investments which can make their success story an ever winning story.
[box type="shadow" align="aligncenter" class="" width=""]Similar Read:
ProHandz – How A Mumbai-Based Startup Is Aiming To Change The Home Services Online Marketplace In India ![/box]
Speaking to the team made me realize that the future of ReadyAssist is going to be more aggressive and super ease for the customers through their improved technology and by on boarding few of the best talents.
Today with the strong service partner network and the capability to render any breakdown support with in 30mins, ReadyAssist has evolved as a preferred Roadside Assistance partner for few of the leading insurance firms, corporates and hyper local service providers. They also have exclusive partnership with few of the growing hyper-local service providers.
ReadyAssist is looking at expanding their services to Chennai and Mysore by the end of July. If everything goes according to their plan, then we might see them in Mumbai, Hyderabad and Pune too by the end of the year.
Comments
comments