After investing in new artificial intelligence startups, LinkedIn co-founder Reid Hoffman stated in an open article that he is stepping down from the board of OpenAI to prevent conflicts of interest.
Hoffman, who has backed and counselled the venture from its establishment in 2015, said that his venture capital firm, Greylock, finances firms like presentation maker Tome, which buys tools from OpenAI, the company behind chatbot sensation ChatGPT. Hoffman is a co-founder of Inflection AI, one of the most well-known firms developing technology comparable to that of OpenAI.
"By stepping off the board, I can proactively put to rest any downstream potential issues for both OpenAI and all Greylock portfolio companies I've backed," he said, noting OpenAI has avoided conflicts to date.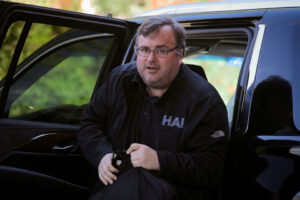 Hoffman's departure shows the strong competition among a growing number of businesses looking to use AI to revolutionize both content creation and whole sectors.
Hoffman said that he remained OpenAI's "ally" and wants to use technology to "elevate humanity," including possible cross-industry collaborations.
In a post in reply to Hoffman, Sam Altman, the CEO of OpenAI, expressed his enthusiasm for "much more collaboration in the future."
Hoffman continues to serve on the board of Microsoft Corp. (MSFT.O), which is a significant shareholder and collaborator with OpenAI.
OpenAI:
An American artificial intelligence (AI) research centre called OpenAI is composed of the commercial OpenAI Limited Partnership and the nonprofit OpenAI Incorporated (OpenAI Inc.)
The true objective of OpenAI's AI research is to advance and create a compassionate AI. The fifth-most advanced supercomputer in the global powers OpenAI platforms.
Sam Altman, Reid Hoffman, Jessica Livingston, Elon Musk, Ilya Sutskever, Peter Thiel, and others formed the nonprofit in San Francisco in 2015, pledging a total of $1 billion in donations.
Musk left the board in 2018, but he continued to give money. Microsoft invested $1 billion in OpenAI LP in 2019 and a second multi-year investment, estimated to reach $10 billion, in January 2023.
Reid Hoffman:
Reid Garrett Hoffman, an American internet entrepreneur, venture capitalist, podcaster, and writer, was born on August 5, 1967. Hoffman served as the executive chairman and co-founder of LinkedIn, a social media site geared towards businesses and mostly intended for professional networking.
He co-founded Inflection AI and is presently a partner at the startup capital firm Greylock Partners. Hoffman, who has a net worth of US $1.97 billion, was included at No. 1580 on the Forbes 2021 list of the world's billionaires.