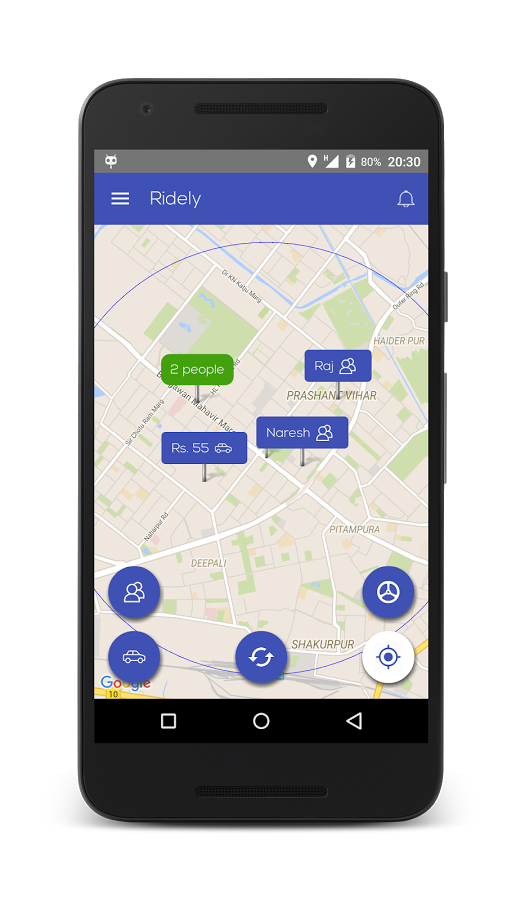 The idea of carpooling is as simple as ABC.  When three people are travelling towards the same destination for work everyday in their own respective cars, why should not they travel together in a car? They switch cars and drivers daily, by doing so they save fuel, feel less tired and make have little fun.
Ridely is one such ride sharing tech startup with focus on real-time carpools.  It is a user discovery and peer to peer ride sharing platform. It helps people find others who are heading in the same direction. They can pool their private cars, cabs or even auto rickshaws together. Incepted in January 2016, Ridely  launched the first public beta of the product (Android Application).
Download the app here !
Inspiration
During the first year of employment at Jabong Gurgaon, Ankur, Varun and Rachit had faced problems in commuting to office. They couldn't find a direct way and a reliable service to reach Office, Rachit used metro but it was too uncomfortable during office hours and Varun drove around 80 km daily alone. Individually they tried many solutions but none worked and none was economical. Then they started carpooling together and realized all the gaps that existed in the system. This is when the idea of Ridely took shape to offer a safe, economical and comfortable solution.
[box type="shadow" align="aligncenter" class="" width=""]Similar Read:
Cabamigo – Creating A Cab Ride Sharing Ecosystem In The Indian Market ![/box]
It has been five months since the launch of Ridely's Android Application. It was during the first phase of Odd-Even in Delhi when Ridely started and  are bootstrapping right now. Ridely is a part of Microsoft BizSpark Program and Facebook's FBStart. Ridely has also got recently selected for IBM's Entrepreneurship Program. The team includes the three technical founders as of now. Ridely has its presence in Delhi-NCR, Hyderabad, Pune, Bangalore, Mumbai. The app is free and available for download all across India
Founders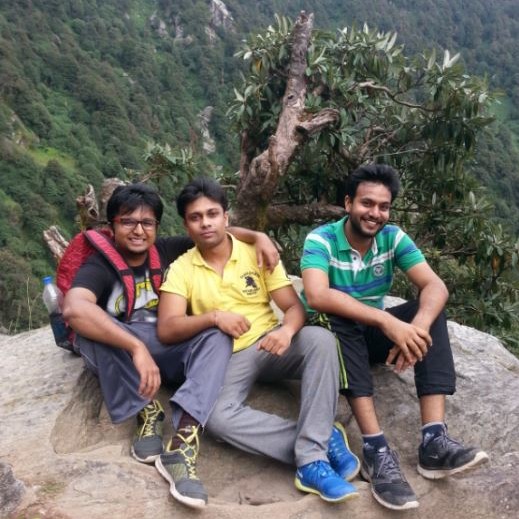 Varun Verma — (CEO & Chief Architect)  
Varun Verma built Techbits when he was 19. He developed and designed the architecture of Mobikwik Wallet from scratch and was part of core development team at Mobikwik. He also helped in scaling Jabong and built CMS and its Image Delivery Platform. He is a startup enthusiast, passionate architect and product guy. He holds a B-Tech degree in ECE from MAIT GGSIPU.
Rachit Gupta — CTO 
Rachit Gupta worked with LibreOffice during Google Summer of Code and built Jabong's easily scalable catalog system from scratch. He is always ready to benchmark and try new technologies. He loves full stack development and holds a B-Tech degree in CSE from BVCOE GGSIPU.
Ankur Gaur — CPO (product)
Ankur Gaur is passionate about building products and can pick any technology quickly. He has worked on full stack development of many crucial products at Jabong as Software Engineer. He likes to work on Product Usability(UI & UX) along with Day to Day Operations to ensure the customers love the experience. He has built Ridely's android app by himself. He holds a B-Tech degree in CSE from BVCOE GGSIPU.
Scope and Market Scenario
For carpooling global market size estimation by Price Water House Coopers(PwC) is $15 billion in 2015 and is estimated to reach $26 billion market by 2017 and $335 billion by 2025.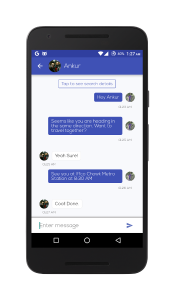 In India, Ridely aims to target the estimated 5 million car owners of 6 major cities to pool their rides to office and home with estimated savings of more than $300 million. Ridely also targets estimated 8 million rideshare seekers which may benefit from ride sharing in forms of both Car and Auto/Cab pools.
A office/college goer drives about 60–100 kilometer per day, or 2000 kilometers in a month. By using RIDELY, he can reasonably save at least 50% of his driving, or 1000 kilometers in a month, which translates to over Rs. 4000 per month or about Rs. 50,000 per annum in terms of savings in fuel and maintenance costs.
Competitors and Product Differentiation
 Carpooling is a familiar concept in India. There has been a presence of many carpooling websites that go as far back as 2008 and the trends have changed since Bla Bla Car and Tripda launched in India in 2015. Some local players like Orahi, Ibibo Ryde etc. have emerged and are also functioning in the carpooling domain. Uber and Ola introduced their cab pooling services in India in November-December 2015. Schemes like Odd-Even have driven people more towards carpooling.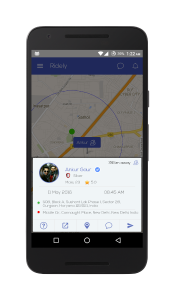 Ridely's USP is the user discovery feature that allows users to find others looking for rides to similar destinations, connect, chat, and plan their travel together.With a refined UX and an advanced route matching algorithm, Ridely provides some features like mid-way pickups along the route, map based interface to locate rides and people easily. The multi-level verification keeps the trust in the system in check. User can verify with Official email, Government Id etc. which earns them a badge. Other users can check these badges before travelling together.
Future Plans
Ridely wants to be the one stop solution for daily commute problems of people. It is looking to introduce a Wallet soon to make the process of sharing ride even more hassle free. Ridely is also looking forward to raise funds from investors sooner.
[box type="shadow" align="aligncenter" class="" width=""]Similar Read:
Comments
comments