A couple of weeks earlier, it was known that the Royal Caribbean Group applied for a license to use Starlink internet dishes on its ships. A letter was written to the FCC asking license to operate the internet dishes. Earlier this week, Royal Caribbean announced that its ship 'Freedom of the Seas' now has Starlink dish antennas outfitted onboard.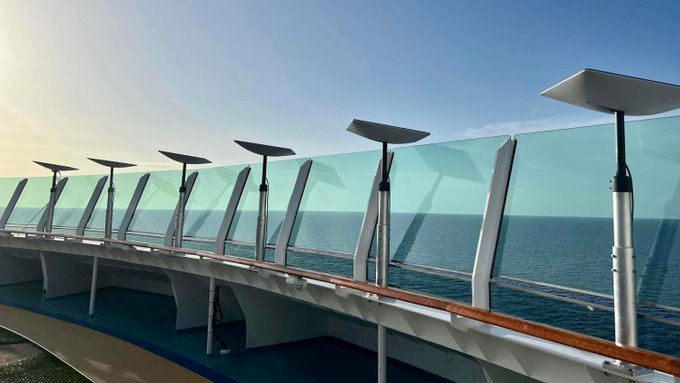 SpaceX did not have approval from the FCC earlier to operate on moving vehicles, including airplanes, trains, sea-going vessels, trucks, and RVs. Early June, Driveteslacanada.ca stated that the ship was installed with the dishes already ahead of the approvals. There is no information on the approval officially. However, in the Royal Caribbean blog, there is a post stating a user experiencing the Starlink satellite internet service. It was stated that the service is being tested quietly for now. It appears that the passengers on board can currently try the service as it is active. In a way, it is being offered on the cruise.
The experience was noted in comparison to other internet services. Both packages were easily showing videos without any buffer. However, when they were on a zoom call, the difference was seen. Many other such details were included.
Satellite internet
The customer who tested the Starlink network aboard the cruise ship said that when they accessed the internet -"It was instantly clear that this internet service was above and beyond what Voom typically offered."
"The next morning we docked in Perfect Day at CocoCay, Royal's private island in the Bahamas. We were excited to test the speeds while on the island, which includes wifi access if you purchased a package on the ship," they shared, "To our surprise, the [Starlink] service remained strong even on the south side of the island, with Surf showing download speeds of 19.93 Mbps and upload speeds of 8.19 Mbps, while Surf & Stream showed download speeds of 52.50 Mbps and upload speeds of 10.10 Mbps."
In the letter to FCC, it was stated, "We believe our work with SpaceX, the first of its kind in the cruise industry will set the standard for other cruise operators and will mean a leap in terms of guest experience and business operations while at sea. […] For this reason, we are eager to advocate for new market entrants to drive a marketplace innovation step change."
This is a change not only for cruise ships but also for SpaceX who has been wanting to test the services on moving vehicles. As the services seem to work fine, more applications could be used in the coming months.