Saga Communications Inc. reported its third-quarter earnings for the quarter ended on September 20, 2021. Saga communications listed of symbol "SGA".
The company reported total revenue of $28 million in this quarter, which was $24 million in the last same quarter. The station operating expenses is $21 million, increased by $2.1 million from last prior quarter which was around $19 million.
Station operating income is $8.5 million for this quarter compared to last prior quarter which was around $6 million. The Operating income is $4.6 million which was just $247 thousand in the last same quarter. Therefore, the net income soars up to $3.4 million and converts into profit, which was showing as a loss of $950 thousand in the last third quarter of 2020.
However, it jumps in earning per share from negative 16 cents per share to 58 cents per share for this quarter.
The Company paid a quarterly dividend of $0.16 per share on October 22, 2021.  The aggregate amount of the quarterly dividend was approximately $960 thousand.  The Company has now paid over $73 million in dividends to shareholders since the first special dividend was paid in 2012.
By the third quarter, the company has cash of nearly $62 million and around $50 million of cash by November 1, 2021. Also, the company has cleared its long-term debt of $10,000 in this quarter. The company uses its cash flow for its capital expenditures which was around $500 thousand last quarter compared to this quarter which is around $3.9 million more than triple.
About The Company
Saga Communications is a broadcasting company that owns and operates radio stations. Their business is too devoted to acquiring, developing, and operating radio stations. Saga currently operates and owns broadcast properties in 27 markets, including 79 FM and 35 AM radio stations.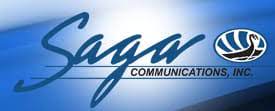 Saga's strategy is to operate top billing radio stations in mid-sized markets, defined as markets ranked (by market revenues) from 20 to 200. Saga's radio stations employ a myriad of programming formats, including Active Rock, Adult Album Alternative, Adult Contemporary, Country, Classic Country, Classic Hits, Classic Rock, Contemporary Hits Radio, News/Talk, Oldies, and Urban Contemporary.
The saga began operations in 1986 and became a publicly-traded company in December 1992. The stock trades on NASDAQ under the ticker symbol "SG
Financials
Saga Communications, Inc.

Selected Consolidated Financial Data

For the Three and Nine Months Ended

September 30, 2021, and 2020

(amounts in thousands except per share data)

(Unaudited)

Three Months Ended

Nine Months Ended

September 30, 

September 30, 

2021

2020

2021

2020

Operating Results

Net operating revenue

$28,845

$24,143

$79,192

$67,060

Station operating expenses

$21,690

$19,616

$61,630

$60,467

Corporate general and administrative

2,538

2,838

7,470

8,923

Other operating expenses (income), net

(2)

50

(25)

(1,234)

Impairment of broadcast licenses

—

1,392

—

5,149

Operating income (loss)

4,619

247

10,117

(6,245)

Interest expense

73

75

218

265

Interest income

(4)

(8)

(14)

(141)

Other income, net

(279)

—

(582)

(213)

Income (loss) before income tax expense (benefit)

4,829

180

10,495

(6,156)

Income tax expense (benefit)

1,375

1,130

3,030

(1,975)

Net income (loss)

$3,454

$(950)

$7,465

$(4,181)

Earnings (loss) per share:

Basic

$0.58

$(0.16)

$1.25

$(0.70)

Diluted

$0.58

$(0.16)

$1.25

$(0.70)

Weighted average common shares

5,917

5,869

5,916

5,867

Weighted average common and common equivalent shares

5,917

5,869

5,916

5,867
Comments
comments