Salesforce Inc. (CRM.N) disclosed on Wednesday that it will close several branches and lay off roughly 10% of its staff, making it the latest technology corporation to implement cost-cutting moves amid a failing economy.
The change is predicted to result in expenses of between $1.4 billion and $2.1 billion, of which around $800 million and $1 billion would be reported in the final quarter of the financial 2023 year.
"The environment remains challenging and our customers are taking a more measured approach to their purchasing decisions," co-Chief Executive Officer Marc Benioff said in a letter to employees.
Firms like Meta Platforms Inc (META.O) to Amazon.com Inc (AMZN.O) have taken actions in the previous year to get prepared for a dramatic drop as world central banks have vigorously hiked interest rates to control decades-high volatility.
Firms that depended on cloud computing during the outbreak are now attempting to slash costs by reducing jobs or postponing new projects, which has affected companies including Salesforce, which owns the corporate messaging application Slack, and Teams owner Microsoft (MSFT.O).
"As our revenue accelerated through the pandemic, we hired too many people leading into this economic downturn we're now facing, and I take responsibility for that," Benioff said.
The corporation announced its lowest revenue gain for the three months that ended October 31 as a strong dollar also ate into its sales. Salesforce growth has fallen over the four previous quarters.
According to the corporation, affected workers in the US would receive at least five months' worth of wages, medical coverage, and other benefits, while those employed outside the United States will get "a similar level of support."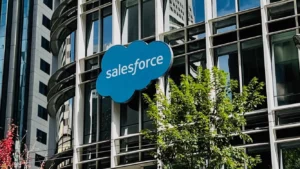 About Salesforce:
Salesforce, Inc. is an American provider of cloud-based technology with its main headquarters in San Francisco, California. It delivers customer relationship management (CRM) products and apps with a specialization in sales, customer support, marketing automation, analysis, and app development.
Marc Benioff, a former executive at Oracle, founded Salesforce, which eventually became one of the biggest corporations on the planet before coming out publicly in 2004. By the financial year 2009 and by the biggest corporate software firm on the planet by 2022, Salesforce may have emerged as the first cloud computing company to achieve US$1 billion in yearly sales as a result of its constant improvements.