The world's largest mobile phone manufacturer, Samsung Electronics may have to face its worst quarterly profit since 2009, as it cuts production of semiconductors in a way to help the industry's recovery.
The Seoul-based company stated in a statement on its website on Friday, for the year 2023, profit for the first quarter is estimated at 600 billion won, a 96 per cent drop from the 14.12 trillion won Samsung updated a year ago.
Samsung last posted an identical profit in the first half of 2009, at the peak of the global financial crisis. Revenue of the company is expected to decrease almost 20 per cent to 63 trillion in the first quarter of the year 2023, from 77.8 trillion won last year, Samsung stated. Estimated revenue of about 65.1 trillion won was shown by Investing.com shows.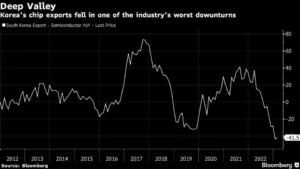 Samsung disclosed, the projections are based on Korean regulations and represent the median of calculated ranges. The company is scheduled to release its full first-quarter financial statement on April 27.
Samsung said its decision to scale down its chip production is "under the assessment that the company has secured enough volume to respond to future memory demand changes", it said in a statement, according to Bloomberg.
"Samsung is adjusting to lower memory production to a meaningful level centring on products that have secured additional supply as well as optimising line operations that's already under way," the company said.
The surge in demand for consumer electronics happened during the COVID-19 time, witnessing a sharp increase in supply chains that led to shortages.
The semiconductor industry made a record with sales growing 26 per cent to $556 billion, which is the highest annual sum, as the Semiconductor Industry Association stated.
US research company Gartner reported earlier, the industry's earnings rose 1.1 per cent in 2022 to $601.7 billion, up from $595 billion in 2021.
However, revenue is anticipated to drop 3.6 per cent to $596 billion from a previous prediction of $623 billion due to poor client demand and a worsening economy.
It took an intense turn for the worst at the end of the fourth quarter of 2022, as the units recorded 270 billion in profit and 20.07 trillion won in revenue in the fourth quarter of 2022.
Samsung slowing down the operations of semiconductors on a considerable scale is an unusual move. The company had admitted to the drop in performance, with the market weakening because "customers continued to adjust their inventories amid deepening uncertainties in the external environment", it said in its fourth-quarter report.
"Due to worsened consumer sentiment caused by deepening macro issues, the price fell further and with the effect of a meaningful amount of inventory valuation loss, the result decreased significantly," Samsung said.
Apart from these factors, rising inflation stays at the top, followed by economic recession and conflict between Russia and Ukraine that disrupted the supply chains of the company.