Samsung Semiconductor's fab engineers began utilising ChatGPT to immediately fix issues in their source code after being given permission to do so. In the meantime, they accidentally revealed private details like meeting minutes and information on the performance and yields of the fab.
The firm now is planning on developing its very own internal ChatGPT-like AI solution. Yet, the size of questions submitted to the platform is currently limited to 1024 bytes, according to Economist.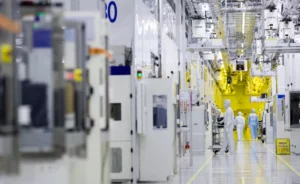 Samsung Semiconductor has so far described three cases of ChatGPT use that resulted in information leakage. Even though 3 might not seem like much, they all occurred over a period of 20 days, which makes the circumstances very troubling.
In one instance, a Samsung Semiconductor worker uploaded the proprietary program's source code to ChatGPT in order to fix bugs, effectively disclosing the application's code to an outside company's artificial intelligence.
The second incident may have been far more worrisome because some other employees sought improvement while performing test patterns aimed at identifying faulty chips.
The testing phase aimed at identifying vulnerabilities that must be held completely private. Although costs are reduced significantly, silicon testing and verification processes can be ramped up by optimising these test sequences and ultimately reducing their quantity.
Still another individual generated a document from a meeting recording using the Naver Clova app and then uploaded it to ChatGPT to create a presentation.
As a consequence of these initiatives, Samsung has notified staff members about the risks involved with adopting ChatGPT. Executives and staff at Samsung Electronics were warned that information entered into ChatGPT is sent to and kept on other servers, making it hard for the firm to recover it and raising the possibility of sensitive data leaking.
The open learning data component of ChatGPT, despite being such a powerful resource, has the possibility of disclosing private information to outside entities, which would be undesirable in the hugely competitive semiconductor sector.
In hopes of preventing further incidents, the corporation has already been implementing precautionary measures into effect. Even after emergency information precautionary measures have been put in place, accessibility to ChatGPT may well be restricted on the company network in the event of a further incident. The evolution of chip manufacturing will definitely involve technologies like generative AI and numerous AI-enabled automated electronic design methods.
A representative for Samsung Electronics did not confirm or reject the data when queried about the data leakage event because it was an internal concern.