Korean giant, Samsung has been planning to launch its new flagship phone, the Galaxy S23 models soon in India on the 1st of February. Yes, you read it right! On the 1st of February, we will get to see the most anticipated tech launch event by Samsung, the Galaxy Unpacked 2023.
We have already covered articles about what will we get to see for this upcoming Galaxy Unpacked Event 2023. And it's definitely not only the Galaxy S23 models but infact you will also get to see the new Galaxy Book 3 which is again the new flagship laptop from Samsung.
That was a small glimpse of what this new Unpacked event will be including! If we talk more about this event, here we can see that the Galaxy S23 models, especially the new Galaxy S23 Ultra will be getting the spotlight. But what will it feature? And will it be able to compete with its competitors like Apple's iPhone 14 Pro Max? Well, after covering details articles on Samsung Galaxy S23 Ultra VS Apple iPhone 14 Pro Max, here we have brought a details comparison.
Samsung Galaxy S23 Ultra VS iPhone 14 Pro Max – Camera Comparison with samples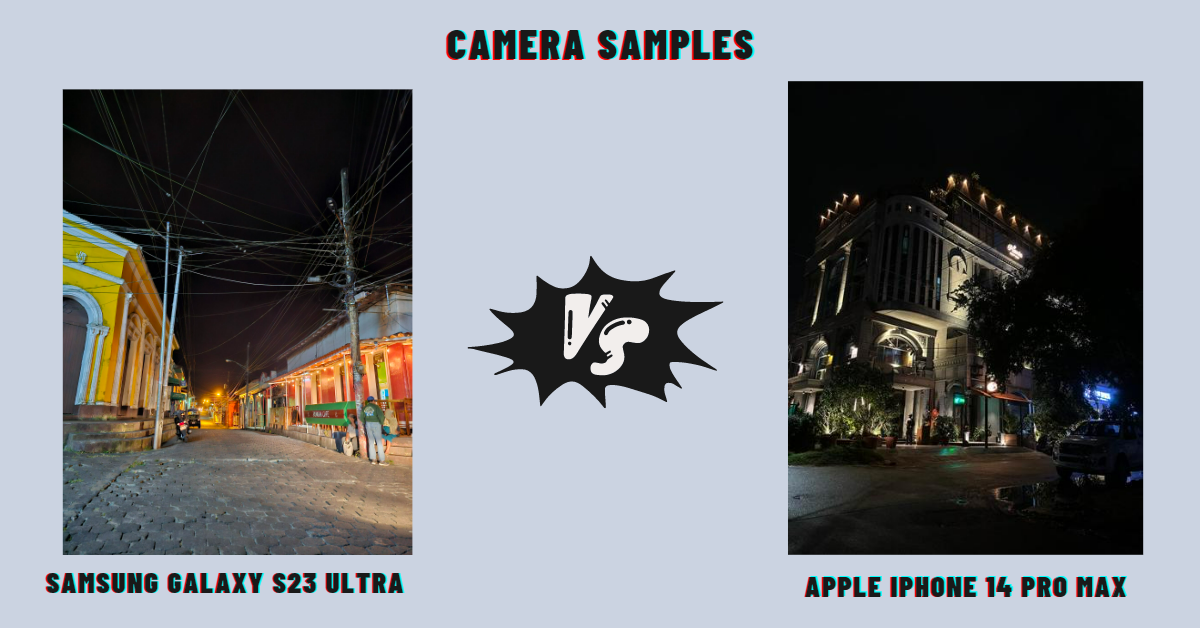 The Samsung Galaxy S23 model has not yet been released as of right now. But due of the tipsters, we now have access to all the leaks and speculations, including camera samples of this impending beast, the Samsung Galaxy S23 Ultra. As a result, we are quite confident in our ability to present you with a fantastic side-by-side comparison of camera specifications.
As you might have read in our previous posts about the Samsung Galaxy S23 Ultra phone, the new Galaxy S23 Ultra will be coming with a bigger camera sensor where we will get to see a 200MP ISOCELL HP2 sensor from Samsung itself. And, as we can see in the camera samples, the new sensor has improved way better than the previously launched 200MP sensor.
The first and foremost improvement has been on the lightning and yes, we can say that Samsung has moved forward to fix their overexposure issue with their sensor. As you can see the new 200MP camera sensor seems to take a piece of good lightning information from the object and also can provide a better and brighter picture. However, there is still some overexposure happening at the last end of the street light. Maybe, it can be fixed with a software update.
On the other hand, we have the Apple iPhone 14 Pro Max that has been equipped with a 48MP camera sensor. And, here you get all the correct details you need. As you can notice the color on the lights is not flared and it looks dull in color so maybe you might need a software editing tool to light up.
If you go see it directly without noticing the colors or anything! Definitely, the Samsung Galaxy S23 Ultra will win the crown here! However, we would recommend you to wait for more updates as it's only the comparison between night conditions and not day. For that, we will need to wait a little longer.