Do you have an e-commerce site that is not generating enough revenue as you would like it to? Say hello to Segmentify and say good bye to all your woes. Segmentify is a Software as a Service (SaaS) tool that helps e-commerce managers convert visitors and viewers to customers by making smart recommendations.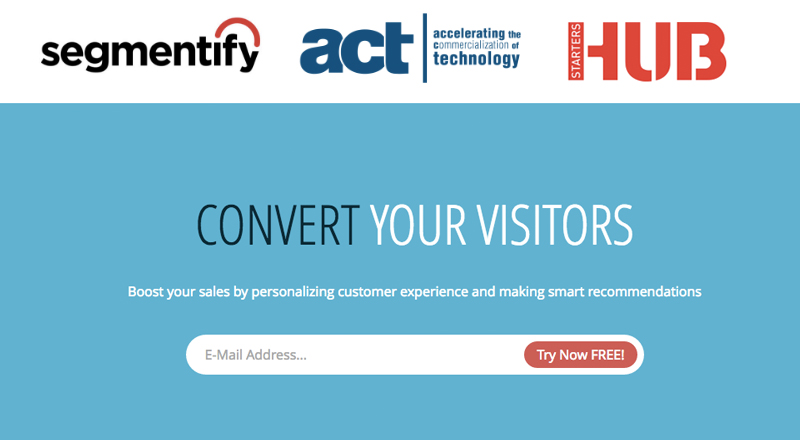 The Numbers Game
There are about 12 million online stores worldwide according to RJ Metrics's 2015 market study and mid-tier is identified as online stores with Alexa Rank between 10,000 and 500,000. E-commerce growth in 2015 was 20.9% and size of $2.4 trillion. This growth is much higher at developing countries. Currently online retail's share in general retail is ranging from 1.5% to 15% in different regions of world, and is expected to reach 12% in average in 2030. Conversion optimisation is a significant challenge for e-commerce websites where an average of only 1% of visitors is converted (make purchases). The costs associated with ads, SEO, re-marketing and re-targeting campaigns to reach one hundred visitors are expected to be recovered by revenues generated by a single customer. Therefore, it is critical to increase conversion in order to reach profitability.
The Magic that Segmentify Sprinkles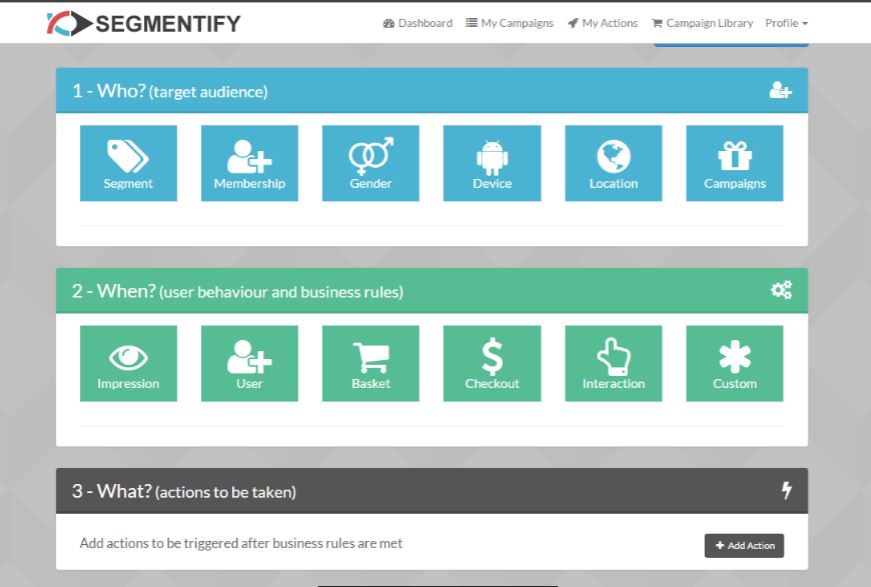 Segmentify recommends the right product to the right visitor at the right time by utilizing its on-site marketing tools, specialised in smart product recommendation and predictive analytics,  leading to higher conversion rates. Segmentify's ready to use Product Recommendation Campaigns are easy to use and they can be enabled by the touch of a button.
Segmentify's two analytics modules Trendify and Bannerify, allow e-commerce managers enable predictive analytics by measuring, tracking and monitoring the performance of their products. Trendify and Bannerify operate in real time, through the entire conversion funnel by continuously taking relevant actions on visitors. Behavioral segmentation is a way of detecting and tagging on-line customers that e-commerce managers normally would not have the opportunity to meet and sell face to face.
Use Segmentify to understand customers better, look into their specific needs and provide a revolutionary shopping experience.
Related Read: Techstory Interviews Team SalesPanda – Inbound Marketing Software That Helps Automate Digital Marketing
What Customers Get
On an e-commerce powered by Segmentify, customers get an easy way to find desired product among the many options. Customers have an increased awareness on discounts and deals, and get recommendations along with complete product information, based on their preferences and shopping trends. At the end of the day, Segmentify ensures that a customer gets a personalised shopping experience on the e-commerce site that they visit.
Segmentify can summarize all its learning into one motto: Always listen to your customers, build what they want quickly and get feedback as soon as possible and iterate this process over and over and over again.
What Sets it Apart
Segmentify has two unique differentiation points: real-time recommendation algorithm and business insights with predictive analytics. Segmentify's state-of-art recommendation  algorithm runs in real time and updates its results with every visitor interaction.
Secondly newer product additions like Trendify and Bannerify enables online retail managers to visualise and analyse their performance easily in real time. They can easily identify top/worst performing product and categories by any source or dimension and act accordingly.
The Journey
Segmentify Ltd was founded in July 2015, with two co-founders Murat Soysal and Ergin Eroğlu. The first prototype was ready in January 2015. In first quarter of 2015, n11.com and Harriet became the first customers of Segmentify and Segmentify was go live in private beta. In June 2015, Segmentify Ltd was incorporated and "2 Segmentify became live for all users. Currently Segmentify team consists of 18people, with customer count is reaching to 100 and MRR has reached $40,000 per month and growing 12% per moth.
"We are a group conversion enthusiast and we built Segmentify to help e-commerce and content providers convert their visitors into customers. We help e-commerce and content providers to "Create unique experiences" for their customers with personalisation and recommendation." – Murat Soysal.

Segmentify is targeting online retailers from any vertical. This enormous market and growth potential naturally creates a heavy competition. There are big market automation suites from industry giants like Oracle, SAP and Salesforce. But Segmentify's focus has been on much smaller and younger companies like Nosto, Barilliance, RichRelevance and Qubit.
The Founders
Segmentify was founded by Ergin Eroğlu and Murat Soysal. Murat Soysal is an experienced engineer. He is currently continuing his PhD studies specialised in recommender systems. Ergin Eroğlu is a software engineer with an MBA in project management. He has 10 years of full stack web development experience and successfully managed technical teams in his previous start-ups.
The Inspiration
The idea was born from one co-founder's (Ergin) personal struggle of creating an online retail startup. Mr Eroglu founded a hand-made baby & kid's boutique (Pretty Ruffle) in 2012, which only sell products online. After one year, brand was settled and was showing real promise to grow. But company couldn't become profitable due to high online advertisement costs. Murat's expertise in recommender systems and high volume traffic analysis was the right solution for Ergin's problem and two quickly came up with business idea of Segmentify.
The Challenges and What the Future Holds
Creating a B2B SaaS startup in a developing country where potential customers are not used to get a monthly subscription service was a real challenge for Segmentify.
"We had to convince our customers to adopt our service as well as switch to SaaS model, but this journey taught us invaluable lessons." – Ergin Eroğlu
Till now, Segmentify's growth has been centred on Turkey. In last few months, new international customers have come into the picture and new offices are being opened in Germany and nearby countries.
Do check out Segmentify's timeline !