The roads today are full of cars honking all the time, and the rush during peak hours is just too much to handle. People get stuck in traffic every other day and it takes valuable time off our hands. Not just this but this huge number of cars on our roads contributes a proportional amount to the air pollution as well. Carpooling is one simple way to deal with the situation, which is what ShareACar brings to us. An efficient, simple and practical solution for carpooling. Being in Mumbai ShareACar founders had seen it all and tried it all, and the only viable solution to these problems seemed to be a reliable carpooling service, which is what they started working on.
The Idea
ShareACar is realtime ridesharing app which connects verified users for the evident purpose of sharing a cab or hitching a ride together. They provide the facility of using online wallets to make the process easier and smoother. Carpooling is still a pretty new concept in India and hasn't been explored much. ShareACar is here bringing practicality to the concept. ShareACar is trying to capture a large pool of daily commuters just by making carpooling more practical and efficient.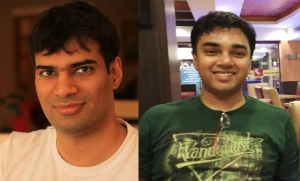 Meet the Makers
The two co-founders of ShareACar are both Alumnus of IIT Kanpur:
Rohit Karan –He has a bachelor's degree from IIT Kanpur (2007) and then he went on to do an MBA from IIM Ahemedabad (2009). He worked for six years as an investment manager before the idea was born.
Shobhit Srivastava – He is also a graduate from IIT Kanpur (2007). He has an experience of eight years in technology, business analytic and finance domain.
USP
The two main features that sets them apart from the rest are the amount of flexibility they offer and also the safety features they have to ensure our safety and peace of mind.
Some of the flexible options offered by ShareACab are as follows :
They give the user the room to select their own co-travellers. They don't have random matching up of people, so you won't be stuck in a car with a stranger.
As a ride giver you have the flexibility to set you own fares on the app.
They also give you the option of seeking alternate routes.
The safety features in place are :
There is a 3 step verification process for creating a login.
All rides are tracked in real time at backend.
Feedback system of rating and review to enhance the credibility of users
The competition
With the big names like Ola and Uber joining this sector, the competition for ShareACab is tough. Ola is coming up with OlaShare and Uber with Uberpool. Apart from these big players we also have others like Zify and sRide offering similar services.
In the intercity space, BlaBlaCar has established a dominant position, while Tripda is also coming up with some new campaigns. The segment is going to see a lot competition down the road. They are up against some Unicorns (BlaBlaCar, Ola, Uber) and in a segment where people haven't had success, it's seems to be a tough fight us but that's what keeps them going.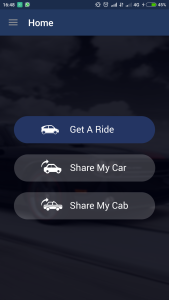 Overcoming the Hurdles
We faced multiple challenges while designing the product and also are looking for ways to increase the user base. The product offering will be most felt if the number of users increases dramatically which will increase the probability of finding a ride. Also, most of our users are not on the platform because we are giving them freebies. Our core offering will save them more money than what we can give them. We are using multiple small hacks to educate the customers, like creating videos, designer fliers, meeting people and explaining the product to people, etc.
Funding
They are looking for funding. They have a funding of the seed level of an undisclosed amount . In the coming month they want to get more people on board, which would need a higher budget or more creative ideas. At the moment they are going with the later, but very soon they would need to get funded.
 Journey till now and the Road ahead
They have seen around 60 shared rides being taken over the last 1 month of their operation. There are around 450 users on the platform and this number is growing very rapidly. While the app can be used in any part of the country, they are currently focusing on resolving Mumbai's traffic problem before heading to other cities.
Over the next few months, our target will be to hit a number of 100 shared rides per day and then expand to other cities.
Comments
comments