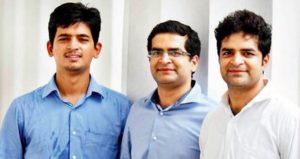 Financial services and banking have been industries that have prevailed through the decades, civilizations and eras. Be it the middle-class man or the bureaucrat- everyone is in need of financial services. However, the biggest transformative element in all of this has been the advent of technology which has greatly transformed the banking sector.
The biggest change technology has brought about is how irrelevant physical interaction has become to deal with money. How every touchpoint has been overridden by technology. In an economy like India, where banking was a tiring, slow, and taxing process (no pun intended), technology was a much-sought respite. Now, banks have at their disposal a host of modern technologies from Blockchain to Artificial Intelligence (AI) and the Internet of Things which has made financial technology the new buzzword.
Experts have speculated that now with the advent of financial tech just the operation of banking won't change; what we identify as a bank all together will change. And one such company that is spearheading the financial tech boom in India is Signzy- a company that aims to bring cryptocurrency into the Indian market.
The Beginning
Founded in 2015 Signzy was a project initiated by IIT graduates and three passionate entrepreneurs- Ankit Ratan, Ankur Pandey, and Arpit Ratan. Ankit Ratan and Ankur Panday had heir knowledge base set in and were well equipped with knowledge about big data, analytics, APIs and app development Arpit was a corporate lawyer. He got in the expertise of working with regulatory and financial bodies under legal bounds. The three go together to bring blockchain to Indian right at the cusp of the Bitcoin boom in 2015. Headquartered in Bengaluru the company wanted to bring blockchain and AI solutions in banking and financial services and was thus majorly going to operate in the fintech industry.
What the three founders did was identify a gap in the industry and try to fill it. They found out that while Indian banking had moved leaps and bounds ahead in digitization- an important step in customer identification- KYC (Know Your Customer) still took place offline.
Signzy developed blockchain and artificial intelligence methods to identify the customer's identity and authenticate their association with accounts.
The Products:

"Even today the financial services industry uses the centuries-old trust mechanism of paper, seals and human checks, which are costly, time-consuming and inefficient," Ratan said. "At Signzy we are building digital trust protocols which are frictionless, secure and compliant with the changing regulatory regime."
Signzy is one of a kind technology platform that conducts the process of customer authentication completely through technology and with 75% lesser operation costs than traditional methods. It dumbs down the KYC's rigorous process to run it on the first principles of tech, runs background checks on customers, detects fraud, mitigates risks, and provides contract management systems for companies or government entities all through software.
The entire process is enabled by blockchain systems to ensure the protection of privacy, adherence to legal bounds, and a seamless process. We have done a full deep dive on how blockchain works, you can find it over here. 
An overarching theme with Signz is the "automation of workforce" where tasks previously done manually by humans are now being done by technology.
"Banks have to automate human workforce to a machine workforce. They have to automate compliance. They are bogged down by regulations currently. Look at payment banks now, some of them are returning licences because they can't comply with so many regulations. It's a burden."
Funding
So far the company has raised $4 million USD in total funding from 2 rounds.  While Series A saw 5 investors coming together, Series B 2 investors coming through. Investors of Signzy include but are not limited to Kalaari Capital and Stellaris Venture Partners.
"Penetration of digital technologies globally and rising customer expectations is forcing financial institutions to re-think their processes for scale and compliance," said Alok Goyal, partner at Stellaris Venture Partners, who will be joining the board of Signzy as part of the deal. "
We believe Signzy can provide trust solutions across many transactional processes within financial services. It is possible because "all the complicated paperwork is automated through blockchain and AI," Arpit Ratan tells YourStory.
Growth and Future
Ever since the official launch of Signzy in 2016 the company has only seen an upward graph. Over the years the company has won multiple accolades and awards including RBI's Payments Innovation Contest in 2016, the founders making it to the Forbes India 30 Under 30 list and being rated in the top 30 Global Digital Financial Implementations by MAS Singapore in 2017.
Signzy developed blockchain and AI-based solutions to digitally identify, verify, and authenticate customers. Its artificial intelligence and blockchain enabled product, Real KYC, has now been deployed in over 50 financial institutions in India across banks, NBFCs, insurance companies, wallets, asset management companies and payment service providers. Some of their consumers include – Mswipe, PayU, SBI and ICICI Bank.
"We believe there is a huge opportunity in this space in India as well as globally. Penetration of digital technologies globally and rising customer expectations is forcing financial institutions to re- think their processes for scale and compliance. Signzy technology can provide trust solutions not just within onboarding but can be extended to trust solutions across many other transactional processes within financial services. The founders are repeat entrepreneurs and complement each other well with their skill set and have proven their capability with the strong traction in the market."