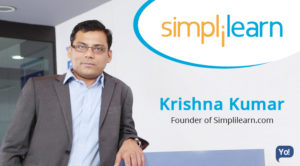 Today we shall be taking a look at an edu-tech startup that is currently disrupting the employment market. Yes, you read that right- an education technology application that is creating waves in the job market. Unlike programs like BYJU's or Shiksha.com that only work within the education sector and the results aren't measured from a jobs market perspective, the app we are going to be talking about today is a little different. Today we will be talking about an application called SimpliLearn.
We shall be taking a look at multiple aspects of SimpliLearn including how it was founded, who is currently funding the company, what are the acquisitions that they have gone through, their business model and the growth story of the company.
What Is SimpliLearn?
SimpliLearn is an online certification training provider. It is essentially an online form of a college for skill building except instead of a degree you get certified from industry experts who are conducting the course for you.
The process is simple. Once you are on the platform you can go through multiple specializations in your area of interest. Once someone has found a course that interests them, they can go through the introduction to the course and also take a look at the course outline that is offered with respect to what they will be learning. Once a course is zeroed on, you pay online and you immediately become enrolled in a course.
The course conduction for SimpliLearn is live. Every course has an allotted day and time when the session is conducted by the instructor online for the "classroom". There are also provisions where you can make up for classes you are not able to attend. There are specific speeds at which the classes can be conducted too. According to the SimpliLearn website:
"If you enrol for self-paced e-learning, you will have access to pre-recorded videos. If you enrol for the online classroom Flexi-Pass, you will have access to live training conducted online as well as the pre-recorded videos."
SimpliLearn has courses involving big data, IT  development, web design, AI and machine learning, agile and scrum, sales force, quality management, and more.
The Beginning
The company SimpliLearn was founded by Krishna Kumar in the year 2009. Kumar is a graduate with a Bachelor of Engineering from National Institute of Technology from Surathkal, India.
Before Krishna Kumar came up with the idea of SimpliLearn he was a co-founder and COO and TechUnified which was a software product company which he left in 2007 after it became acquired by a larger, public company.
In the beginning, the company was launched as a simple blog. It offered tips, guidance and ideas on disciplines like project management and offered the Project Management Program course aspirants information about how to get certified and where to get training.
Then they took this a step ahead in 2011 when they introduced a full-fledged training program in PMP which was a hybrid of offline and online training in classrooms.
Soon SimpliLearn's growth flew and the Krishna Kumar started getting recognition worldwide. Some of the accolades he has received are:
'Fortune 40 under 40' by Fortune Magazine in March 2015 and February 2016
'Best Educational website Feb 2014' by IAMAI in February 2014
'TiE lumis Business Excellence Award' by TiE in October 2012
Growth
Soon the company branched out. Along with project management training modules, there were also courses introduce cybersecurity, cloud computing, project management, digital marketing and then gradually a whole plethora of courses that are available on the website today.
The company now also has a Job Assist program where Simplilearn's newly set up placement cell will process resumes on behalf of the graduates and showcase them to top hiring companies for listed and un-listed openings for the middle, mid-senior, and senior level openings. The company will partner with hiring companies ranging from large enterprises to small-teamed start-ups in India.
Kashyap Dalal, Chief Business Officer, Simplilearn said, "Technical recruitment is becoming a challenge in India. While job portals are not equipped in hiring quality talent across mid to senior levels, companies find it equally challenging to recruit the best skilled talent in high numbers. The launch of JobAssist will allow us to bridge the hiring gap in the job market, as we help companies recruit quality talent with specialized skills in digital technologies. This is also a step closer to the company's larger mission of helping professionals and enterprises succeed in the digital economy."
Also, in so far, the company has trained over 1,000,000 people trained and has over 2000 people listed on the supply side in the form of qualified trainers. The platform currently also offers 400 (and counting) courses and has is partnering up with global universities and has 40+ accreditations.
The company is based in San Francisco in California and Bangalore India- the silicon valleys of the east and the west.
Funding
Simplilearn so far has had four rounds of funding that have run. Over these four rounds, it has raised $31 million USD in funding.
For Series A the company had raised $3 million USD in funding from an undisclosed investor in the March of 2012.
For Series B Helion Ventures and Kalaari Capital put in $10 million USD into the company in the August of 2013.
In April of 2015, the company gets its Series C funding of a whopping $15 million USD from Mayfield fund, Kalaari Capital and Helion Ventures.
On September 8th of 2016, SimpliLearn ran a debt financing round. InnoVen capital invested in this round with a pitch in of $3 million USD.
Future
The company scaling and growing is now also ranked 8th out of the 50 most influential global education brands. They beat Wharton, Harvard, and Stanford to it.
SimpliLearn is on an upward graph and if all goes according to plan then their impact on education and job markets will be seen even more prominently in the future.
Comments
comments