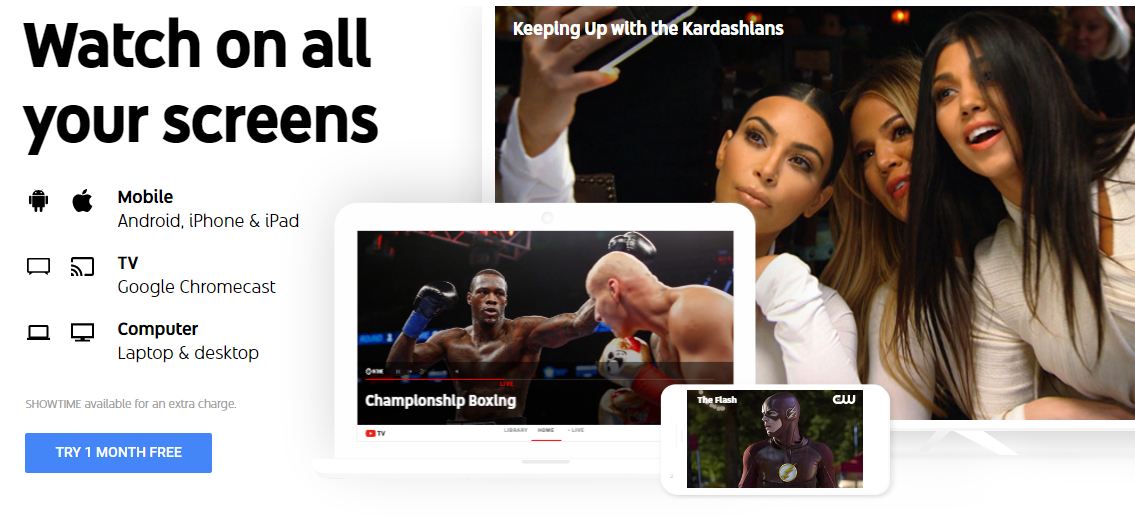 06 April 2017, India:
Google-owned YouTube has started its TV services in some parts of the United States. YouTube TV is a TV streaming service that lets you watch live TV from ABC, CBS, FOX, NBC, and popular cable networks. Enjoy local and national live sports, and must-see shows the moment they air.
You can record all your favorites without DVR storage space limits, and stream wherever you go. YouTube TV comes with 6 accounts per household.
Currently, the service is active in Chicago, Los Angeles, New York City and surrounding suburbs, Philadelphia and San Francisco Bay Area.
With a YouTube TV membership, you'll get:
Live TV streaming from ABC, CBS, FOX, NBC, ESPN, Fox Sports Networks, Comcast SportsNet and dozens more. YouTube TV gives you the best of live TV, from must-see shows like "Empire," "The Voice," "The Big Bang Theory" and "Scandal," to the live sports you want from the NBA, MLB, NFL, and NCAA. Based on where you live, you'll get your local broadcast TV stations covering local sports and news. You'll also get dozens of popular cable channels, including FX, USA, Disney Channel, Bravo, MSNBC, Fox News. And you can add Showtime or Fox Soccer Plus for an additional charge. In total, YouTube TV will give you more than 50 networks, listed below.
A cloud DVR, with no storage limits. With YouTube TV, your cloud DVR can record as many shows as you want, simultaneously, without ever running out of storage. You can keep each of your recordings for nine months.
TV when it matters, where it matters. You can watch YouTube TV on your phone, tablet or computer—and you can easily stream to your TV with a Google Chromecast or Chromecast built-in TV (we'll be supporting even more connected TV devices later this year). And your cloud DVR goes with you, so you can stream your recordings on any device, whenever you want and wherever you go in the U.S.
YouTube Red Originals. With a YouTube TV membership, you can watch all of our YouTube Red Original series and movies right in the new YouTube TV app.
Six accounts included. You can share your YouTube TV membership with your family and roommates, and each account will receive its own unique recommendations and cloud DVR with no storage limits. Your household can watch up to three streams at a time. (Image- tv.youtube.com)
For iPhone and iPad users, you can try free Online YouTube Downloader to download your favorite YouTube videos and enjoy them wherever you go.
Comments
comments