The challenges of modern electrical consumption
The energy consumption of the world is on the rise. With each passing day, we end up consuming over one million terajoules of energy.
Estimates suggest that ever since the inception of commercial oil drilling, we have utilized above 135 billion tonnes of crude oil to meet our daily energy needs. Moreover, this number has only been increasing over the last few months.
The World Energy Outlook 2010 of the IEA (International Energy Agency) states that if strict measures are not taken to promote energy efficiency around the world, the global energy demand will rise from 12,271 (2008) to 18,048 million tonnes of oil equivalent (Mtoe) by 2035.
This rise will mean a 47% increase in energy consumption! Furthermore, the demand for electricity is estimated to rise from 20,183 (2008) to 38,423 terawatt-hours (TWh) by 2035, indicating a whopping  90% increase!
If we are to meet these growing needs, the global energy production capacity will have to go up from 4,719 gigawatts (2008) to 8,875 gigawatts by 2035.
Need for technological intervention and smart buildings
With such alarming rate of increase of the global power consumption, there is an urgent need for governments as well as the private sector to formulate policies that regulate the efficient management of the conventional energy reserves.
However, such policies often take some time to reap visible results, hence, it has become a pressing need to find a solution that bears immediate results. A shift towards energy efficiency could save massive amounts of energy on a global scale.
The advent of smart and advanced technological innovations has ensured that we are on the cusp of an energy revolution.
Today, buildings account for almost 40% of the total global power consumption. Heating and cooling of residential and commercial buildings are highly energy-intensive, and when combined with the use of electrical appliances, the energy consumption figures are massive.
This challenge is further aggravated by the growing demand for residential and commercial complexes in developing countries which will inevitably increase the power drainage. The International Panel on Climate Change (IPCC) predicted that by 2030, the CO2 emissions from buildings might increase from 8.6 billion tonnes in 2004 to 15.6 billion tonnes.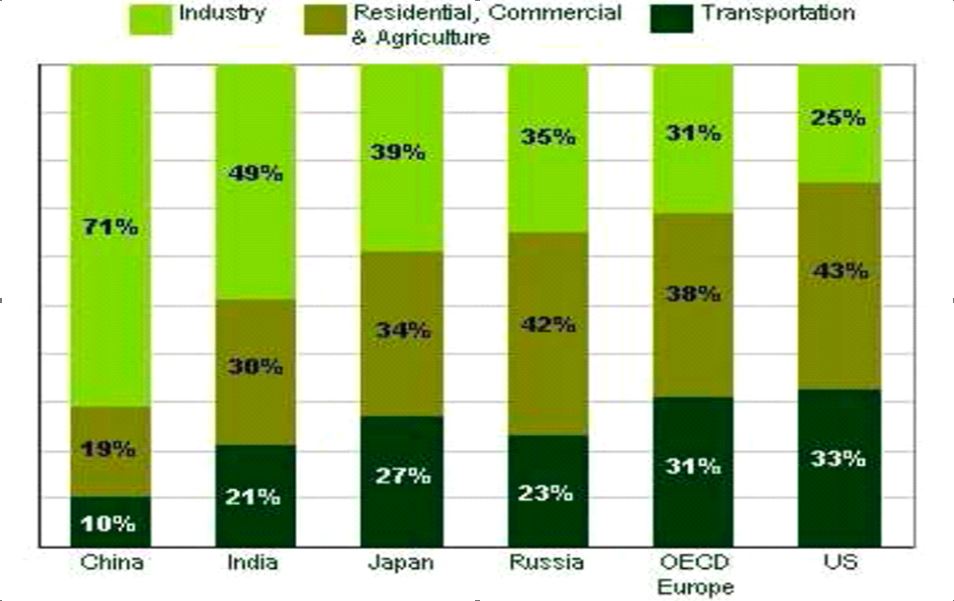 Global energy demand of various sectors (2005)
As more people are becoming aware of the looming energy crisis of the world, the race for energy efficiency is scaling up.
Countries all across the globe are adopting energy efficient devices and technologies within their infrastructure. Smart Buildings are one of the greatest examples of the collaboration between eco-consciousness and technology.
What are Smart Buildings?
In simple words, a smart building is an integrated automated structure that allows the basic operations of a building to be controlled automatically.
As a part of the automation, intelligent sensors, actuators, and microchips are used to gather data about the energy requirement of the building and manage the building systems according to the functions and services demanded.
Smart Buildings aid the owners, service providers, and operators to enhance asset performance and reliability by reducing the energy usage and keeping the environmental impact of a building at a minimum. Buildings are made "smart" by the inclusion of IoT and Data Analytics within the building infrastructure.
Internet of Things (IoT)
The Internet of Things or IoT is a conglomeration of technologies and applications that are interconnected over a digital platform to facilitate the generation of a host of valuable data. It transforms the devices into "smart" devices that function as if they have a mind of their own.
Sensors and microchips can integrate and collect data and analyze it to minimize energy wastage and operating costs. Today, many firms in the Commercial Real Estate Industry are beginning to recognize the potential of IoT to add value to their business.
The intelligent sensors are designed to track motion, air pressure, light, temperature, water flow, and so on, having the Internet as the backbone. This allows the BMS (building management system) to react to human as well as mechanical actions in the 'incognito' mode.
The integration of IoT in buildings not only allows for automation of processes but also to:
Reduce maintenance costs (smart monitoring to detect faults and loopholes in the system)
Streamline internal communication (information sharing is simplified and quicker)
Enhance system security (facial recognition, intrusion alerts, motion detection, etc.)
Reduce environmental impact (constant monitoring of building energy usage and CO2 emission levels)
Reduce energy costs (optimizing lighting and HVAC in the building)
About 59% of the commercial energy is consumed by HVAC and lighting. According to a study conducted by Texas Instruments, smart IoT integrated HVAC and lighting solutions could cut down energy use by 40%, which is quite impressive.
If the IoT is utilized to its full potential, it could benefit the business sector by creating a sequential framework of activities that help an organization to create value from data – the Information Value Loop.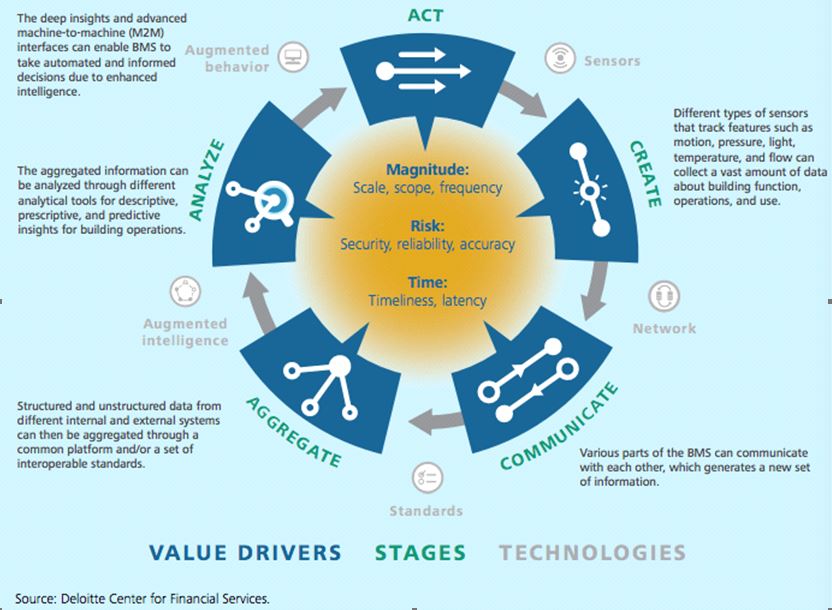 Data Analytics
The devices that are a part of the IoT meticulously gather and feed data to the information infrastructure of a smart building. This data is then analyzed to control the lighting, air and sound sensors, cameras, energy and water meters, and HVAC.
Data analytics platforms analyze data and convert it into 'intelligence' by amalgamating energy information and performance of building systems. The aim is to improve the overall productivity of a building and the multiple systems within its infrastructure.
With valuable data always at their disposal, building owners are constantly updated about the building operations that allows them to make way for cost savings while being able to enhance the safety and comfort of the inhabitants of the building.
Go Green – Green Buildings
Green Buildings are a raving topic today. The U.S. EPA defines Green Buildings as:
"Green building is the practice of creating structures and using processes that are environmentally responsible and resource-efficient throughout a building's life-cycle from design, construction, operation, maintenance, renovation, and deconstruction.
This practice expands and complements the classical building design concerns of economy, utility, durability, and comfort. Green building is also known as a sustainable or high-performance building."
A building attains the tag of a Green Building through the inclusion of a host of energy-efficient steps:
Efficient utilization of electricity and water.
Reliance on renewables such as solar and wind energy.
Reduction in waste production.
Adopting the concepts of recycling and reusing.
Using non-toxic materials in construction and operation of the building.
IBM maintains that operation costs take up almost 71% of a building's total cost during its lifetime. By incorporating these simple measures in the everyday routine, significant amounts of energy can be saved annually.
As technology is continually evolving, it is presenting numerous opportunities before us, and energy efficiency is one among them. With the progression of technology, the design and functioning of buildings will change drastically in the future. Navigant Research estimates that the global revenue of the smart building technology market will be nearly $8.5 billion in 2020, with a compound annual growth rate of 15.9%.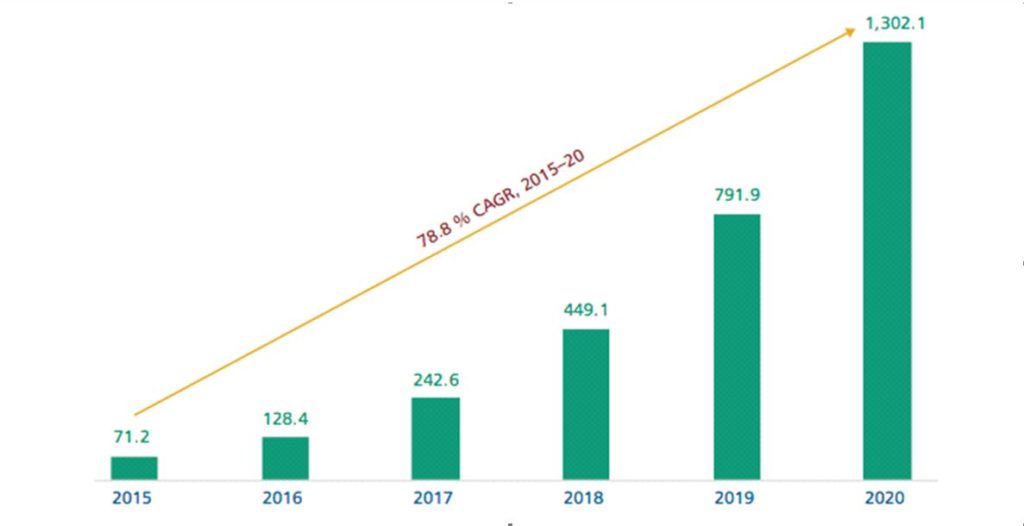 The potential growth in worldwide IoT sensor deployments for CRE (2015–20)
Smart buildings incorporate intelligent infrastructures to provide a higher level of efficiency to all the building operations. In the future, data will be leveraged to design systems that maximize performance, reduce costs, and predict possible expenditures.
We will be looking forward to a new era with trailblazing technologies for designing and renovating buildings.
(Disclaimer: This is a guest post submitted on Techstory by the mentioned authors.All the contents and images in the article have been provided to Techstory by the authors of the article. Techstory is not responsible or liable for any content in this article.)
About The Author: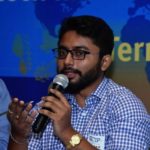 Arindam Paul is one of the founding members of Atomberg Technologies, a startup working towards creating unique energy efficient fans and tech-savvy products. He is currently heading the Marketing and Long-term strategy division at Atomberg and is aiming to disrupt the world of household appliances.
Prior to this, he worked as a management consultant at Cognizant. He did his undergraduate in chemical engineering from NIT Surat and MBA from IIM Indore. He also loves reading non-fiction, watching football, blogging, and cooking. 
Comments
comments