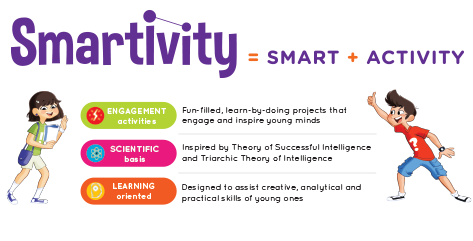 The answer to every parent's question "How do I keep my li'l one engaged in a way that is both fun and helpful?" is Smartivity.
Smartivity has launched S.T.E.A.M. (Science, Technology, Engineering, Arts and Mathematics) learning-based D.I.Y. activity kits for 4- to 12-year old children revolutionizing the entire toy industry of India.
What is a Smartivity activity box?
With a core philosophy of inspiring Smart Intelligence, Smartivity D.I.Y. activity boxes go beyond the ready-made toys and games that fall under the use-break-dump cycle. Smartivity activity boxes are crafted with highest concern for kids' safety. Durable and long-lasting materials are used in assembling the kits and highest international standards are adhered to in crafting a Smartivity experience. And these are not just display projects. Each project is also a game. So, after the little one has built the project, they can play with what have made with their own hands!

What is in store?
Smartivity has 13 different activity boxes which include Rolly Polly Owl Bowling, Dancing Colours Kaleidoscope, Eye Spy Periscope, Huff-N-Puff Balloon Car, Sea-Surfer Wooden Raft, Ocean Depths Fishing Rod, Space Explorer Rocket, Mouse Hunt Automata, Clickety Flix Retroscope, Knock 'Em Rock 'Em Kubbs, Mix 'N' Match Color Imaginator and Roller Coaster Marble Slide.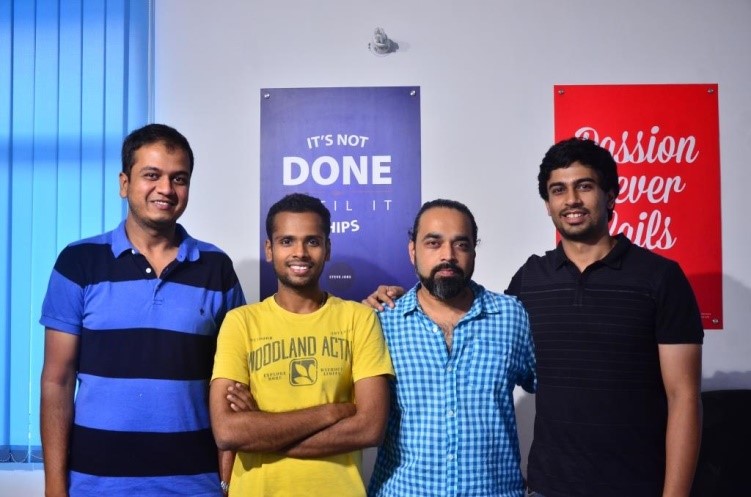 These boxes contain all the elements required to build the project made from compressed wood. Every box also includes a richly illustrated instruction booklet with child-friendly, easy-to-understand instructions on how to build the project, a 'Learner's Log' which explains the scientific concepts that are applied through the project; and an 'Activity Sheet' that suggests further activities that a child can explore through the project with their parents.
The New Approach

Smartivity activities integrate two critical approaches to prepare your child to successfully navigate real world challenges: Enhancing intelligence through projects that call upon a comprehensive range of skills; and imbibing confidence through successfully creating something functional and fun.
Here are some facts about SMARTIVITY
Year Founded : January 2015
Cities Present In: 50+
Founders:
Tushar A Amin
,
Apoorv Gupta
,
Ashwini Singh
,
Rajat Jain
Team Size: 16
Head Office Location:New Delhi
Average book price:Rs.249/-
Average model price:Rs:460/-
Wait there is more! Presenting 'SMARTIVITY EDGE'
Smartivity EDGE range of products is a cutting-edge technology-meets-physical activity innovation that they have built in-house from scratch. Coloring is one of children's most loved activities. With Smartivity EDGE they have given reinvented and redefined coloring sheets for the digital age. These coloring sheets start off as regular coloring sheets that a child can paint with the colors included in the pack. It is once they finish coloring that the true magic of Smartivity EDGE can be experienced. When the sheet colored by a child is scanned using the Smartivity EDGE Augmented Reality app on a smartphone or a tablet, the characters colored by the child come to life in 3D. In the very colors that the child has painted them! That's not all, children can interact with these characters at the tap of a button… hear their sounds, and make the characters move. Beyond the wow factor, Smartivity has delivered on its promise of "Smarter Learning with every Smartivity release" by integrated a rich-media (audio+graphics) learning module which teaches a child how to spell words and geography lessons through interactive on-screen games.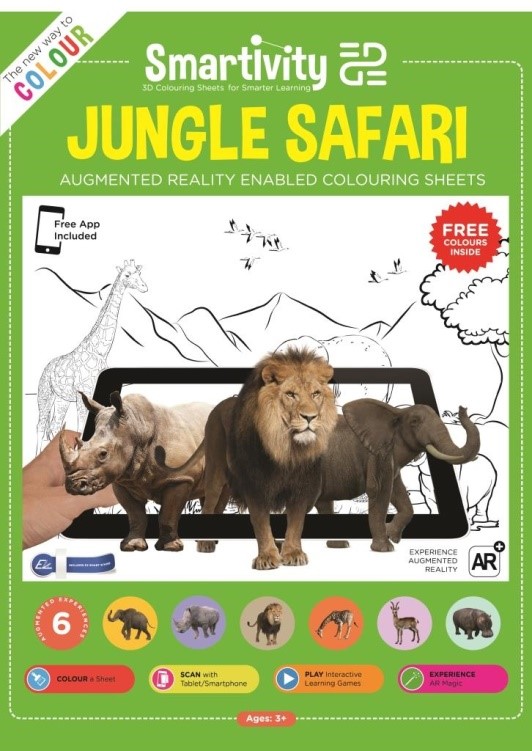 There was a buzz around Disney's plans to launch Augmented Reality enabled coloring sheets whereas Smartivity Edge is already in market!
Goals at Smartivity
To engage, entertain and educate.
To spur curiosity.
To encourage a spirit of exploration and discovery.
To convey the thrill of hands-on collaboration.
To create projects that become memories for a lifetime.
Current toy industry and journey till now
Statistically, the Indian toy industry is largely disorganized. The USD 100 million organized sector includes brands like Mattel, Funskool and Reliance among others. The organized players also mostly work on the model of licensing international products. In the past couple of years, a few subscription based activity boxes (Flinto Box, Wonderboxx) have been launched. Their business models are purely based on subscription commerce and they mostly focus on arts and crafts. They do not have a retail presence. Other Indian toy brands (MadRat Games) that do have retail presence are mostly involved in producing board games and puzzles with licensed characters. There has been very little domestic innovation beyond developing and re-purposing board-games and puzzles, over the past couple of decades. Traditionally toys have been positioned as 'fun' products. And then there are 'learning' products that ignore the fun aspect altogether.
Smartivity has scaled up its retail presence from about 20 independent retail outlets in Delhi-NCR region to about 500 outlets, including some of the most discerning large-format retail stores like Hamley's, across 40 Indian cities today. Smartivity kits are available on their website www.smartivity.in as well as on e-commerce giants like Amazon and Snapdeal. There has been an 18x increase in sales and revenue. They are now shipping around 4500 boxes a month.
In coming months
The coming months will see more innovative products from Smartivity stable. Five new Smartivity Activity Boxes and also new Smartivity EDGE Colouring Sheet sets are ready for release in December. Smartivity will continue to release products spanning the spectrum from physical activities to augmented reality enabled activities; and going ahead, activities that integrate Virtual Reality, Internet of Things and Robotics that are on the drawing board and prototyping stages.
Funding 
Smartivity has raised first-round of funding from the reputed S Chand Group. They are working towards raising a second round of funding that will help them to take their technology enhanced physical products to children across the world.
More about Smartivity: www.smartivity.in
Comments
comments