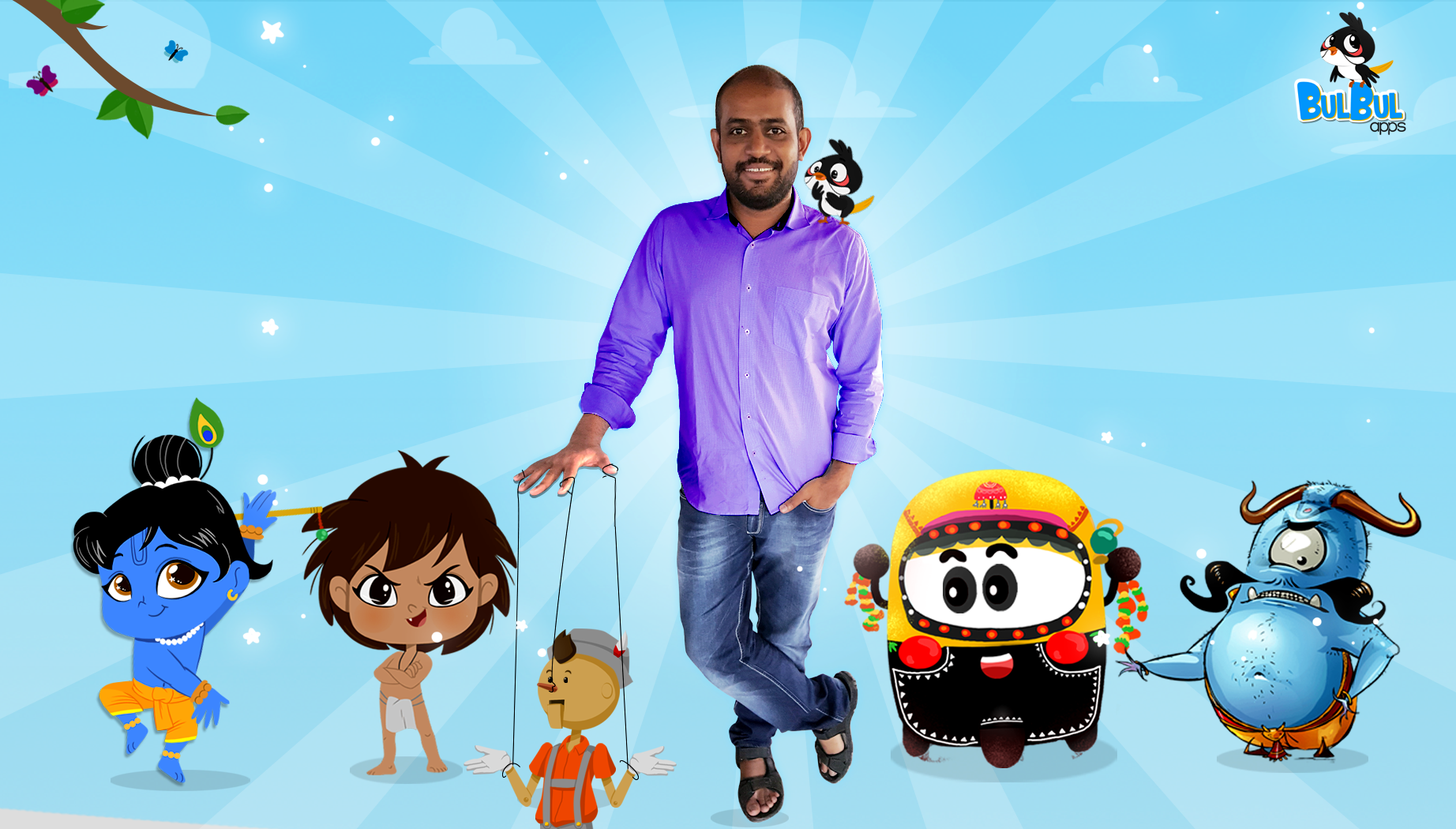 Bulbul Apps is a unified collaborative platform for artists to come together to produce local content and global quality. They are a niche category, the only apps provider with a goal to create world's largest apps library for Preschooler focused on local content  specific to each region, city and nation.
The good values we learnt in our lives come from the stories told by our grandparents in our childhood. These stories taught us a lot about life and how one has to lead life amidst huge set of difficulties. Even Gandhiji's experiences with truth began only when he came to know Harichandra's story. It is stories that taught us morale values (that's why they were usually called moral stories). All of this gives us nostalgia about our childhood, but think about the present generation! We are nuclear families (hence kids hardly see their grandparents) and kids are glued to their digital devices (most of them behave like the MTS babies). Anything outside the digital world does not interest them, and their sense of imagination is confined to the gadget ahead of them.
The founder of Bulbul Apps, Prakash too faced a similar problem when he saw that his chidren and his friends were hooked to gadgets and they loved discovering its features and gimmicks. What it lacked was 'Learning' aspect and content that parents can trust when its comes to enrich their children's knowledge. He took a moment to recollect his childhood memories.
"When I was a kid my grandma used to tell me stories in the bed. I still remember those stories. Her presence, her voice and her narration was my portal into so many wonderful worlds. Then, I grew listening to stories that my father told which were popular folk, mythological stories. As I began to consume these stories, it helped me share them to my friends in school and my friends circle. Some stories were interestingly made up and some stories were real. For me,  It was quite an imaginative and wonderful experience that lacked visual appeal and it was one on one delivered orally."
He realised that as the complexities of the medium increased, the complexity for the storyteller to create stories for those mediums also increased. It was important to connect the grandma, pop and mom stories to the digital world without losing its essence, innocence and inherent cultural aesthetics.
The Birth of Bulbul
Bulbulapps found 47% of all media consumed in emerging markets are local content and non-English content. In a recent stats released by Google in India, Y-o-Y consumption of Hindi content online has grown 94% and while English content consumption has only grown by 14%. As the broadband penetration increases and smart-phone sales increases into more non urban regions of India, this trend of local content consumption is growing exponentially and they wanted to bridge this gap, for kids' apps.
Prakash found that there was very little good quality local content on the web especially in the app store for preschoolers (fewer than 6 years) kids that are culturally deep rooted and has the ability to sparkle the eyes and the mind of this child. There are several reasons why there isn't good quality mobile first interactive content for kids,
It's difficult for artists and storytellers to collaborate to create interactive content.
It's difficult for artists to master the technology to create highly interactive content with right user experience on all mobile platforms.
Monetizing the app on the appstore is a totally different skill set altogether.
"As a film maker, artist I realised my heart lay in the world of visual storytelling. I wanted to create a brand in the digital medium that had a distinctive and modern face – a face that was engaging, more personal, more interactive – and a comprehensive digital apps library that embraces modern technology and puts the child reader and parent trust foremost in the process."
The character 'Bulbul' is inspired by the bird Bulbul, curious and constantly in pursuit of discovering new things. So Bulbul was born, a character that truly fits the child and his/her imagination in a beautiful manner. Bulbulapps began its journey 5 months ago, inspired by a child and his relentless appetite to uncover curiosity. Their core philosophy was to first create a platform where story tellers, artists, animators, voice artists can collaborate to create known folk stories. They built a platform first to help these artists to present their content and forget about coding and software which they would take care. Their core principle is 'think like a child' for all the apps that is available for download from 'Bulbulapps' library. From board book to picture book to app, the preschooler (under 6 years old child) mind is the only focus.
The Collaborative Team
Prakash Dantuluri, Founder and CEO is a serial entrepreneur with experience in both filmmaking and building technology platforms; most recently, he co-founded Paradigm Creatives, a hugely successful technology services company which currently has more than 200 engineers working for it
Krishna Nimmagadda, Co-Founder is a serial entrepreneur; his previous company Xtreme Insights enables enterprises leverage the potential of Apache Hadoop and big data eco system for advanced analytics. It was acquired by Intel.
Sridhar Dogga, Co-Founder has more than a decade of experience in successfully building strategic sales channels and creating processes that scale both in revenue and service.
They started with a team of four and now they are fourteen. Prakash doesn't see the team increasing beyond 25-30 in the next year as their model is a 'collaborative' model. They believe 'Collaboration' solves the problem of talent scarcity and brings the production cost, in some cases by 90%. Their model also helps incubate artistic talents and gives unseen, unheard talented artists to share their creative juice and get them published in their platform and eventually find its way in their Bulbulapps library.
Once the content is approved by their team, they code them and create bulbulapps that will go to their apps library called 'bulbulapps' across app stores. The idea is to publish stories and apps that children really will enjoy and parents can trust. They want the parents to know they will be right for their child.
The Challenges
The challenge for the team was to design an appslibrary that is as simple as a grandma stories and immortal. Easy to install, simple loaded with highly interactive multimedia content. They wanted to create the grandma magic in the digital world and tell stories just like in those old days that brought curiousity, sparkle and were heartwarming for the child like the bedtime stories or motivational stories.
They've built an impressive array of effects and animations in their stories; but when they went live, they realized that most of the people's phones have very little or no memory in their phones. Thanks to the gazillion pictures and videos everyone was sharing on whatsapp.
They had put an equal amount of effort to cut down the size of average story from 70MB to 20MB without losing interactivity. Some of their partners pushed them to bring down to 10MB which apparently is the sweet spot for Indian market. They are persently working on that.
The other problem they face is that people are willing to pay for their apps. But they don't have a mechanism to do so on Android. Whenever we go an event and 'ask' for money for our stories, usually parents don't mind paying us in cash. But when we ask them to buy the stories 'on' the phone, they usually are clueless. Prakash realized that India needs some more time to make the payment process easier, friendlier.
The Journey So Far
Right now their focus is to reach as many parents and children and build awareness about their apps and its benefits to kids. They are not thinking much about competition as they are in a niche play. Also, this is an emerging segment and an emerging market. They believe it will take another 2-3 years before consolidation starts.
Merely, 5 months old they've garnered more than quarter million cumulative downloads on the app store with more than a million views on YouTube so far. They also have close to 50,000 followers on Facebook. Most of them mothers in the age group between 25-35 years from India, Pakistan and other countries.
They were No 1 on iPad and iPhone in India when they launched.
One of their stories Princess and the Pea went on to become No 1 eBook in 14 countries
They were features by Windows Phone on their home page
They were No 6 in Android in India under kid's category.
More than 30% of their Facebook fans are moms from Pakistan. They get as many downloads from Middle East as they get in India. Once in a while, they get featured in a country that they haven't even thought of, which excites them. It proves two things for them: Emotions are universal and when you produce local content at global quality, people consume.
The Future Focus
Right now their focus is to expand, consolidate their reach and manage retention. They are experimenting with few revenue models. They are being bit careful with their roll outs, they want to create a respectable user base before they solve that problem.
"We were recently approached by a Chinese content aggregator. They loved our Krishna series so much so that, they are creating a whole new category called 'Indian Stories' and offering our apps and videos in that category. We never thought of things like these."
Very soon we can expect their apps in regional languages. They are currently working on Hindi and Telugu, and are going to focus on all major Indian languages. On the portal side, they are going to increase their artist community to a 1000 artists for which they are looking at institutional money this round. If anyone is interested to know details, they can drop a line at info@bulbulapps.com
Comments
comments