Societe Generale reported a significant 64% decrease in annual net profits for 2022 due to a reduction in activity in its domestic banking unit, the impact of currency exchange, and higher operating expenses.
The bank's net income was 1.16 billion euros for the last quarter of 2022 and 2.02 billion euros for the entire year, compared to 5.6 billion euros in net profit in 2021. Despite being lower than the previous year, the results were better than expected, with analysts estimating a net income of 905 million euros for the quarter and 1.5 billion euros for the year.
Societe Generale's growth plans till 2025
CEO Fréderic Oudéa expressed confidence in the bank's ability to benefit from ongoing projects and business developments, confirmed its financial guidance for 2025, and stated that 2023 would be a year of transition.  Revenues for the bank rose 8% to 28.1 billion euros, while operating expenses increased by 5.9% to 18.6 billion euros. The CET1 ratio, a measure of solvency, stood at 13.5% compared to 13.1% at the end of Q3.
The bank plans to pay out 1.70 euros per share to shareholders and carry out a share buyback program of around 440 million euros in 2023. However, the outlook for the year is challenging, with the bank's domestic unit expected to report lower revenues due to changes in monetary policy in the region. Oudéa stated that they expect more pressure on revenue in 2023, as banks in France do not immediately benefit from the normalization of interest rates.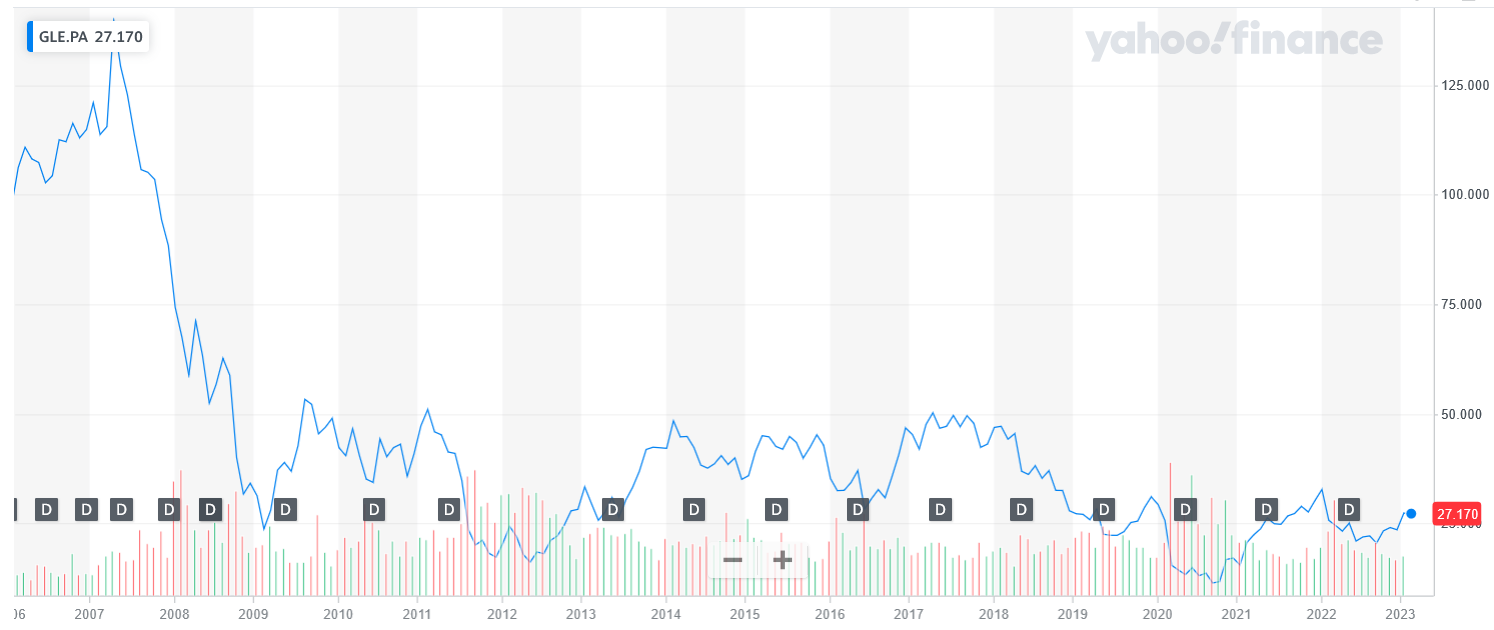 The European Central Bank recently raised interest rates four times in 2022 and announced another 50 basis point increase, marking a change in monetary policy after years of negative rates. This shift could result in higher margins for commercial banks.
However, Societe Generale's CEO Fréderic Oudéa warned of a significant amount of uncertainty in the market. He stated that while the central scenario is for inflation to peak and gradually decrease with interest rates also going down from 2024, there is a possibility of a scenario with higher inflation for a longer period, which would mean higher interest rates in the future.
These results also mark the final annual report under the leadership of Oudéa, who has been in the CEO position for over a decade. He is soon to be succeeded by Slawomir Krupa, the head of the investment banking unit. The shares of the French bank have declined by over 20% in the past 12 months.
Despite the challenges, Societe Generale remains confident in its future prospects. The bank has emphasized its ongoing projects and business developments and confirmed its financial guidance for 2025. The Group is determined to make 2023 a year of transition and is prepared to face the challenges ahead.