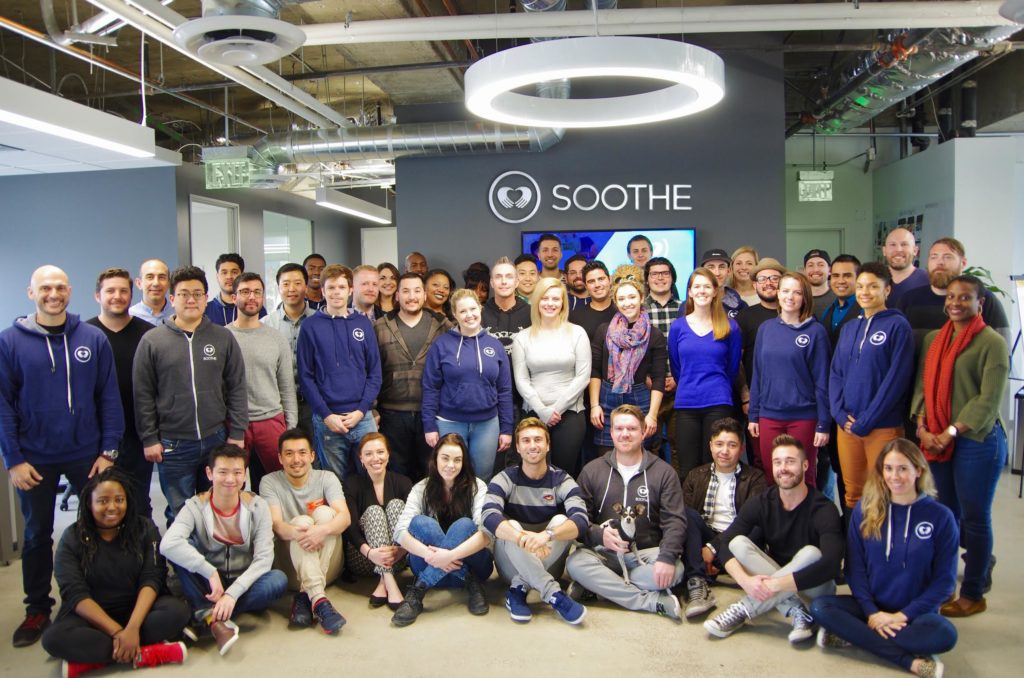 In a world where professional and personal lives are getting more and more demanding, releasing stress has become an important part of urban living. And what works like a better stress relief than a great massage However, when we need a massage the most, it becomes difficult to schedule appointments.
Soothe was created out of the frustration of not being able to book a last minute massage, often times when you need it most. Soothe is a part of the "On Demand" economy and is happy to provide customers with a simple way to access the healing power of massage exactly when they want it. Soothe lets users schedule a same-day massage in the privacy of their home or hotel. Therapists can create their own schedule and customers can book a massage at a time that works for them.
Soothe was founded in 2013 by Merlin Kauffman. He starting working for AOL at the age of 11, founded his first company, eWireless.com at 17, and bootstrapped True Magic, LLC (a prominent domain investment company which holds 55,000 domain names) with $10,000 from his student loans.
Profitable in 2 months, it experienced 2500% in revenue growth over 11 years, with 90%+ margins, and 7 figure annual profits. Merlin is a graduate of the OPM program at Harvard Business School, who is obsessed with breakneck growth, endlessly solving problems, client experience/customer service, and dodgeball.
There is a $12 billion market for massage in the US alone, which Soothe is quickly becoming a key player in. The on demand marketplace can be quite challenging to manage. Aligning client demand with therapist supply is a delicate balance as you can't overpopulate the supply side, but need to be able to fulfill client appointments.
Soothe promises their clients that a therapist will arrive in about 60 minutes, which adds another stress point in filling the appointment with a top quality therapist expeditiously. The company has previously overcome these challenges by creating a proprietary technology platform that is able to manage both tasks as well as ensure quality. The company has also layered a human approach into their model by creating world class customer experience team that services both clients and therapists to manage their unique needs.
Soothe was founded in Los Angeles, which is an extremely health-centric market, making it a fantastic place to trial the Soothe concept. Soothe's expansion was greatly accelerated after an infusion of venture capital in 2015, which allowed the company to expand to 50 markets by end of 2016. Choosing which markets to expand in, and the order they were done, was absolutely strategic for the company. Before expanding into a market, Soothe would conduct an in depth study of each location.With the addition of Detroit, Soothe now services 51 cities across the United States, Canada, and the United Kingdom. Soothe currently has a network of over 8,000 certified massage therapists globally.
Soothe offers on-demand deep tissue, Swedish, sports, and prenatal massages daily between the hours of 8 am and midnight. All modalities can also be performed as a couples massage. Massages are fixed-price per person, and Soothe covers tax and gratuity. The prices are: $99 (60 minutes), $139 (90 minutes), and $169 (120 minutes). Soothe clients can also re-book the same therapist on future occasions.
"Our growth is really due to the experience our massage therapists deliver," adds Kauffman. "They provide spa-quality treatments without the hassle of finding parking or dealing with traffic. In addition, our massage therapists earn three to four times more than the industry standard. Soothe is extremely proud to provide flexible work opportunities for therapists."
Here are some of the customer reviews for Soothe –
"After a bit of a mix up with some anniversary plans, Soothe was more than willing to make sure I walked away a happy customer. I'm was more than satisfied with the couples massage. The massage therapists were very professional and sweet. Both had over 5 years of experience and you could tell! Everyone should at least try Soothe once, I don't think it gets better than having a massage in the comfort of your own home." – Leandra
"I have been having nearly daily massages from Laura T. over the past couple of weeks while I have been recovering from back surgery, which has helped to relieve the severe muscle spasms I had been having in my legs and have improved my overall posture. Laura T. is very intuitive and always manages to hone in on the trouble areas without me prompting her. I have been able to increase my mobility and return to my normal functions more quickly as a result of the massage therapy. I cannot speak highly enough about Laura T.!" – Sarah
"I changed my mind 3x before I finally just went for it. Kinda scary to have a stranger show up to ur house in the middle of the night… He was early which was fine by me, gave him time to set up and we talked while he did that. He was polite and professional the whole time. His technique and pressure were perfect, he focused on the areas I complained of and he always made sure it was not too much for me to handle. Great communication, set up and clean up was fast. I would use Ruben again and I would recommend him to my friends and family." – Kimberly
"I was blown away by this service!
I woke up with a terrible muscle sore and didn't think I could stretch it out. I was in so much pain I didn't think I could drive or walk to a massage. So I decided to give Soothe a try after their constant Facebook advertisement.
I was amazed by the quality and pricing of the service. I booked a massage at 7:45 am on a Saturday for 9:00 am, thinking there was no way they'd get someone there in time. They did. My masseuse showed up 10 min early to get set up. It was a really comfortable portable bed.
I'm sure this varies person to person, but this was one of the best massages of my life. Hit all the right notes; excellent quality; asked a few times about pressure but overall allowed it to be relaxing.
This was a fantastic service, and I'll definitely use it again." – Lilly
Comments
comments