Starbucks, a multinational company terminated a prominent union leader days after the former CEO Howard Schultz was probed by Congress over the company's unlawful union-busting drive.
Three workers at a Starbucks branch in Buffalo, New York, apparently lost their jobs on March 31. Among them was Alexis "Lexi" Rizzo, a shift supervisor who had worked around for seven years.
Being one of the first two Starbucks locations in the US to form a union, the Genesee Street location, Rizzo is regarded with triggering a broad labour movement in the Seattle-based coffee sector.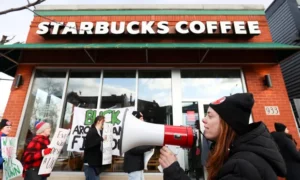 Starbucks claimed Rizzo's continuous lateness as a reason for terminating her in a mail to Quartz, stating that she had collected a "progressive disciplinary track." According to CNN, Rizzo, who decided to work at Starbucks at the age of 17, confessed to arriving an infrequent time a few minutes late to her job.
Only two days prior to the firing spree in Buffalo, Schultz was interrogated by the Senate labour committee, chaired by Senator Bernie Sanders, concerning several incidents of unfair labour practises that had occurred over the previous 18 months. Schultz strongly denied any misconduct during the session.
"I don't think it's a coincidence that two days after Howard Schultz had his ego bruised the way that he did that he started lashing out at Buffalo," Rizzo said in a CNBC interview.
The National Labor Relations Board (NLRB) ruled Starbucks responsible for denying increases in pay, bonuses, and perks to union members as well as for refusing to get into contract negotiations with unionised outlets. Seven improperly terminated employees must now be recalled after an NLRB judge in Buffalo declared that the business had breached labour laws dozens of times.
Quotable: Retaliation by Starbucks?
"To me, this is payback, and it's vindictive and retaliatory, and just simple mean-spirited." –a remark made by Richard Bensinger, a senior advisor to Starbucks Workers United and a union organiser, during an interview with The Buffalo News
A change in power at Starbucks, but no change in tune:
Starbucks' approach against organised labour doesn't seem to have shifted regardless of a recent change in executive management.
Laxman Narasimhan took over as CEO last month, replacing Schultz two weeks early. Both employees and shareholders are interested to watch how he handles the firm's difficult labour history.
On March 23, while employees in 100 stores all across the nation were on strike, Narasimhan made his official debut as Starbucks' CEO at the firm's annual conference. In a letter released the following day to partners, he wrote: "We must care for the artists and the theater in the front of our stores, and the factory in the back," appearing to acknowledge employee grievances.
The new firings indicate that Starbucks is maintaining its anti-union position, however, it is unknown whether that feeling will result in reality.