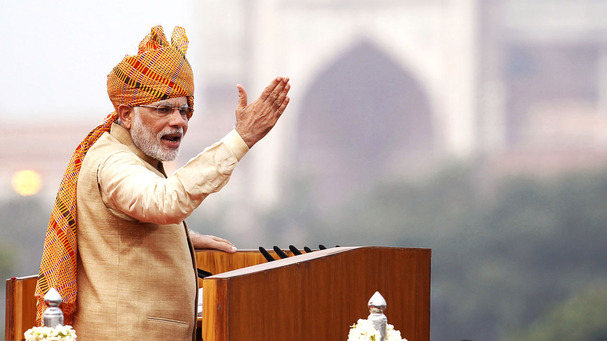 Our honorable Prime Minister Mr Narendra Modi has been showing a lot of keen interest in developing the startups in India. On January 16th Mr Modi will unveil his Startup India plan which is expected to catapult the startup ecosystem in India to a completely new level. Here are some of the expectations that startup founders have from Mr Modi's Startup India Standup India Plan.
Shaifali Agarwal Holani, Founder & CEO, EasyFix
It's entrepreneurship that has changed the outlook of India and I expect govt to take advantage of great minds of India. There are multiple issues at country level which can be resolved by privatization or joining hands with govt. First and foremost GST must be rolled out and it should become easier for startups or other businesses to survive as it's success finally leads to a developed country.
Sairee Chahal, Founder, SHEROES.in
It is great to see a great initiative such as Startup India, Stand up India from the government. Coming from the startup community, here are the expectations of the entrepreneurial and the investor community from the same:
Inspiration and motivation for younger generation to start something, move from the job seekers domain to job creators domain
Change in decade old entrepreneurial policies, which were drafted mainly for the SMEs kind of organizations and catering mainly to manufacturing sector. Today's startups work with tech mainly focusing upon product and service kind of offerings. They require different kind of resources and have much lower input investments
The financial support to the entrepreneurial community would make funds easily available. They would work very differently from the way banks give out loans. The funding made available under this scheme should follow a pattern similar to an investor portfolio.
Creation of an encouraging eco system
The changes, which we hope to see after a successful implementation of Startup India Standup India initiative are:
More women entrepreneurs under this initiative
Some extra support to help them set up, scale up along with funds availability
Ease of policies in business setting up
[box type="shadow" align="aligncenter" class="" width="600″]Related Reads:  Startup India : How India is Turning Into A Startup Nation ! [/box]
Abhiraj Bhal, Co-founder, UrbanClap.com

Prime Minister Modi's Start Up India program is a step in the right direction for India's booming start up ecosystem. We look forward to hearing Mr. Modi's plans on creating a framework that helps nurture and accelerate the growth of start ups in India.This will also be a good opportunity for entrepreneurs across the country to get clarity on how key hurdles that are stunting growth will be addressed.
Debadutta Upadhyaya, Co Founder Timesaverz
A business friendly Service tax law for aggregators, who are trying to organize unorganized markets
Deepit Purkayastha, Co-Founder & Chief Strategy Officer, Inshorts
The Start-up India movement initiated by the Indian Government is a brilliant step towards strengthening the startup and entrepreneurship ecosystem. Our expectations from the policy would be as follows:
Tax exemption for Angel Investment and ESOPs – Government should encourage angel investment as an Investment option, this would firstly allow existing angel investors to make more bets on startups and bring in new investors who would look at Angel Investment as a portfolio diversification strategy invest
Take measures for building a vibrant Students Entrepreneurship ecosystem – Government should work towards building a vibrant startup ecosystem in colleges. This could be done by firstly including Entrepreneurship as a course at School level, secondly designing core and optional curriculums on Entrepreneurship at College level, thirdly by providing Students the liberty to be able to startup in college and complete their degrees later if requested (nothing will make students more employable than having started their own venture) and finally, by enhancing the startup-academia interaction across the board in technical as well as non-technical universities.
Include more contemporary and startups relevant skills in the college curriculum – A lot of new skills which Startups need in prospective recruits viz. Product Management, App Development, Content Marketing, UI/UX Management etc are not being imparted in the formal education system. The government should work towards either inclusion of these modules in the current educational curriculum or make it easier for private players to impart these modules as complimentary courses with the existing degrees. If we need India to become a Startup nation, we need resources that are employable and productive for startups right after college.
Ms. Ankita Tandon, Chief Operating Officer, CouponDunia
Today, India is the land of opportunities for young entrepreneurs. People from diverse sectors like engineering and others are choosing start-up as a career and in fact many of them have the entrepreneurial zeal and the spirit to set up their own business as well as compared to the past few years. Also, a growing number of Indians are returning home due to plethora of opportunities available for entrepreneurs. CouponDunia is one such example. In theory, everything is perfect. However, in reality, there are a lot of challenges faced by start-ups in India. The general ease of doing business in India is not yet in place. The pace at which start-ups operate is very fast whereas government processes are lengthy and often take a long time for clearance formalities and paperwork. Through the 'Start Up India, Stand Up India' initiative, we expect our government to simplify all these processes and make it easier for the start-up community to not only set up but also scale up their business. Our Government should  also encourage micro-entrepreneurship by investing and dedicating an exclusive fund for entrepreneurs apart from the one's provided by the VCs and angel investors. Furthermore, the government should address the challenges faced by start-up companies and set up proper compliance and redressal forums for addressing these issues. Any start is a good start
Mr. Ameen Khwaja, Founder & CEO, LatestOne.com
Majority of the startups and e-commerce companies rely heavily on external sources of funding however, such funding's are only available from key foreign players. Presently investment by Indian players in the startups and e-commerce industry is at a very superficial level and Indian banks and financial institutions need to be encouraged to participate in funding of startups.. This step will facilitate the wealth created by such startups and e-commerce companies to stay in the Indian economy. The Indian laws particularly for listed entities are impossible for any startups to get listed on Stock Exchanges.  It is also impossible for an entrepreneur to take the stock in his Company through Sweat Equity because of the existing tax laws which are taxing Sweat Equity upfront by considering it as "deemed income".  They must make sure that tax laws are amended for entrepreneurs/technocrats to own substantial percentage of the company by virtue of Sweat Equity and ESOP's but not taxed upfront
 Mr. Sumit Chhazed, Co-Founder, CredR
 I expect the new policy to be a forward step by the government to encourage and empower young entrepreneurs by simplifying regulations and compliances that are pre-requisite to setup a start-up and also fasten the paperwork, permissions and processes. This will help to accentuate the funding opportunities for deserving entrepreneurial ideas. I believe, conducting workshops to encourage budding entrepreneurs will help to generate product innovation ideas, create new markets and build a strategic approach to mitigate critical pain points. The government should also establish a startup village in every Indian state. This 'village' can function as an incubation hub for aspiring entrepreneurs, and should have the desired infrastructure, resources, network, funds, guidance and support to foster new startup ventures. Also special attention and support should be given to rural entrepreneurs by helping them to overcome their shortcomings like know-how about different marketing channels, finance, training and experience, technological development to cope with urban competition.
Krispian Lawrence, Co-Founder & CEO, Ducere Technologies
 The 'Start Up India' movement initiated by the government is an excellent step towards encouraging entrepreneurship and helping to foster a healthy start-up ecosystem in the country.  There are, however, a few areas that need attention. Despite its laudable effort to ease the company incorporation process and  emphasis on manufacturing in India, not enough focus has been put on encouraging product innovation. India is in a unique position to create innovative technologies, and the government should simplify the processes and protocols for companies to develop intellectual property and file patents. Currently, it takes an average of seven years to get an utility patent issued. This is extraordinarily slow, and creates massive impediments in the innovation process, which is the bedrock on which start-ups are built. Additionally, the government should also offer tax incentives on filing foreign patent applications as well as on attorney fees when doing so. We are extremely hopeful that this impressive initiative, with some key additional steps, will provide a conducive ecosystem and encourage start-ups to take the chance to not only innovate in India, but also most definitely to 'Make in India'.
Saurabh Arora, CEO,

Lybrate
It is a commendable effort of Prime Minister Narendra Modi to make the startup ecosystem inclusive and conducive. It will definitely encourage those who have innovative ideas to pursue them and not shun for want of clarity and support. We are looking forward to the Action Plan which the Prime Minister will be unveiling on January 16. As a player in healthcare sector, we want to work closely with the government and make a cohesive partnership to help further its effort of making healthcare available to every citizen of the country. Our vision is in line with the government and we welcome open discourses with the government to digitize healthcare in India
Our expectation from the government is to:
Simplify tax structure
Ease regulatory and bureaucratic hurdles for doing business in the country
Facilitate frequent open discussions with government departments concerned
Create one-window system for startups for anything related to their business
Swati Bhargava, Co-founder, CashKaro.com
While start-up policies are helpful for youth to bring up new ideas leading to more innovation and economic growth of the country, we expect a comprehensive approach by the Govt. while considering the following:
Ease of Regulatory Compliance- Startups are hesitant to engage with the government as they expect there to be more bureaucracy than support. With launch of Startup India policy, we expect positive steps from the Government to address certain impediments like taxes, regulatory framework and issues with capital, which in-return will carve out some of the biggest success stories in the Indian startup ecosystem
Initiatives to give access to seed funding- India has enough entrepreneurship zeal but lacks funding opportunities. We expect Government to act as a facilitator for the upcoming start-ups by giving an access to seed funding and also develop incubation centers for new ideas.