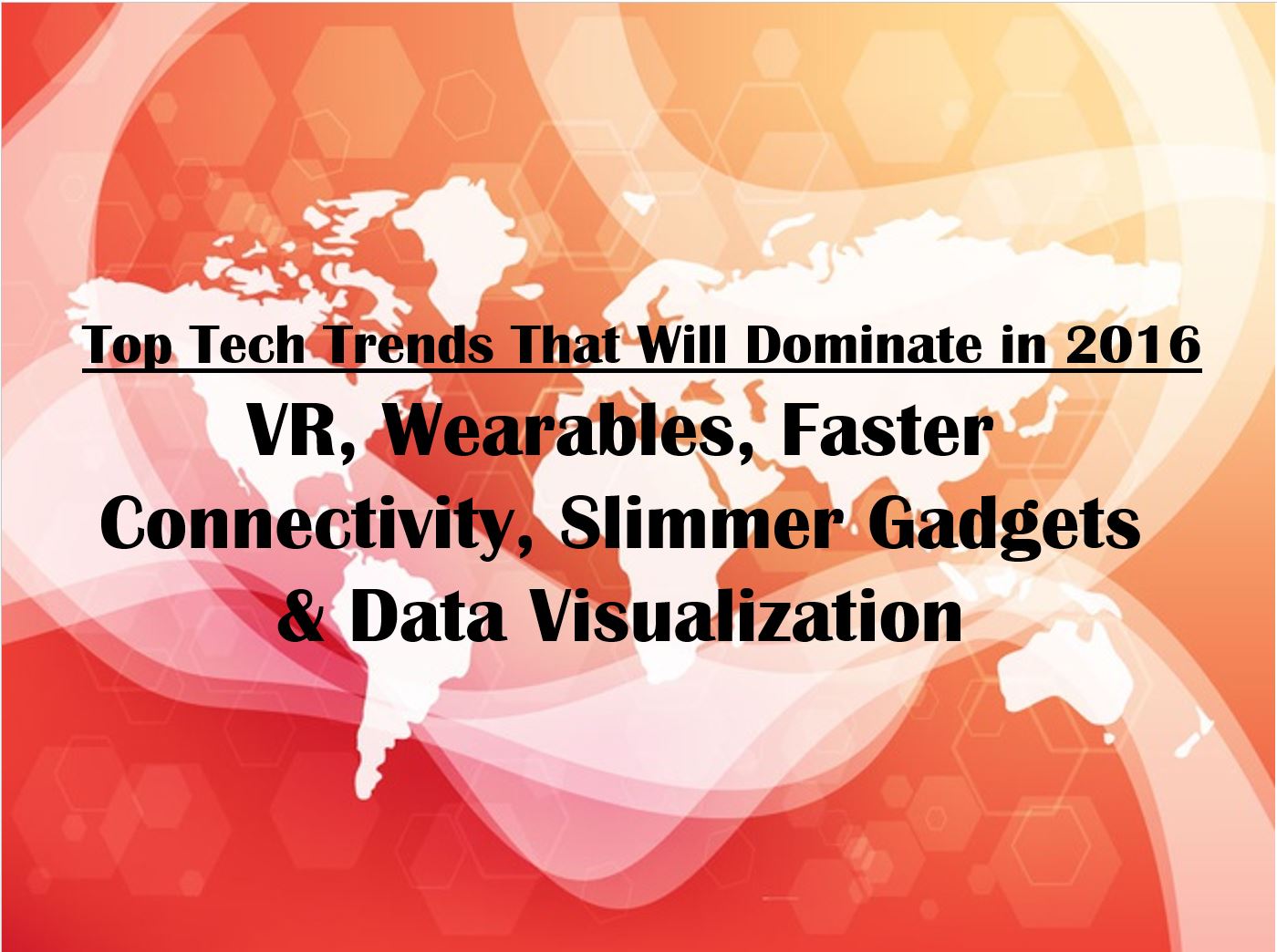 (Image Credits: Freepik)
2015 was an exemplary year for the technology industry, with numerous new ideas and launches seeing the light of the day. Tech titan Apple made significant strides with Force Touch and Hands-Off Siri on iPhone 6S. On the other hand, e-commerce giant Amazon unveiled its futuristic plan, delivery by drones, namely – Prime Air. 2015 also witnessed the launch of advanced wearables, USB Type C, Windows 10 and the increased use of Big Data.
Nevertheless, if you thought you had seen a lot of tech advancements in 2015, trust us when we say that 2016 is going to be bigger and better. Yes we are talking about virtual reality, sleeker devices and superior internet connectivity. Let us take a look at the top tech trends of 2016 that are likely to emerge and revamp the way world behaves and interacts.
Virtual Reality (VR)
While the concept of Virtual Reality has taken the world by storm, it is expected to take giant leaps in 2016. Fresh VR headsets are most likely to be launched from tech bigwigs HTC, Sony, and Oculus. By changing the way we share and experience almost everything, VR is touted to generate mass consumer revenues from software platforms and delivery services, television, gaming, and distribution channels. Prices of these headsets have been falling and are expected to reduce even further. This might make VR more accessible for people in 2016. While VR was originally introduced for gaming, its usage has been expanding lately. HBO recently gave Game of Thrones fans a treat when they created a VR for the immensely popular TV series, using Oculus Rift headsets. Imagine, in the near future you might be able to feel dragons spitting fire, while watching GOT!
Wearables
The growth in use of wearables will continue in 2016 and beyond, with 81.7 million adults using wearables by 2018. So far, the use of wearable devices have been restricted to individual users such as fitness freaks, gym enthusiasts, and executives who want to receive alerts on-the-move, without checking their smartphones. However, in 2016 you can surely expect wearables to be increasingly used at the workplace and who knows it might be a part of your joining kit when you join a new company. This is possible as showcased by DHL, which reported a 25% increase in productivity, after it put smart glasses on it shipping handlers, few months ago. Also, hands-free communication with the help of wearable arm devices could soon be fostered for people working in hospitals and in emergencies. Bio batteries, where wearables harvest kinetic energy from users, could also come into existence in 2016.
Foldable & Slimmer Gadgets
Wouldn't you love to fold your smartphone or tablets and put it in your pocket? In 2016, this might be a part of your reality rather than just a fragment of your imagination.  Samsung is expected to finally bring its foldable screens for the masses, which will make devices actually flexible and you will be able to bend it. Other form factors of gadgets will also surface as curved screens can become the norm of the day. Smartphones will continue getting slimmer as reports suggest that Apple iPhone 7 might be 1mm slimmer as it can choose to bid adieu to the 3.5 mm socket. Moreover, with the integration of micro chipsets, laptops and computers will certainly become slimmer and lighter.
IoT will only get bigger and better
Earlier this year, Google CEO Larry Page mentioned that the internet will disappear. What he meant is that the internet will become a crucial part of our lives in the years to come via Internet of Things (IoT). This precisely means that IoT will be present all around is the form of smart objects, devices, homes, cars, etc. IoT has been identified as one of the top 7 trends for 2016. Hereon, increased use of wearables and business solutions based on Big Data will fuel the expansion of IoT. Moving forward, newly manufactured cars will come pre-fitted with devices that can track how safely they are being driven. Thereafter, the insurance company can adjust the premium amount once someone chooses to share this data. Gartner estimates nearly 6.4 billion connected devices in use globally for 2016, which would be a 30 percent jump from this year. Therefore, in 2016 IoT will help the world move towards a data driven and controlled civilization.
 Data Visualization
This is the age of data and information sharing and therefore, unimaginable volumes of data are being produced for us to analyze and decipher key insights. However, conventional dashboards, PPT, and spreadsheets are not at all enough to hold the enormity of Big Data generated. There is a new world order in the making where data visualization plays a crucial role in decision making by allowing intuitive examination and 'what if' testing. Already, organizations like GE, Netflix and Twitter have started to implement data visualization into their business. With the way data is being used, on-the-move data visualization might also become a reality in 2016. Thereby, mobile devices will have the potential to provide us with access to data-rich research, figures, and reports, eliminating the inconvenient hassles to return to a desktop
Faster Mobile Connectivity & Li-Fi
Move over 3G and 4G, 2016 might witness the emergence of 5G network. Wireless carriers are proclaiming that the new 5G network will be 100 times faster than the present 4G networks. A host of wireless carriers have begun the process of testing 5G. KPN, Ericsson, Huawei and the research institute TNO announced earlier this year that they will be testing a 5G network in Netherlands, while Ericsson and Softbank began field trials and testing of 5G technologies in July 2015 in Tokyo. Furthermore, in 2016 by simply using LEDs, we'll be able to gain access to the internet. This new technology is been called Li-Fi(Light Fidelity) and theoretically can achieve a speed as high as 1 Gbps. It sends data by switching the current to LEDs off and on at a very high rate, and is invisible to the human eye.
About The Author:
Mr. Bishal Kumar is Founder and CEO, Ameyo. Under his guidance, Drishti Solutions has established itself as one of the pioneers in IP-based Communications Technology with its Ameyo product and has spread its wings across 40 nations and multiple continents including a presence in the Asia Pacific Region with their Philippines-based office.
Comments
comments