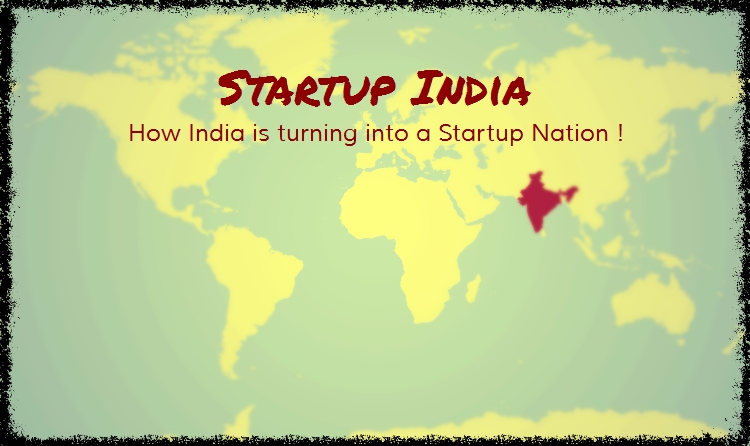 Startup India – A clamor that is being heard across the world like never before. Everywhere you go today, you can't miss hearing or reading about how India is the next big startup nation!
On 15th August 2015, our honorable Prime Minister Mr. Narendra Modi stood at the Red Fort and made a call to "Startup India, Stand up India". His words were echoing the sentiments of today's India- the flame had already been ignited in the minds of our youth to create awesome products and companies which will change the world! The Prime Minister's call was reassurance that the government is understanding and supporting the sentiments in our minds.
Never before in the history of the country have so many powerful forces come together to enable the Indian startup ecosystem. The gods have made their will known, the oracle has spoken! The time is here when India is becoming a startup nation. In the article below, we take a look at the various powerful forces that have come together in India and the way they are playing out together to create this startup nation. Startup Nation India – From a land of job seekers to a land of creators! Enjoy reading!
(We do understand that this is a very deep topic. This article is only a beginning of a series in which we will continue to add more insights to this topic. Also the article states the views of the author and we are more than happy to discuss alternate views.)
The Gods Have Spoken
How the country has come to a point where we are seeing so many creators in our country today.
The Indian Middle Class Rises
The success of an economy depends on a number of social, economic, political conditions prevalent in the country. India got its independence in 1947 and thus started the difficult nation building process. The government of the day focused on making quality education available to India.  Getting good education and hard work remained the mantra for the large Indian middle class population, something that you see deeply ingrained in this segment even today.
The Indian middle class story saw a huge shift in early 1990 with the introduction of reforms and an increasing integration of Indian economy into the global market. The economic reforms coupled with globalization saw a huge mind shift among the Indian middle class. The rise of Indian IT Industry in the late 90s not only gave rise to an increase in average income levels in the country but also created a well-traveled global Indian. The increase in average income created a sense of financial security in the minds of Indians who could now think beyond basic needs of roti kapda and makan (food, cloathing and shelter).
Thus was created a new breed of the Indian middle class – very well educated, hardworking and ambitious. Someone with a global mindset and awareness about the problems that exist in our country and how technology had solved these problems in the west.
Today as the environment becomes more and more conducive to start your own venture, it is this breed of the new middle class Indian who is creating global companies out of India.
The 1991 reforms, globalization and rise of IT industry in India have, among a number of other factors, been largely responsible for the rise of entrepreneurship in India.
India's Demographic Dividend – The Huge Opportunity
India, a country of 1.25 billion people, is home to the world's second largest population. India's population base is expected to serve as a huge asset for the country in the next few decades. India is poised to become the world's youngest country by 2020, with an average age of 29 years, and account for around 28% of the world's workforce. The country's population pyramid is expected to  "bulge" across the 15–64 age bracket over the next decade, increasing the working age population from approximately 761 million to 869 million during 2011–2020.Until 2020,  India will be experiencing a period of "demographic bonus," where the growth rate of the working age population would exceed that of the total population.
Empowered with unique demographic advantages and guided efforts, analysts are predicting that India will be poised to position itself among developed economies within the next 10–15 years.
India's demographics presents a huge opportunity for any business trying to create a dominant position in the global market. Any product developed for the Indian market becomes available to a huge amount of population that is earning and can afford to pay for the product or service. India therefore is the next land of huge opportunity and any company that wants to be successful in the next decade will have to create a presence in India. It therefore comes as no surprise when Google looks to India for the next 1 billion opportunity and Facebook tries to get Indians onboard through their Internet.org initiative.
Startups and entrepreneurs in India naturally see a huge home advantage in starting now.
Nascent Infrastructure Gives Rise to Opportunity
India's infrastructure which is largely said to be in a nascent stage is now presenting a huge opportunity.
The nascent stage of infrastructure in India is presenting a huge opportunity for companies to find white space and bridge the gap between what is and what could be. Most of the sectors in the country today remain in an unorganized state thereby presenting huge opportunity to organize these sectors. The country's digital revolution and thereby its journey towards a better organized future has just begun.
"India is an unbelievable market right now. Every single vertical is seeing immense growth in India at this point," Marta Emerson,Manager for Scaale Sales and the Vice President of the group, told Techstory when talking about the India opportunity.
Internet penetration in India remain low at 19.2 % in spite of which India remains the third-largest population of Internet-equipped inhabitants across the world with 243 million people online. The country is expected to see 500 million internet users by 2017 — including 314 million mobile internet user.
According to a new report by Strategy Analytics, India will surpass the United States as the second largest smartphone market within the next 2 years with China maintaining the no 1 spot. India is fast becoming the next major growth wave with the growth story being driven by low smartphone penetration, expanding retail availability of devices, wealthier middle-class consumers, and aggressive promotions from local smartphone brands.
Looking at the India opportunity, global tech giants like Facebook and Google are striving hard to get the entire Indian population online. Facebook with its Internet.org initiative tried to penetrate into this under penetrated Indian market whereas Google with their ballon internet project is trying to get the next billion users from India.
In a recent report Mckinsey Quarterly talked about India's tech opportunity and potential adoption of 12 empowering technologies in India. The exhibit below is a part of this Mckinsey report and gives us a fair idea of how much opportunity India presents.
The nascent and unorganized state of infrastructure within various segment of the Indian industry and the opportunity presented by India's population makes each and every sector in India very attractive right now. Entrepreneurs in India have identified these opportunities and are trying to digitize/ organize various sectors.
Its All In The Mind – Indian MindSet About Startups Sees A Change
There is an evident change in the professional and social preferences of the new Indian population.
Changing Job Preferences
While the silicon valley gave us new gods, the likes of Steve Jobs and Mark Zuckerbergs, who showed us how following your heart was the best thing that you can do to yourself, the new age middle class Indian, with an increased risk appetite is surely walking on that path.
The new age India today is ready to break away from the typical career paths, to take a chance, to follow their hearts and this is clearly evident from the hiring trends that we are currently seeing in the country. Traditional recruiters in India are said to be under pressure to up their game as more and more talent is tending towards working with growth companies.
A budding startup ecosystem, challenging assignments, huge fundings and an associated coolness quotient are attracting a lot of talent towards the Indian startup space.
Trends in Graduate Hiring
Hiring in Indian IITs always makes a news due to the crore plus packages that are offered to the students. Hiring trends in IITs are also seen as showcasing the trends of interests that young talented India is portraying. And the trends in first phase of the IIT placement season that concluded on December 31, 2014 were clearly showing a growing interest towards startups.
The year not only saw more number of startups actively participating in the campus recruitment process but also saw them offering higher packages in order to compete with our regular visitors and lure the students. In fact, startups and ecommerce companies were among the topmost recruiters of the year. Placements in start-ups have accounted for 13% of the total number of students placed from IIT-Madras where as many as 65 start-ups recruited and made 122 offers in more than 75 profiles.
The year also saw a number of IIT students either declining job offers or completely skipping the campus recruitment process itself, mostly, due to their growing interest into entrepreneurship. As per reports, at least 40 students across IITs have opted out of campus placement process to start their own ventures. While in the last placement season, only 1 student from IIT-Bombay opted out of the process for entrepreneurial pursuit in 2014, this year the number went up to 11. The number of students at IIT-Kanpur shunning the process for their startups in 2014 placement season was reported to be 5, which was at 14 this season. At IIT-Guwahati, 6 students opted out of the process to pursue entrepreneurship in the 2015 season. The number had stood at 3 last year. Unlike few years back when IITians preferred to get job experience in the industry before launching their own start-ups, many IIT freshers now prefer to pursue their dreams, experiment and come up with innovative products & services via their own startups immediately after graduating from college.
MBA Hiring Trends
Hiring trend among top MBA colleges also make a news ever year because of the high packages and also because it is a reflection of preferences of India. Among India's top MBA colleges too students are lining up to get placed in the startup and e-commerce sectors making it one of the hottest job segments in India right now.
According to an ET survey, the number of students opting for jobs in startups and e-commerce companies grew from 1 in 9 from the 2013-2015 batch from 1 in 19 from 2012-2014 batch. Startups and e-commerce sectors are offering salaries up to 10-18 lakhs.
A number of analysts are comparing this trend in hiring to that of initial times of the Indian IT Industry.
Mid and Senior Management Turns To Startups
The opportunity and challenges that startups and growth companies are providing today is really huge. Talk to any mid or senior management executive in India today and you cannot miss hearing about how they are looking for something challenging to work on. A lot of mid/ senior level managers who could not take a risk early in life due to responsibilities feel much more comfortable about it today after having made a considerable amount of savings and looking at the support that the startup ecosystem in India is seeing.
Increasingly a trend is being observed where more and more  mid-level officials are quitting cushy and humdrum jobs at big firms to work for startups.  Startups are not only offering challenging assignments but with lot of funding happening in the space are also able to provide with huge compensation packages including stakes and equity in start-ups, or milestone-linked compensation packages making startups a very attractive value proposition for people looking for additional challenges.
The risk associated with whether the startup succeed or fails always remains but with good packages and a lot of challenging opportunities available to people who have proven themselves in the startup environment, more and more people are ready to take the leap.
Changing Social Outlook

There was a time in India many years ago when the only socially accepted job was a government job. Then came the private sector jobs, then the MNCs and slowly and steadily jobs at startups and having your own startup are also gaining more and more social acceptance each day. In the middle of a number of reports which said how having your own startup is not very conducive to your marriage prospects, Jeevansathi, a matrimonial website has witnessed a 55 % increase in self-employed profiles in last couple of years. Rohan Mathur, the VP and head of Jeevansathi said that nowadays parents are fine with an entrepreneur groom as long as he has good educational background.
The number of couples who have started companies together is also growing in India, thus showcasing a trend that more and more families are becoming open to taking some risks.
Anand Chandrasekaran and Ashwini Asokan of Mad Street Den, Mehak Sagar Shahani and Anand Shahani of WedMeGood, Abhinav and Radhika Khandelwal of SweetsInbox , Atit Jain and Madhulika Pandey of GigStart, Mrigaen Kapadia and Nupur Kapadia of MobiFolio, Rohan and Swati Bhargava of CashKaro, Aparna and Navin Bhargava of Yaasna are some of the couples who have started their ventures together.
Indian Startups Get Bolder
Bold moves by startups have played a huge role in attracting more and more interest in the startup ecosystem in India.
As investors showed more and more faith in the industry and have made huge investment in startups in India, the availability of funds has made startups take some very bold steps and thereby grow the company leaps and bounds.
One of the boldest thing that startups have done is to go behind some of the best talent in the world. If reports are to be believed, in the last six to 12 months, between 120 and 150 high-profile executives have returned to India from the Silicon Valley wooed by Indian startups for their Valley knowhow. In the months to come, these high-profile are expected to help lure the next level of talent to India.
Rushil Goel from Boston Consulting to Ola Cabs, Peeyush Ranjan — from Google to Flipkart as senior vice president of engineering; Namita Gupta — from Facebook to Zomato as chief product officer; Niket Desai — from Motorola Mobility to Flipkart as chief of staff; and Gaurav Gupta — from ScaleArc to Snapdeal are some of the examples of this drift.
Among the Indian companies, Flipkart has been the most aggressive about hiring talent from the west. Some of the notable hires made by Flipkart in the last few months are – Punit Soni as Chief Product Officer, who was a senior product management executive for Google and Motorola, Peeyush Ranjan from Google as Senior Vice President and Head of Engineering, Amazon's Dan Rawson as Head of Customer Logistics and Supply Chain Ecosystems, Google's Ravi Byakod as Director of Engineering – Accounting and Anand Lakshminarayanan from Microsoft as Head of Product Management for Digital Goods and Services.
Flipkart did not disclose their pay, but headhunters say remuneration packages can reach $1 million over 3-4 years. According to a recent report by Economic Times, Punit and Peeyush are said to be getting $1 million (Rs 6.2 crore) a year each apart from $3-6 million in stock options.
The boldness is also evident in the college hiring trends of startups and e-commerce companies.
For hiring MBA graduates from India's premium institutes, startups and the e-Commerce companies have raised their offers up to 120 percent in 2015 as compare to 2014. Snapdeal, Flipkart, Olacabs, Housing.com and Amazon remain the top recruiters in premium MBA colleges of India.
According to the Nasscom Report, while 82% startups are ready to pay more than the market median, about 83% startups are using stock options for long term incentives.
The Government Steps In
The startup ecosystem is getting a substantial backing from the government which is proving to be a huge motivation for the ecosystem!
Start-Up India Initiative
Indian Prime Minister Mr. Narendra Modi has announced the Start-Up India initiative in his Independence Day address in August 2015.The Department of Industrial Policy and Promotion (DIPP) is spearheading the initiative and is expected to start working closely with banks to kick-start the government's Start-Up India initiative in both rural and urban India.
Under the initiative, DIPP is expected to start working with banks across the country, especially in rural areas. "If each of these (bank) branches gives tribal or Dalit population something to start up with, it would take the whole startup and innovate India (initiative) thought to district level," Ms Nirmala Sitharaman has said.
DIPP is also working on ways to reach out to the urban educated and the deprived section of the society to build entrepreneurship. "All over the country, youngsters are coming up with ideas of entrepreneurship … They don't have time to wait, we don't have time to lose," Sitharaman said. The commerce minister said there is a need for greater participation of industry in driving ahead the movement of Skill India.
SETU Fund
The setting up of the SETU (Self-Employment and Talent Utilization) fund has been hugely welcomed by the startup community. Under this fund, the government will be launching an incubation center in order to create opportunities for self-employment and new jobs particularly in technology-driven areas. The center has allocated Rs 1000 crore for this purpose.
e-biz portal
To boot entrepreneurship and to make it easy to start your business, Budget 2015  has pitched for the widespread usage of the recently launched e-biz portal. The portal integrates 14 regulatory permissions at one source. Widespread use of this portal is expected to help enable faster clearances for setting up businesses.
MUDRA Bank
Several entrepreneurs in the MSME sector have often complained about lack of or difficulty in getting finances to run their business. Often, while applying for loans, these companies are asked for large collaterals by the banks, which made their business unsustainable.
The 2015 Budget addressed this problem by setting up of the Microfinance Unit Development Refinance (MUDRA) bank.
Atal Innovation Mission (AIM)
During the Budget 2015, Mr Arun Jaitley launched the Atal Innovation Fund (AIM).AIM will be an innovation promotion platform involving academics, entrepreneurs and researchers.
Royalty Tax
In a bid to allow greater access to new technology for their business, Finance Minister Arun Jaitley has slashed royalty tax paid by entrepreneurs from 25% to 10%.
Startup Network
The Modi government is creating an ecosystem for supporting young entrepreneurs through a formal network of incubators, accelerators and mentors that would help set up, grow and stabilize new businesses, with an emphasis on social enterprises and commercial adaptation of grass-root level innovations.
The network that would include institutions like the IIMs, IITs, Indian Institute of Science, research parks and industry bodies, is being steered by the Ministry of Skill Development and Entrepreneurship as a 'high-impact scheme' to spur job creation.
The new startup network would also bring on board existing entrepreneurship promotion initiatives such as the National Science & Technology Entrepreneurship Development Board (set up in 1982 under the Ministry of Science and Technology) and the National Institute for Entrepreneurship and Small Business Development under the aegis of the Ministry of Micro, Small & Medium Enterprises.
Government Funds
There are various government and semi-governmental funds, grants and other initiatives to help startups. You can view the list here: Venture Funding for Technology Startups.
Smart Cities And Digital India Opportunity
The Smart Cities Initiative by the current Narendra Modi led government is expected to create a huge opportunity for companies to provide services. The plan which aims to create about 100 smart cities in India is expected to require services in waste management, clean energy, traffic management, internet availability, transport solutions, smart grids, education, e- governance, healthcare and sanitation and more. The smart cities initiative by the Modi government is attracting huge interest within and outside the country.
The Prime minister also recently launched the India Smart Cities Challenge which invites citizens to contribute to creating a vision for their city.
The Digital India Initiative by The Modi Government which includes plan to connect rural areas with high-speed internet networks is also expected to open up huge opportunities for SMEs in India.
India Startups – Quick Facts !
Startup Stats
According to the NASSCOM Startup Report 2014, India is the 4th largest startup ecosystem globally after USA, UK, Israel and Canada. The technology product startups inception rate in India is growing at 14% Y-o-Y. In 2014, the country had 3100 startups and is expected to see 11500+ startups by the year 2020. In 2014, startup ecosystem employed about 65000+ people. This number is expected to rise to 250,000 in 2020.
59% of startups in India are in the B2C space, 37% are in the B2B space whereas the remaining 4% are a combination of B2B and B2C. India is expected to see more than 11500 startups by 2020 and is expected to employ over 2.5 lakh people.
90% of the startup activity in India seems to be happening in top 6 cities of Bangalore (28 per cent), Delhi-NCR (24 per cent), Mumbai (15 per cent), Hyderabad (8 per cent), Pune (6 per cent) and Chennai (6 per cent).Kolkata, Ahmedabad, Kochi, Jaipur and Thiruvananthapuram are dominant as the next emerging startup locations.
Founder Profile
73% entrepreneurs in India are young founders falling under the age of 36 years (53% founders in the age group of 26 to 35 years, 22% in the age group of 36 to 45 years, 20% entrepreneurs younger than 25 years and about 5 % entrepreneurs more than 45 years in age) 52 % founders come with a post graduate degree.
Funding
VCs/ PEs
In 2014, India saw 70+ active investors who carried out more than 100 deals. The year 2014 saw investment of about USD 1818 million made in the Indian startups (For 2014, investment commitment in startups excluding e-commerce was USD 743 million). The overall average deal size of USD 7.7 million (Average deal size in B2B segment is USD 5.7 million whereas average deal size in B2C segment is USD 9.4 million).
More and more VC/ PE investments are happening in the expansion stage. In 2014 about 186 million USD was invested in startups who were less than 2 years old whereas 1632 million USD was invested in startups who are 2-5 years old.
About 63% investments were made in the B2C segment, 32% in the B2B segment and 5% in b2B / B2C segment. Companies in NCR and Bengaluru attracted a large part of VC/ PE investments followed by Mumbai , Chennai, Pune and then others.
Angel Investment
2014 saw 90+ Angel investors investing in the Indian market. More than 73 angel investment deals happened in 2014 in which investments worth more than 32.2 million USD were made. The year saw more than 10.6 USD invested in startups that were less than 2 years old and more than 21.7 USD invested in startups who were 2-5 years in age. 60% investment was made in B2C segment, 34% in B2B segment and 6% in B2B / B2C