According to a report by research firm VandaTrack, individual investors are buying stocks at a record pace as U.S. equity markets have rallied at the start of 2022. VandaTrack's data shows that retail investors have poured an average of $1.51 billion per day into U.S. stocks over the last month, the highest amount ever recorded.
The research firm's strategists warned that institutional investors remain pessimistic about the stock market, making the retail cohort's involvement even more critical. VandaTrack noted that January's retail sales and job data suggest that consumers have impressive buying power.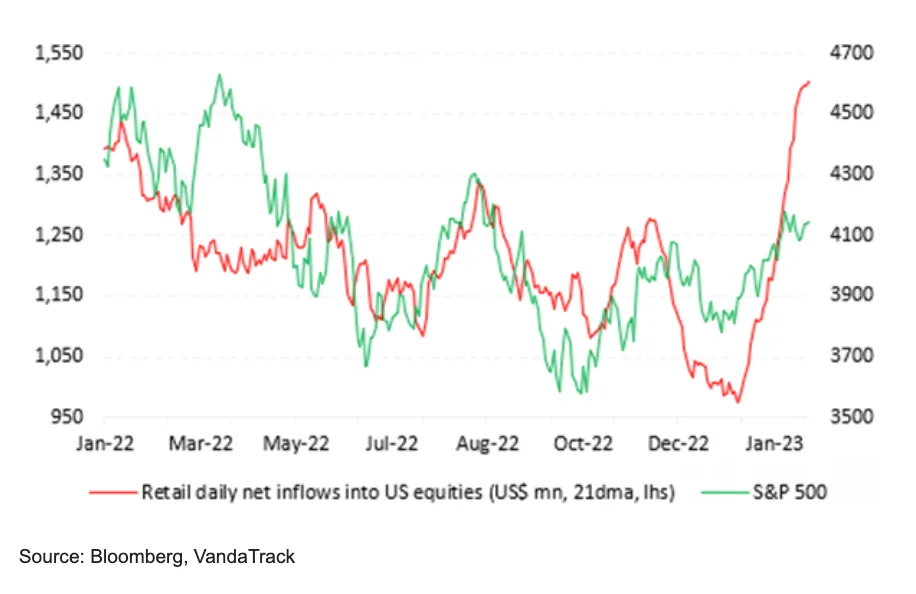 The current year's most popular stock among retail investors, with Tesla being the clear favourite, receiving inflows of $9.7 billion. This indicates a significant shift in investor sentiment towards the electric vehicle giant, which had a lacklustre performance in 2022. However, Tesla's stock has rebounded in 2023, registering an impressive gain of 74% through Wednesday's close, making it an attractive investment for retail investors.
In addition to Tesla, the SPDR S&P 500 ETF Trust, which tracks the performance of the benchmark S&P 500, was the second-most popular investment for retail investors, with inflows of $3.6 billion. This suggests that retail investors are keen to invest in a diversified portfolio that reflects the broader market performance, as evidenced by the 8.2% year-to-date gain in the S&P 500 index.
Other popular stocks among retail investors include Amazon, Apple, and Nvidia, which received inflows of $1.8 billion, $1.7 billion, and $1.4 billion, respectively. These companies' stocks have also outperformed the broader market, registering gains of 20%, 19.5%, and 55.8% this year.
ARK Innovation ETF growth
The increasing popularity of speculative and lower-priced stocks among retail investors, including those favoured by ARK Invest's Cathie Wood. Although Wood's flagship ARK Innovation ETF has seen only a modest increase in inflows this year, retail investors have bought underlying stocks from ARK's family of ETFs, such as Coinbase, Block, and Roku, more rapidly than the firm itself. This trend was also observed earlier in the COVID pandemic.
According to VandaTrack, retail investors are outpacing Cathie Wood and her team in purchases of these names. The outperformance of these favourite stocks can be attributed to retail investors' significant capital injection of $18.5 billion in 2023. The researchers at VandaTrack note that these stocks are more susceptible to retail flows due to their smaller market cap. The positive momentum in the equity market could further push retail investors towards more speculative stocks.
Despite the increased popularity of lower-priced stocks, ARK Innovation has registered a gain of 38.3% year-to-date through Wednesday, indicating that high-flying technology stocks remain attractive to investors.
The data suggests that retail investors are taking an active interest in the stock market, seeking to capitalise on the opportunities presented by the volatile market environment. However, it remains to be seen if this trend will continue and if retail investors' purchases will influence the market's direction.