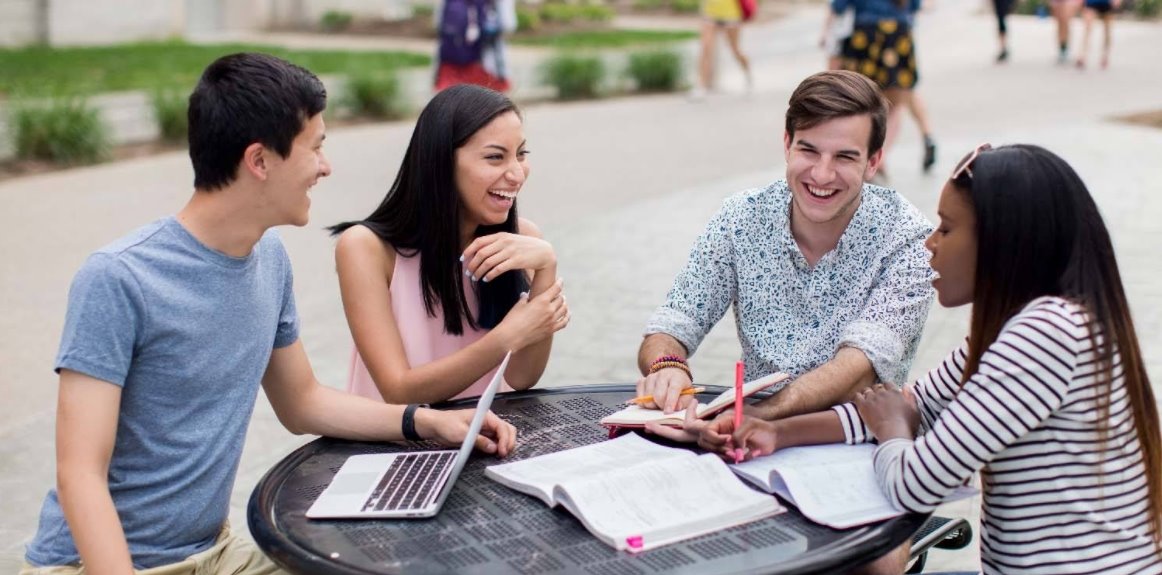 Australia is currently the third most popular destination among international students in the English-speaking world, behind the United States and the UK. In May 2017, 502,544 international students enrolled in Australian universities, which was 14% higher than the number of international students who enrolled in May 2016.
The highest number of international students come from China and India followed by Malaysia, Nepal, and Vietnam. China alone accounts for around 30% of the total international students in Australia.
Australia offers 22,000 courses at 1,100 institutions with six universities, affordable fees, and cheaper living costs when compared with the UK and USA, without having to compromise the quality of education and living standards, which have fueled its popularity. However, despite the affordability, overseas students in Australia are permitted to work and earn on their Student Visa.
How Many Hours of Work is Permitted in Australia?
Overseas students in Australia are allowed to work up to 40 hours a fortnight during the university semester study periods and full-time during holiday periods. A fortnight is a period of 14 days commencing on any Monday and ending on the second following Sunday. Here is an example of how 40 hours a fortnight is calculated:
Suppose a student visa holder works according to the below table over a four week period after his/her course has commenced:
Week one – 15 hours
Week two – 25 hours
Week three – 25 hours
Week four – 10 hours
If you see in the above example the total hours worked in week two and week three is more than 40 hours. Such non-compliance with the work limitation may be subject to visa cancellation. Thus, one must be very careful with the number of hours they spend working.
The following image by Instarem will give you an idea about the kind of jobs and wages offered in major Australian cities that are most frequented by international students.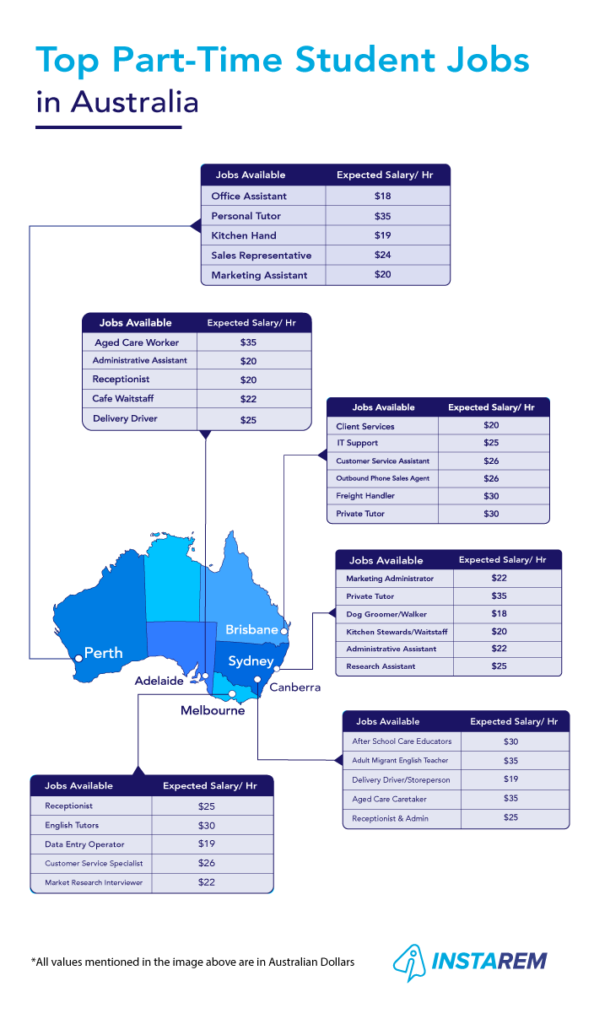 What Kind of Part-Time Jobs are Available in Australia?
While personal strengths and interests are vital factors, it is also important to find a job that is convenient for you — location and time-wise. Popular part-time jobs for students are in the following industries:
Retail — It could be a small store, a chain of stores, or a large departmental store.
Hospitality — Cinemas, restaurants, bars, hotels, takeaway food stores and sporting venues.
Services — Supermarkets, fuel stations, call centers and various businesses requiring administration work.
Industry — If you try and are lucky, you might be able to land on a job that is related to your field of study; like a job in the local news channel if you are a media student.
There is a list of top 5 cities in Australia that are most frequented by international students and the kind of jobs and wages offered there.
How Much Do Part-Time Jobs Pay?
A student on a Student Visa is entitled to earn a minimum wage of $18.23 per hour or $719.20 per 38 hour week (before tax) for working both on-campus and off-campus during the period of their full-time study. Work that is formally registered as part of your course is not included in the limitation.
What Kind of Visa Allows You to Work In Australia?
A Student Visa for Australia allows full-time degree students (undergraduate and postgraduate) to work part-time during the academic year, and full-time over the summer holidays provided their course meets immigration requirements.
If your Student Visa is issued without the right to work, you will need to apply for a permission-to-work Student Visa after your course commences.
But you do have a few obligations:
1. You must remain enrolled in a course registered on CRICOS (cricos.deewr.gov.au).
2. You must maintain satisfactory attendance on your course, as required by your education provider.
3. You must make satisfactory academic progress for each study period.
4. You must advise your education provider of your home address within seven days of arriving in Australia. If you change address during your stay, you must tell your education provider within seven days.
5. You must maintain suitable health insurance throughout your time in Australia. This can be done by obtaining OSHC.
Do You Need to Pay Taxes As a Student in Australia?
In 2017, Australia welcomed over 800,000 overseas students, generating a revenue of over $30 billion. Notably, it is mandatory for every student with a part-time job to file a tax return. Prior to the pay, the employer usually deducts PAYG tax or Pay As You Go tax which is directly deposited with the Australian Taxation Office (ATO).
If the total amount received within the financial year is below $18,200, the student is eligible to get a complete tax rebate. Otherwise, any work-related expenses such as travel, uniforms, laptops, etc. are eligible to tax deductions.
Filing your tax returns can be done online directly through the ATO website or by paper. Prior to filing your tax returns, your employer will provide a tax slip which would cover your total income, bonuses, superannuation, and tax paid as PAYG.
Image Credit: Post.naver.com
Comments
comments