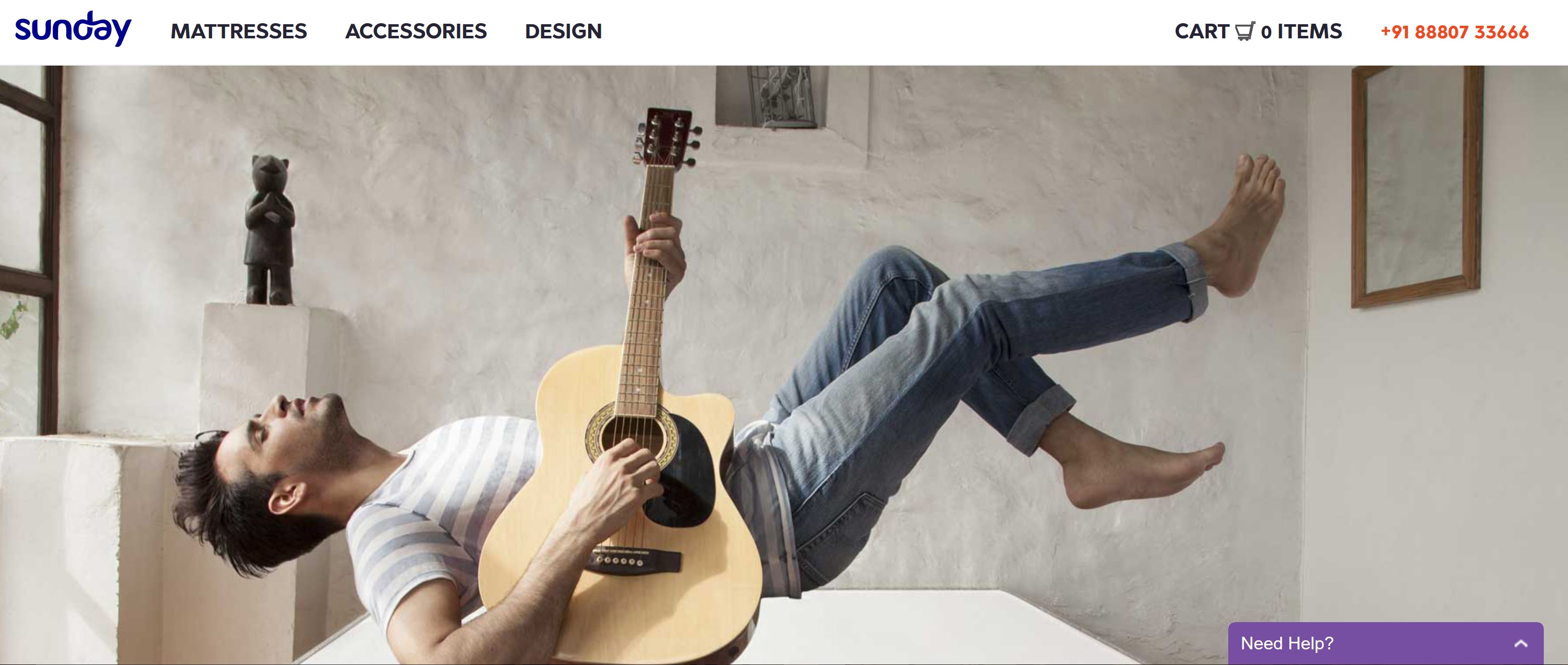 When you buy a product, have you ever wondered what is it exactly that you are paying the price for ?  Why is the cost of the product as much as it is ? This high cost of mattresses that his customers were paying for due to process inefficiencies lead Alphonse Reddy to start his latest venture "Sunday".

Alphonse Reddy founded Fabmart , a marketplace for mattresses and other sleep related products, in mid 2012. As the founder and CEO of Fabmart, Alphonse encountered a number of inefficiencies in the process of mattress sales.
Firstly buying mattresses is not the same as buying apparel and people usually end up buying what the sales person pushes to them as the "good" product thereby being unfair to the customers due to lack of available information. Secondly the cost of mattresses is almost 10 times more than the cost of manufacturing them due to a lot of process inefficiencies in the process from manufacturing to the sale of the mattress. Payments in the mattress business are slow, the shipment process is slow leading to increased cost of storing the mattresses as well as high shipping costs. All these inefficiencies lead to increased purchase price for the user.  Thirdly, the post sale process is not very user friendly. Even if you try the mattresses before you buy it, whether the mattress suits you are not is something you can tell only after 3-4 weeks of sleeping on the mattress. A lot of mattress manufacturing companies have a no return policy leading to the customer getting stuck with a mattress that does not suit him.
Realizing these inefficiencies, Alphonse  tried to work with the brands to overcome these problems, however, getting rid of these problems meant changing their entire business models, a huge task for the brands considering their existing infrastructure and operational set up.
That is when Alphonse decided to start his own label and came up with Sunday. For his "Sunday" brand Alphonse has narrowed down to 2 products after going through a range of products. Alphonse tells us that "Sunday" is India's first certified mattress.
"Any mattress that you see in the market today has chemicals applied to it. When you sleep you breathe these chemicals.Ours is the first mattress to undergo a lot of chemical testing in Germany and is free of any kind of chemicals," says Alphonse.
The price of a Sunday mattress is also reduced to half due to a direct to customer model. Removal  of inefficiencies in the process have led to reduction in prices, benefits of which have been passed on to the customer.
The company also provides a 100 nights free trail which means that customers can pay for the mattress after trying it out and becoming comfortable with it. Along with the mattress, Sunday has also made allied products such as pillows etc available to their customers.
Better product, better price, better return policy – Sunday has done all the work for you ! All you need to do is relax, sit back and enjoy your perfect sleep. And that is exactly how the company has marketed itself. A look at the company website gives you the feeling of being relaxed and lazy – the feeling of a Sunday.
The company has successfully positioned itself as a brand for the millennials -people who are ready to buy a good product at a decent price when promised the right quality. "People usually invest in mattresses at one of the 2 points in their lives – either when they get married or when they buy a home. Most of the population in India right now is under the age of 35 and therefore there is a higher probability of both home buying and marriage happening in the lives of these young individuals. We are therefore very sure that we have created a product for the correct audiences, " says Alphonse.
The company also calls itself a sleep startup – committed to making sure that you sleep well every night of the year. Sunday will also not sell on Fabmart thereby making sure that interest of the 2 sister companies do not clash.
The company has an international team with a strong background and experience in the area of mattress. Alphonse Reddy is the Founder of the company and has been working in the area of managing a mattress marketplace with Fabmart. Hiroko Shiratori takes care of mattress design and has studied furniture design at Tokyo Zokei University & MA Design at the Royal College of Art .She is the establishing member of London base design collective OKAYstudio. 'Sunday' is currently a 6 member team.
The Sunday team started working on the product idea 12 to 14 months ago. The product however has been taken to market only a month back. The company is planning to start selling products across India and has started off with Bangalore where they are trying out the 100 days trial offers and making sure that its is not being abused by the customers.
Till now the company has made a sale of 10 lakh worth of mattresses. Sunday is speaking to a number of investors to raise funding and will be using these funds for infrastructure development, team building and marketing. The company is planning to expand its presence in India in the next 3 years and will plan to go global post that.