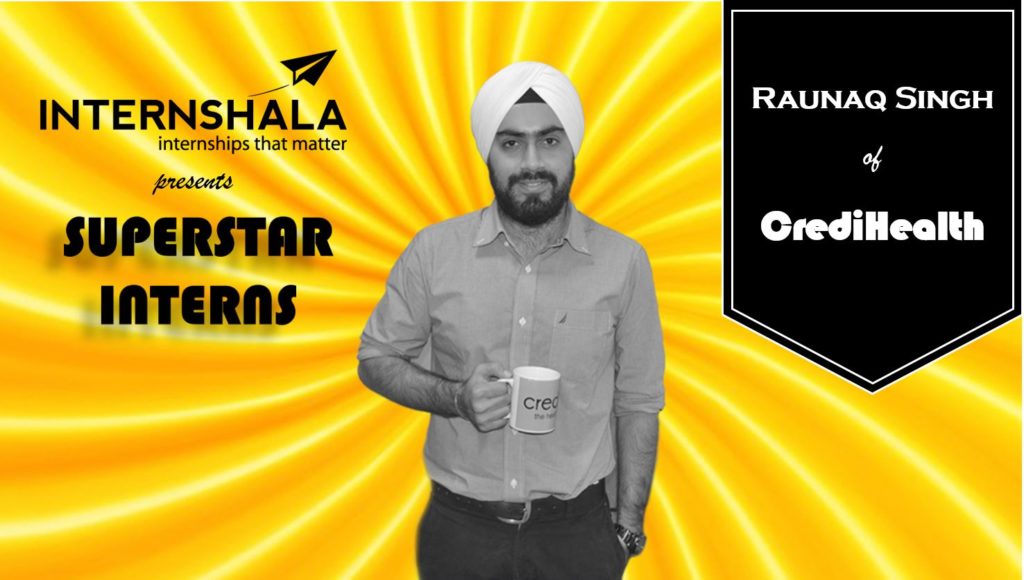 Interns – the reason why many startups have succeeded and survived in India today. Interns bring a lot of passion to learn, deliver, grow, and allow every startup to remain extremely agile and cost effective. As a tribute to the contribution of interns to startup ecosystem, Techstory along with Internshala is bringing to you a series focused on Superstar Interns – stories of interns who have played a significant role in the success of their companies.  Today, we present the story of Raunaq Singh, the superstar intern at CrediHealth.
Raunaq graduated in 2013 and was placed in one of the Big4. He was supposed to join his company in December of the same year. The thought of idling away for 6 months was scary and propelled him to take up internship at CrediHealth.

"I joined CrediHealth when it was just an idea in Ravi's mind. From Data Entry, to finalizing website designs, writing use-cases for the tech team, managing content writers, attending patient calls, learning how to make coffee, fighting for Saturday offs with the boss, I did everything in a period of 5 months and quit CrediHealth in November to join the brand in which I was placed at.
I went for my convocation during the same month and compared notes with friends who had been working in more established setups. The perks were better, but the work was monotonous. I realized, for me, the job was more important than the brand. I quit the idea of joining my dream company for CrediHealth" adds Raunaq.
Ravi Virmani, founder and MD of CrediHealth who has been working with and mentoring Raunaq for over 3 years, states that during Raunaq's internship he brought an array of skill sets and confidence to the table through his fearlessness, energy and multi-tasking efficiency.
Related Reads : From Being A Football Fan To Creating The Largest Football Community In India – Story of Siddhant Prakash of The Football Mind !
Curiosity That Seeks Reason & A Strong Attention To Detail Makes Yash A Superstar Intern At Ather Energy !
On Raunaq's potential as an asset to the organization, Ravi says, "Raunaq has the zeal to learn things (quickly), a proactive approach and a 'never say no' attitude. At times, he has showcased great leadership skills steering meetings all by himself. Knowledge plays an important role in all his executions and plans. Despite his non-financial background, he prepared a detailed business plan for one of the investor meetings which was commendable. This certainly depicts how dedicated and committed to success our superstar intern is."
Ravi has been hiring interns throughout his career. His belief is that intern as a talent pool is a cost-effective way to recruit and evaluate potential employees. "Interns often bring in an 'outside in' perspective. They are idealistic and often come up with ideas, which can be germinated into business products and services. I've been fortunate enough to get fantastic interns who have worked over long periods of time, have stayed in touch and often become life long friends too. An AIIMS gold medalist interned with me is now a Cardiac Surgeon at Yale and a good friend" says Ravi.
For Ravi, hiring somebody who has the fire in the belly, readiness to climb the mountain and commitment to learn is his strength and strategy. These qualities are abundant in interns for whom everything is new with a potential to learn. Hence CrediHealth has an environment where interns are not scared to speak up and voice their ideas.
"The yearning to learn is directly proportional to the contribution to the company. Often interns are out to see, what they can do for the company to earn a PPO and new hires are initially skeptical on what the company has to offer for them.
When Credihealth was being incubated, an intern suggested a social media campaign on women's health issue of PCOD. We experimented with the concept, launched the campaign and it became a great success. This kind of example helps to create an environment where competitive ideas are voiced, brainstormed and several are converted into product /service lines. Another incredible example is of a HBS dropout who went to Uganda for establishing his own dialysis center. To everyone's surprise, the following year, ten of the next batch's students interned with him without a stipend. This kind of a rare event emphasizes the invaluable resources interns can be" adds Ravi.
Challenges are a part of every startup's journey, and the learnings these challenges provide are unfathomable. Speaking of the one challenge that almost shook the company, Raunaq says "Our office caught fire at 4 am on a Sunday Morning. The sprinklers failed & by the time we reached it was already 6 am and everything was burnt. Business Continuity was at risk.
It was at that moment that the team got together. Suddenly the computers were being fixed, the internet and telephone connections were being set again and the files were being sorted. The energy and the zeal in the room even after such a terrible mishap was commendable. It was at that moment that I realized how important the 'Team' is. Everyone contributed; the problems were being fixed one after another. We did not lose even a single day of work – Monday morning was as hectic as ever!"
We all can rightly agree with Raunaq's statement that working in a startup is like doing an MBA, where instead of theoretical courses, you get to do a little bit of everything. "I guess as an intern you enter the organization with a fresh mind and with no earlier pre conceived thoughts. Everything is new and you have not yet been molded into the corporate way of doing things. You get to wear multiple hats, explore ideas which might only make sense to you initially, learn without instruction, have the freedom to fail a gazillion times, exchange ideas with people twice your age ( My boss is 50 – all puns intended), be a part of important decisions and most importantly analyze how your efforts impact the company!" he quips.
On the details of the practical MBA that he gets to experiment every day ranging across business strategy, investor relations, operations, sales and reconciliation, Raunaq adds, "When I joined, I did everything from entering data at the backend, tele calling to preparing business plans and presenting in board meetings. The energy and enthusiasm was tremendous. My roles changed every day based on what was required. The lack of a structured role helped me venture into different aspects of the business but was also frustrating at times. I had to figure out my ways of doing things. I tried to mold myself according to the need of the hour and that in my view might have been difficult for someone with experience who's used to things in a certain way.
I have been thrown on the wrong side of the pool without knowing how to swim, but somehow I have managed to stay afloat! It's these everyday battles that keep it interesting!"
CrediHealth has become the market leaders in the online hospitalization industry over the years. 5 years down the line, Raunaq expects Credi becoming THE FIRST PORT OF CALL for all serious medical problems. "We should be closer to solving the core problem of transparency and access in the Indian Healthcare system. We should have had an impact on the unethical practices in healthcare and we would have empowered people to make more informed healthcare decisions based on data!" he adds.
Starting from a point where they had to take what they were offered to reach a position to dictate the terms, Raunaq states perseverance is the biggest learning he gained working in CrediHealth through all the low moments. It is at CrediHealth he realized the importance of a mentor and that the right guidance helps you achieve things you thought were still far way.
"Although he has been inspired by many, he calls his boss as his role model as he had never been challenged or motivated by anyone more than Ravi. I admire a lot of his qualities. Perseverance, Persistence and patience are three of his biggest strengths in my opinion. As a very famous baseball player said – You can't defeat someone who does not give up. His business sense, ability to motivate people, fire in the belly and the hunger to learn is exceptional and leaves no doubt in my mind about the fact that Credi will achieve great success under his leadership"  he states.
If you're looking to hire interns, sign up on Internshala for hiring great interns!
Comments
comments