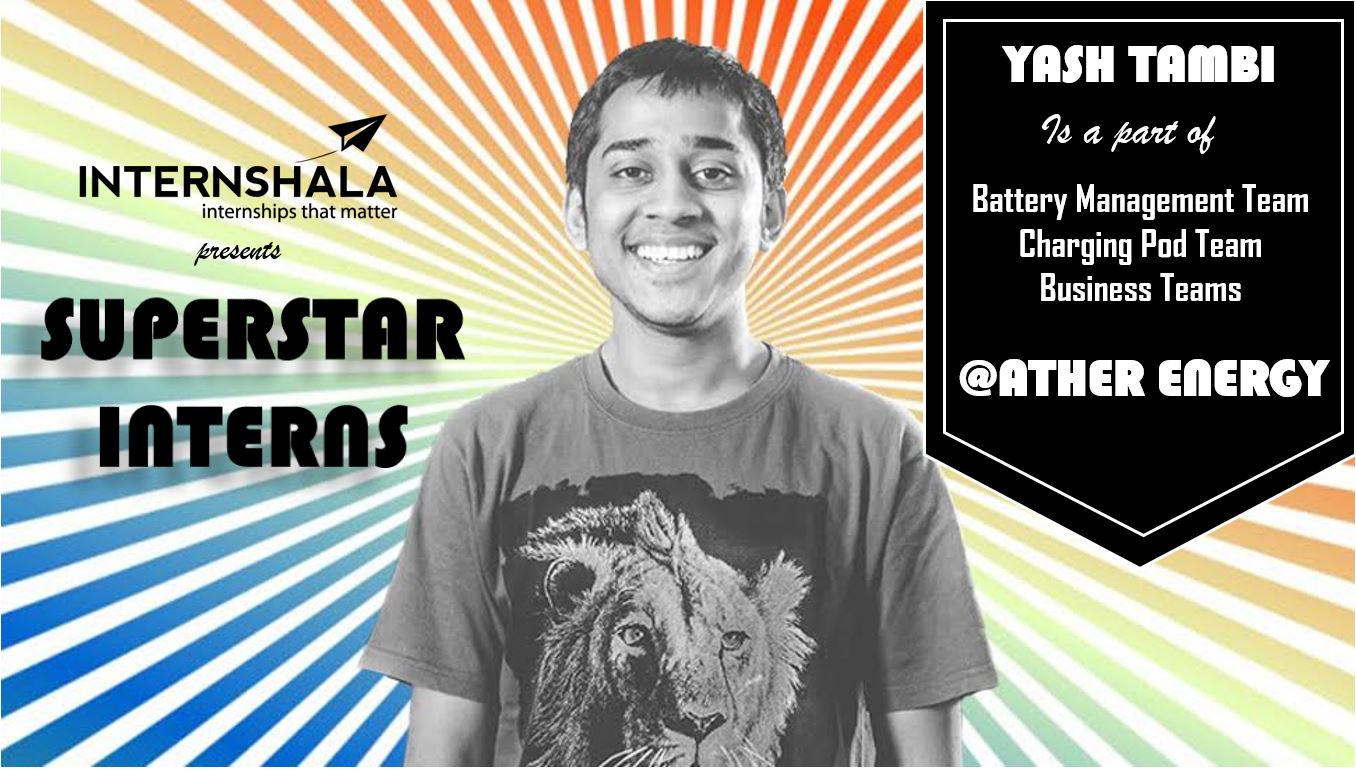 Interns – the reason why many startups have succeeded and survived in India today. Interns bring a lot of passion to learn, deliver, grow, and allow every startup to remain extremely agile and cost effective. As a tribute to the contribution of interns to startup ecosystem, Techstory along with Internshala is bringing to you a series focused on Superstar Interns – stories of interns who have played a significant role in the success of the companies.  Today, we present the story of Yash Tambi, the superstar intern at Ather Energy.
Yash interned at Ather Energy not once but twice. During his 8-month long internship, he not only learnt business skills but also got the freedom to work with other core teams: Power team, Marketing, Charging Infrastructure, and the Battery team.
"Interning at Ather was one of the best things that happened to me. Apart from learning business skills, I got the freedom to work with four core teams. Over the course of weeks, I realised that I had picked up multiple programming languages and architectures." says Yash.
Yash's hard work and commitment did not go unnoticed. Tarun Mehta, CEO of Ather Energy, has been really impressed with Yash.  Tarun says, "Yash will not sleep till he finishes a task at hand. His team members have ended up working till 4 a.m. He embodies two of the core cultures of the company – a curiosity that questions and seeks reasons, and the strong attention to details. This, combined with the fact that he is a mechanical engineer working on embedded systems, allows him to do some awesome work in various projects within the firm."
Ather has been hiring interns right from the beginning. In fact, their first four hires were interns who were later converted into employees. Most of their interns have been as good as their employees in terms of energy and dedication.
"An internship is the best way to gauge fresh talent and convert them. The only difference we have noticed is that experienced hires bring the know-how while the fresh talent brings energy, and we believe that a healthy mix of the two is essential in any organization. Their perspective, enthusiasm, and passion has deeply affected the culture of the company and the products we are building.
The work done by interns is as critical as anyone else. Most of our interns have done exceptional work and we have been able to convert about 80% of them into employees. Most of our interns have chosen Ather over other job offers just because they liked the kind of work we are doing here." quotes Tarun.
[box type="shadow" align="aligncenter" class="" width=""]Related Read:
Hiring For Innovation – The Ather Energy Way ![/box]
Traditionally, engineering firms use interns mostly for menial work. But in case of Ather Energy, they have witnessed that interns bring in far more to the table. Ather mostly hires interns who have hands-on experience as they are willing to get their hands dirty and hit the ground running.
Yash has been working with all the teams since his first day at Ather. He is developing firmware for the Battery Management System team and simultaneously works with the Charging Pod and Business teams as well. Unlike his peers, he has to see his projects through to the end and is very excited to see his software and programmes being used in the S340.
For Yash, Ather is one of the few places where individuals are given complete ownership of the project and the freedom to experiment and use any resource in the office to make things work. "My learnings were more on the self-exploration side and I learnt that your mind is the only limit. I learnt that I could do so many things, a lot more than what I had thought in the beginning. I also learnt how to work better in a team and of course, how to improve my coding and debugging skills." says Yash.
Yash has been instrumental in bringing a fresh perspective to his team at Ather. "When you see things for the first time, hundreds of questions arise for which you seek answers. Anyone with a fresh mind is flexible and will be ready to take on every type of work, multitask etc. which experienced professionals may not be open to all the time," says Yash. He also highly acknowledges the support and encouragement from his teams which enabled him to take on any challenge that is put in his way.
For someone who always had the vision to build his own electric vehicle, interning at Ather was almost a dream come true. "I am highly optimistic about Ather Energy. Objectively speaking, I think they are doing everything right. Each decision reflects their vision for the company and, with this, I am sure we will soon be seen as a leading technology company in India. In 5 years, I think we would start working on an electric car. And I would like to be on the team that builds it."
Yash credits his parents as his role models – "My father has always taught me to be hardworking and committed to the work whatever the situation. My mother has taught me to be compassionate and to take every day as it comes."
If you're looking to hire interns, sign up on Internshala for hiring great interns!
[box type="shadow" align="aligncenter" class="" width=""]Related Read:
Internshala : Creating a Country of Employable Graduates ![/box]