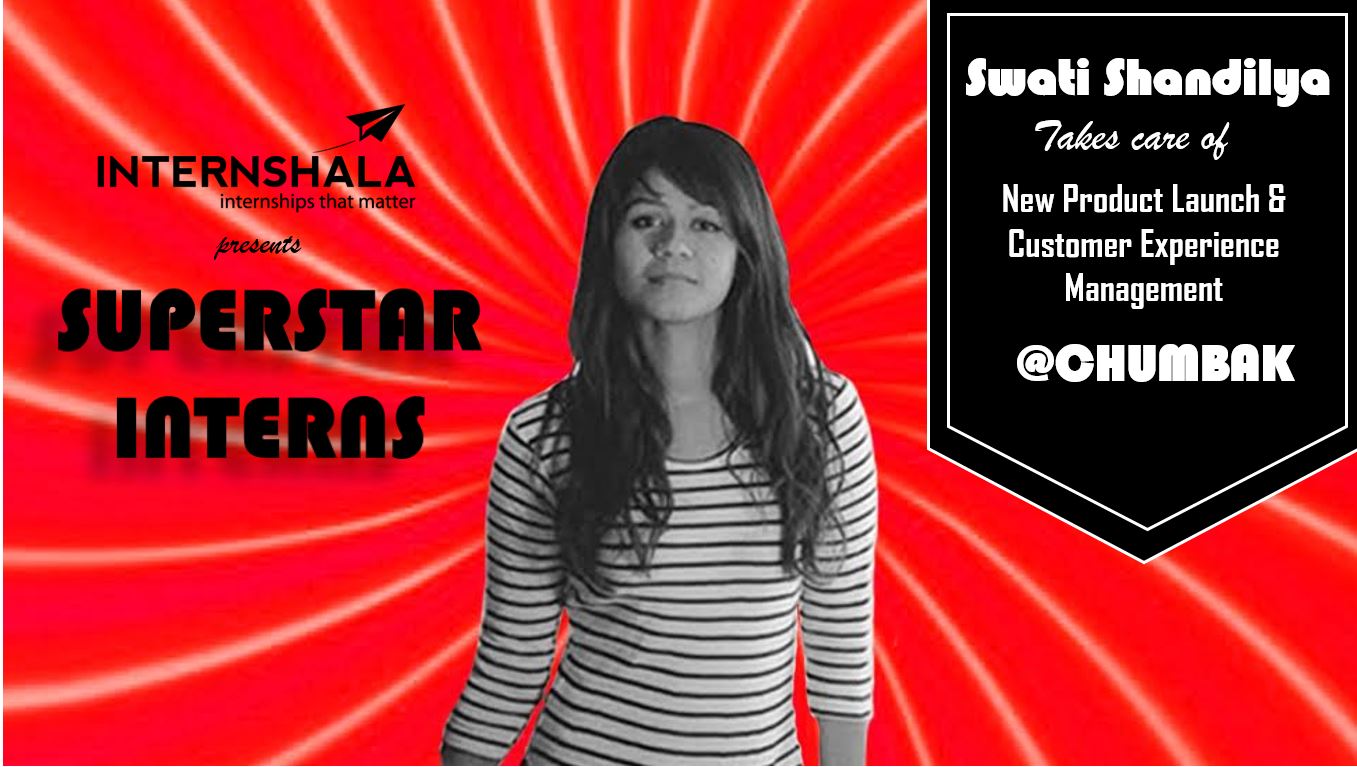 Interns – the reason why many startups have succeeded and survived in India today. Interns bring a lot of passion to learn, deliver, grow, and allow every startup to remain extremely agile and cost effective. As a tribute to the contribution of interns to startup ecosystem, Techstory along with Internshala is bringing to you a series focused on Superstar Interns – stories of interns who have played a significant role in the success of their companies.  Today, we present the story of Swati Shandilya, the superstar intern at Chumbak.
It was the January of 2015 when Swati began a new chapter in her life with enthusiasm and eagerness to learn new things. After her previous stints at smaller organisations, Swati joined Chumbak as a part of their Bright Young Program with no idea of what to expect. This program run by Chumbak enables anyone in their 20s, who haven't figured out their career choice, to apply to the organisation and explore their curiosity by working with multiple departments.
"At first, it was very overwhelming as I had no defined roles. It was very exciting to work with different departments in the company and getting to know them better. I guess the one thing that encouraged me to commit myself full time to the organisation was the challenging job role and the people that I worked with. It all just fit," remembers Swati.
Vivek Prabhakar, CEO of Chumbak, remembers the day when Swati joined Chumbak for a role in photography and cataloguing. Her roles were extremely crucial since at that time Chumbak was revamping their website and growing product categories. Vivek says about Swati, "She managed the end to end process of launching new products and ensured that they were clearly available to all customers visiting Chumbak.com. She was highly organised and managed all shoots in a timely manner – this is key to the organisation as we are a visual brand and what she manages is integral to our bottomline. People need to be introduced to and experience our visual content to make the choice of purchasing at Chumbak. She ensures that our products are made to look as beautiful and fun as they can."
Chumbak has been hiring interns since its inception 6 years ago. The young talents who have been hired through their Bright Young Program are also hired as full-time employees, but get the added benefit of being involved in multiple departments and processes.
"We have always had a memorable experience with our interns. We always hire energetic, creative people – we believe that every one that works at Chumbak adds value to the organisation. We hire interns from various backgrounds – they are hired after a couple of gruelling rounds of tests and interviews. Interns join Chumbak because they come with a skill set/experiences that may not already be possessed by another person in the company which ensures competition within teams in the organisation. " adds Vivek.
Chumbak hires interns based on requirements of certain departments and sometimes the company gets some very smart young people who are extremely interested in working and getting to know more about Chumbak. Experienced employees are hired for specific roles based on the need and growth of the organisation. They are hired to carry forward company goals and with the intention of retaining them for a long duration. Interns, on the other hand, are brought in for shorter durations and absorbed if need be.

For a company like Chumbak, where new products are launched almost every week, Swati's biggest responsibility lies in creating visual contents like pictures or videos for new product launches, the blog, in-store displays etc. The most exciting part of her work is that she gets to work with a vast range of products right from home décor to apparel, accessories and a lot more. "As we have a vast range of products, a massive challenge is planning shoots for every product as they come to us sporadically. Each product along with the catalogue requires a lifestyle image/video to support it, which helps the customer understand the product better. To plan and execute this, is one of the biggest challenges.
Also, when new products are launched on Chumbak.com, we immediately start talking about this on our social media platforms – planning this is also a big part of my role. Apart from this, ensuring that the new products are catalogued and ready to launch online as soon as the stock hits the warehouse are some of my routine duties apart from being the in-house stylist" continues Swati.
Swati had no idea of what to expect when she first joined Chumbak, but was open to managing everything that came along her way with the spirit of enthusiasm and gusto. Since the time she began working at Chumbak, Swati had the opportunity to work with multiple teams and this taught her how to prioritize, organize, and manage her time in a much better way. "I envision myself as being an important cog in running this massive wheel. Apart from the current roles I hold, I hope to grow along with the organisation and achieve much more.
5 years from now, I am very sure that Chumbak will most definitely be one of the leading design led lifestyle brands in India. The pace at which we are growing, I am confident that we can provide a far more distinctive range of products to our customers in the years to come," adds Swati.
With no particular style model in mind, Swati believes different people inspire her at different times!
If you're looking to hire interns, sign up on Internshala for hiring great interns!