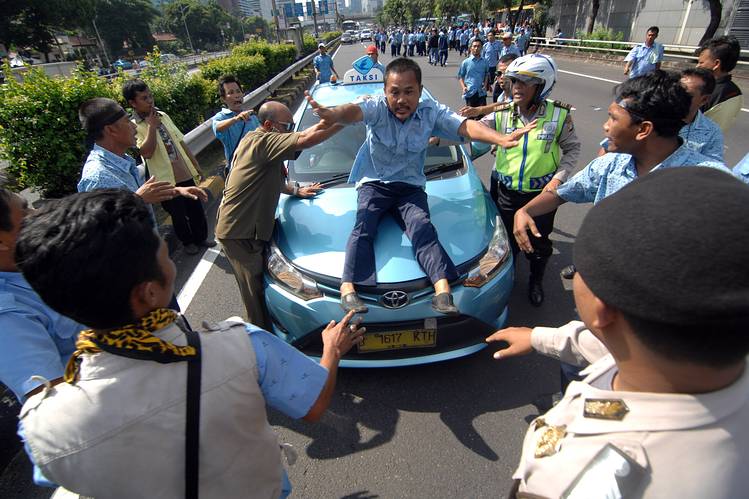 22 March 2016, Jakarta : Thousands of protesting taxi drivers brought parts of Jakarta to a standstill Tuesday, seeking action from the government to stop ride-sharing apps such as Uber Technologies Inc. and GrabTaxi Holdings Pte. from strengthening their foothold.
The protests by roughly 12,000 taxi drivers revealed worsening tensions as competition heats up. Parked taxis lined major thoroughfares across this city of some 10 million people. Near one roundabout some drivers set tires on fire. Demonstrators were seen confronting fellow taxi drivers who continued to operate during the protests.
As ride-hailing app providers try to establish themselves, their services have set off taxi-driver protests in several cities, including Paris, Hangzhou, China, and Mexico City, and faced bans or regulatory limits in places from China to Europe to Rio de Janeiro.
Jakarta police spokesman M. Iqbal said authorities are investigating several minor injuries. About 7,000 police, including military, were deployed to monitor the demonstrations. More than 80 protesters were detained after some demonstrations turned violent, police said.
Grab, whose services include an app to hail motorcycle taxis, and Go-Jek, its main motorcycle competitor, told their motorcycle drivers to leave official green jackets and helmets at home to avoid conflict with taxi drivers.
Drivers for some of the biggest taxi fleets said they are struggling to make a living.
"Why do we let two companies mess up with our transportation system that has been working for decades?" said Suharto, a spokesman for the Land Transport Drivers Association, which organized the protest. "These new taxis don't pay taxes, they don't have meters. We are being sidelined."
The country's largest taxi company, P.T. Blue Bird Tbk, said it understands the protesters' position but had advised its estimated 23,000 drivers in Jakarta not to participate.
The ride-sharing companies say they are cooperating with the government to operate as legal entities and set their own fares as technology companies.
Luhut Pandjaitan, the coordinating minister for Political, Legal and Security Affairs, sought a resolution Tuesday, saying President Joko Widodo had advised officials to evaluate the law and come to an agreement. Mr. Rudiantara and Mr. Jonan will meet again on Wednesday, he said.
A cooperative of Uber's drivers has been recognized as a legal entity by the Ministry of Cooperatives and Small and Medium Enterprises. Last week Singapore-based GrabTaxi, which in addition to services for hailing cars, taxis and motorcycle taxis also offers package delivery, formed a cooperative among its GrabCar drivers to provide them with a legal umbrella.
"We can't reject technology, but what we can do is to regulate," Indonesian Vice President Jusuf Kalla said Tuesday.
Traditional drivers say they worry about declining incomes and job loss and want a level playing field.
Rojikin, 36 years old, has been a Blue Bird driver for more than two years, and said that since ride-hailing apps arrived his income has dropped by half to $5 a day. He said he struggles to feed his family. "We want the government to take care of this," he said.