As a part of the tech in Techstory, we bring you the latest in the technology from around the world under "TECH THIS WEEK!" every Sunday! This week we saw Google launching Pixel and a whole bunch of other tech products in its events and we also saw Google dropping one of its previous acquisitions panoramio. We also saw Facebook launching its own market place and Mitsubishi developing its first automated deep sensing algorithm. In case, if you've missed any of those, along with latest rumours on Microsoft's event on 28th, don't worry just keep reading !
You Can Buy-Sell on Facebook's Very Own 'Marketplace'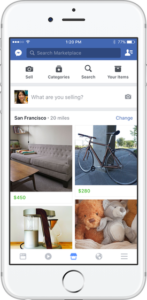 Facebook is where people connect, and in recent years more people have been using Facebook to connect in another way: buying and selling with each other. This activity started in Facebook Groups and has grown substantially.
More than 450 million people visit buy and sell groups each month — from families in a local neighborhood to collectors around the world.
Marketplace is a convenient destination to discover, buy and sell items with people in your community. Marketplace makes it easy to find new things you'll love, and find a new home for the things you're ready part with. We'll continue to build new options and features to make this the best experience for people. On May 14, 2007, Facebook first launched Marketplace, which let users post free classified ads.
Marketplace opens with photos of items that people near you have listed for sale. To find something specific, search at the top and filter your results by location, category or price. You can also browse what's available in a variety of categories such as Household, Electronics and Apparel. Use the built-in location tool to adjust the region you're looking in, or switch to a different city altogether.
When you find something interesting, tap on the image to see more details from the seller, including a product description, the name and profile photo of the seller, and their general location. You can also save the item to find it later.
Source: techstory
Microsoft Surface PC to be Unveiled on Oct 26?
Comments
comments