According to confidential documents, the telecoms firm Ericsson is accused of assisting in the payment of payments to the Islamic State terrorist organisation in order to continue selling its services after the extremists seized control of major portions of Iraq.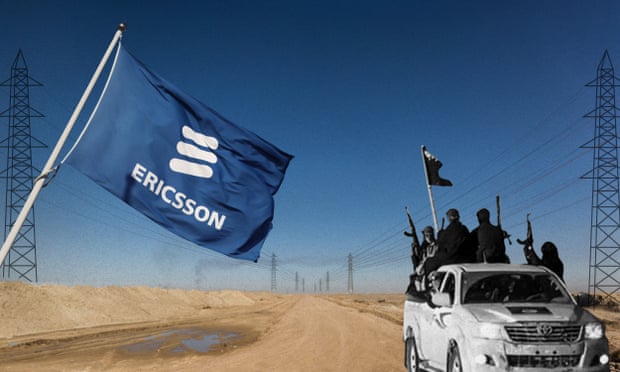 The disclosure of internal Ericsson investigations, which revealed that the company had put its contractors in danger and enabled them to be kidnapped by militants, might be disastrous to the multinational. In addition to the suspected payments to IS, the investigations revealed charges that the corporation was involved in corruption in at least ten nations spanning four continents.
That would imply a much broader pattern of violation by Ericsson than the telecoms company publicly admitted to in 2019, when it reached a $1 billion (£750 million) settlement with the US Department of Justice (DoJ).
Ericsson, based in Stockholm, employs 100,000 employees and sells telecommunications technology in 180 countries. It is a pioneer in the development of the next generation of 5G mobile phone technology in the United Kingdom.
Ericsson's stock price fell 14% two weeks ago when it was alerted to the fact that internal reports had been leaked to media organisations, and it issued a public statement admitting to "severe breaches of compliance norms" in Iraq between 2011 and 2019.
Since then, the telecommunications company has been bracing for full exposure of the findings, which were leaked to the International Consortium of Investigative Journalists (ICIJ), which then shared them with media partners such as the BBC, the Washington Post, and the Guardian. The disclosed documents, totaling 101 pages, were created between 2019 and 2020. They document the findings of internal Ericsson investigations into alleged company wrongdoing around the world.
Investigators found that the global corporation was likely involved in channelling bribes to IS in order for its items to be transferred across portions of Iraq controlled by the jihadists.
According to the investigators, the payments were paid through a slush fund managed by contractors for the Swedish multinational. After journalists questioned Ericsson about the leaked data earlier this month, the company appears to have tried to avoid a public relations issue by publishing a statement on its website partially admitting to the findings.
According to Ericsson's statement, the investigation team discovered payments to intermediaries and the use of other transit routes in connection with avoiding Iraqi customs, at a time when terrorist organisations, notably the Islamic State.
The statement also admitted that between 2011 and 2019, Ericsson personnel engaged in widespread wrongdoing in Iraq and committed "severe" violations of corporate regulations, including irregular payments and tax evasion.
Ericsson stated that it released the statement because it is "committed to transparency." Nonetheless, the telecoms behemoth refused to answer repeated questions from the Guardian, ICIJ, and other media outlets, including concerning alleged misconduct in several nations not listed in its 2019 settlement with the DoJ.