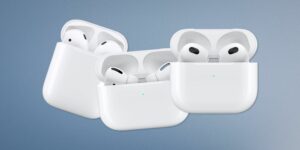 In an inspiring story, technology has been made to recover the hearing loss of people. Yes! You read it correctly. There's a new technology and it comes on your phone in an app.
Jon Brown, a Grammy-nominated producer for several years, has worked with high-profile musicians and musical acts.
"I used to work with the Black Eyed Peas for a while and I did some music with Pink and Eminem," he said.
But soon he started showing symptoms of tinnitus that were caused due to loud music which affected Brown's hearing power.
Tinnitus is a kind of problem where your ear starts ringing or buzzing. It is considered common until it becomes persistent for many days.
"If you can imagine having ringing in your ears 24/7. I found out I had some mild hearing loss," Brown said.
Tinnitus is also an early sign of hearing loss. According to scientists, hair cells on the inner ear that die, do not regenerate and cause hearing loss in people.
But Jon Brown discovered an app that provides sound therapy, called "AudioCardio". The app is designed to strengthen hearing power. It delivers certain kinds of customized sounds that stimulate hearing cells and pathways to the brain.
"We're not going to revive dead hair cells. What we are trying to do though is stimulate the ones that have been desensitized or damaged over time," said AudioCardio co-founder Chris Ellis.
The co-founder started to research various ways to improve his grandfather's hearing loss who developed dementia later.
A journal of the American Medical Association suggested that maintaining or restoring hearing power may help dementia to stop advancing.
"The ability to improve your hearing specifically in middle age could actually decrease the risk of dementia as you age, or at least that's the theory," Dr William Slattery with the House Institute Ear Clinic.
The app costs around $10 per month and then leads to a self-assessment test. It then sends some sound frequencies to start your hearing exercises. The app partnered with Stanford researchers to test the guarantee of this app.
"This sound that you actually can't hear is playing over and over again to stimulate the cells inside the ear. And when those cells get stimulated, they start to fire and send a signal to the brain," Ellis said.
"Over 70% of the people that we treated with our sound therapy had an increase in their ability to hear by 10 decibels," said Ellis.
Dr William said that sound therapy actually helps in slightly improving one's hearing loss but hearing aids are the best when it comes to hearing.
"The biggest thing we need to do is continue to tell people they need to protect their ears," he said.
The doctor further added that if you take care of your ears and hearing, it will eventually benefit the working of your brain. Tinnitus is one problem where sound therapy has been a great help.
Jon Brown who used sound therapy to cure his tinnitus is pretty pleased with the results. He even said that he had improved his hearing. Now he can go back to music again.
"Pretty quickly. Within a few weeks, it really helped reduce the ringing in my ears," Brown said.