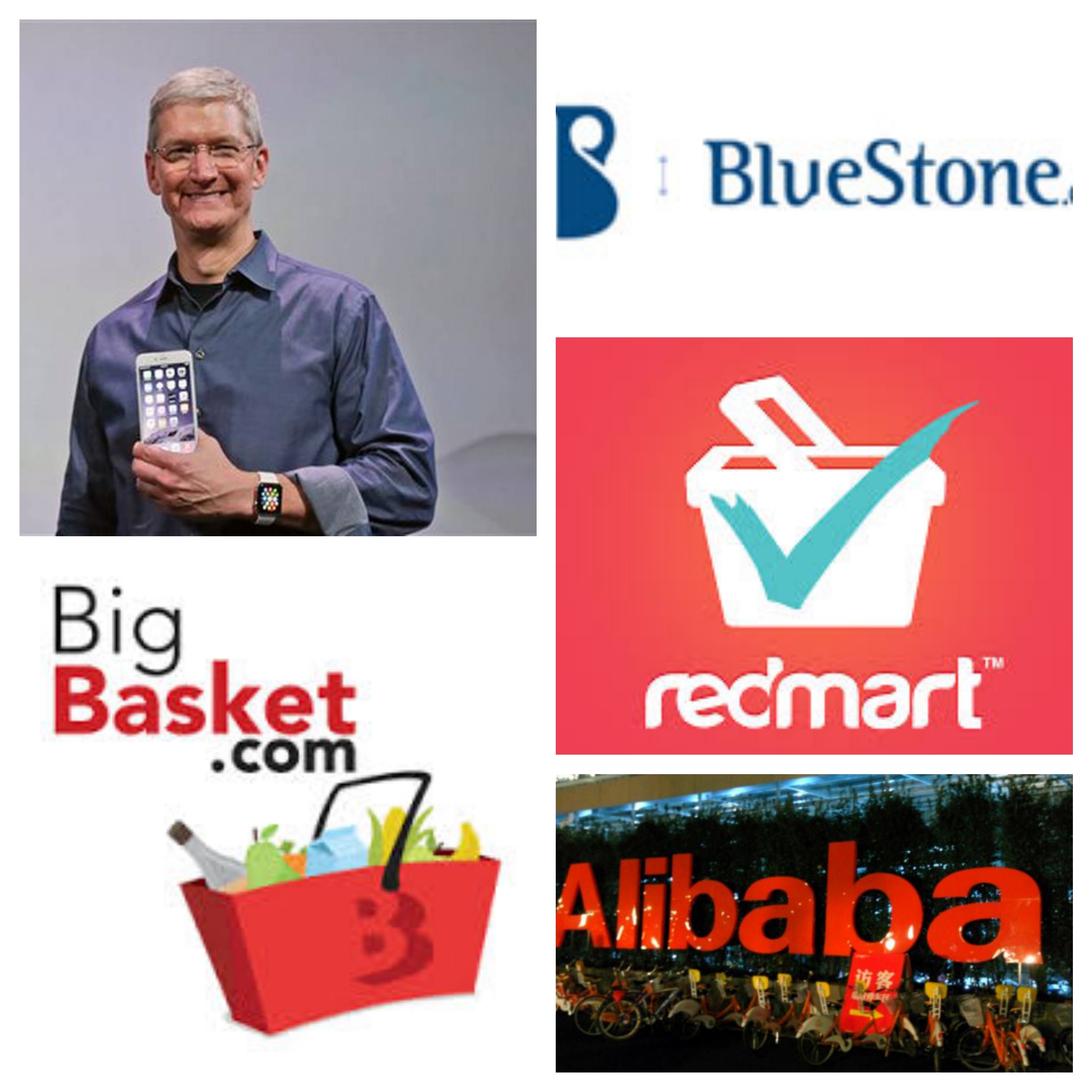 Alibaba IPO
Alibaba, which has been described as a behemoth that combines eBay and Amazon.com is expected to raise about $24 billion and become the largest IPO in history for a US listed company. If things go as expected, its market valuation could hit a record $163 billion.
The company is expected to embark on its investor roadshow by the week beginning 8th Sep 2014 in New York and is expected to reach around the globe to London and Hong Kong.Alibaba could begin trading on the New York Stock Exchange by Sept. 19.
iPhone 6 unveiled
Apple unveiled the iPhone 6 and the Apple Watch on 9th September at a press event in Cupertino, California.
At the event, the technology company announced not one, but two new iPhone models – both of which have larger screens. It also introduced a watch.
Tata invests in Bluestone
Ratan Tata, chairman emeritus of Tata Sons Ltd and former chairman of the Tata Group, has made a strategic investment in Bangalore-based online jewellery company, Bluestone.com, part of BlueStone Jewellery and Lifestyle Pvt. Ltd.
BigBasket Secures USD 32M in Funding Led By Helion and Zodius
Online grocer BigBasket has received funding of Rs 200 crore in a round led by venture capital firms Helion and Zodius Fund II with Avendus. Existing investors Ascent Capital and LionRock Capital also participated in the round which saw the valuation of the two-year-old startup cross $100 million (Rs 600 crore).The Bangalore-based firm, which is also present in Mumbai and Hyderabad, will use the funds to expand to 10 cities by December next year. It plans to expand to Pune and Delhi within six months.
Microsoft to Do Away with 'Nokia' Branding from its Products
Microsoft is planning to phase out the Nokia name in its mobile products, a newly leaked internal document confirmed. The document,  obtained by tech blog GeeksOnGadgets, says upcoming Nokia Lumia devices will soon be branded as just "Lumia."
This doesn't come as much of a surprise. In April, former Nokia CEO Stephen Elop — who is now the head of Microsoft's devices group — said that he doesn't see the Nokia name sticking around for long at Microsoft.
Singapore-based Online Grocer RedMart is Coming to India
Singapore-based online grocer RedMart announced its foray into India with a development center in Bangalore. RedMart's  is planning to move to India is to push the technology side of its operations. To do that, the company is hiring engineers in India currently.
Snapdeal Ties up with Mapmygenome to offer DNA Testing Service
Snapdeal.com, the Indian online retailer has tied up with Mapmygenome to offer personal genome mapping test service.
Hyderabad-based Mapmygenome, launched last April, tests for nearly 100 conditions and has provided genetic assessment for hundreds of customers so far. While most come from metros, a growing number from smaller towns, such as Vijaywada, Coimbatore, Kharagpur and Jalandhar, are turning to the startup to test for diseases like cardiovascular, Alzheimer's, schizophrenia and male pattern baldness.
MakeMyTrip Announces USD 15 Million Innovation Fund
MakeMyTrip Limited (MMYT) has announced the institution of a USD 15 million Innovation Fund to support early stage companies in the Travel space. The fund will focus on start-ups in Travel technology with a special focus on Mobile and IP based companies.
Comments
comments