Each and every individual in the country should get an equal opportunity to build a career and CoCubes.com, India's largest online assessment and hiring platform is working towards realizing this vision. The recruitment industry today faces a problem on both demand and supply side. On the demand side, companies are finding it difficult to hire the right talent whereas on the supply side a lot of talented individuals find it difficult to get placed in the right job.CoCubes works with both corporates and universities to make sure that corporates get the quality of people they are looking for and  university students move ahead on their career path by getting discovered through PRE-ASSESS®, a scientifically designed test by CoCubes administered nationwide to candidates in a proctored environment.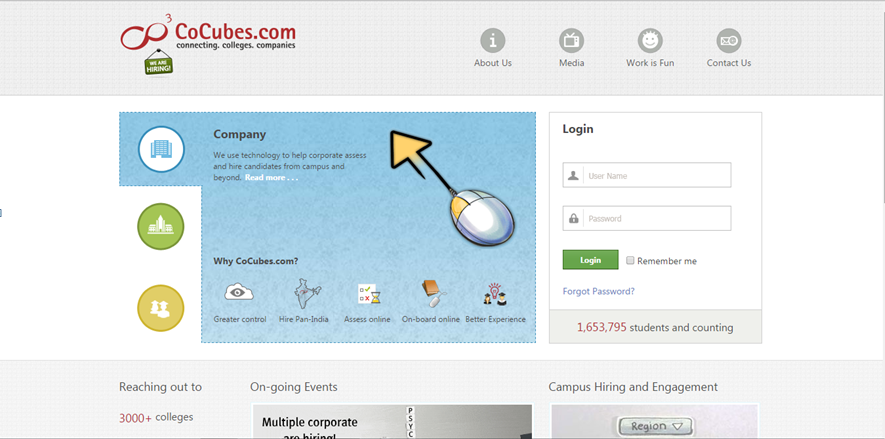 Online Assessments is a rapidly growing market. According to Global SHL report 25% more firms started using online assessments last year.  The market size estimates to about $500 Million in India and about $ 2 Billion Globally. While most assessment companies have focused only on creating assessments (like Mettl, MeritTrac in India or an established player like SHL abroad) it was CoCubes who  realized that with the changing industry landscape  assessment companies should have  sourcing capabilities too."Our connection of assessment to sourcing (through access to colleges) provides us with a deep competitive advantage. This along with the fact that CoCubes Assessment benchmarks are accepted by 75+ large corporate and 250+ SME works for us!" says Harpreet, CEO at CoCubes.
CoCubes was started by Harpreet Grover and Vibhore Goyal who were roommates at IIT Bombay. Harpreet , now the CEO of CoCubes, graduated from IIT Bombay with a dual degree. Before starting CoCubes, Harpreet worked with Inductis, a data analytics firm, advising Fortune 500 clients in the financial services domain by using data analytics.Vibhore, the CTO of CoCubes is a hardcore geek and has previously worked at Microsoft Research Centre where he filed six patents in his brief stint of 18 months. Post that he was founding member at Babajob, a highly popular web 2.0 based platform which helps low-skilled people get jobs.
CoCubes today serves 450+ corporate clients some of whom include Microsoft, CMC, GE Group, Capgemini, UB Group, MuSigma , 2600+ colleges – a few of them being IIT Kharagpur, IIT Kanpur, IIIT Delhi, NIT – Meghalaya & 1 million + students. Their offline proctoring team is available in 250+ cities across the country where assessments are conducted at regular intervals. In the last 3 years ,through PRE-ASSESS , CoCubes has been able to help candidates get jobs worth a total of over 100 crore! The company has operations across 27 states and 250+ cities within India. Their operations are supported by a team of  45  young minds all of an average age of 26 years! The company has recorded a very strong revenue growth is 70% year on year.
The company has won a number of accolades along the way. Recently Harvard Business Publishing published a case on CoCubes discussing the innovative model of connecting colleges and companies.CoCubes was  also featured as the Most Innovating Company by Innowin, has been the winner of Deloitte Fast50 India & Fast500 Asia Pacific for 2 years consecutivelyand their Assessment Plus ™ product  was selected as Top 50 Innovative products in India by iSpirt. CoCubes was also recognised by Nasscom as Top 10 Emerging companies in India and won the 'Indian Innovation Award' by EMPI – Indian Express, 2012.
Their success hasn't come easy." We faced 2 main challenges in the initial years. The first one was to prove that our assessments worked and second was that the B2B market have longer sales cycle and multiple iterations. Closing a sale was challenge ! Both these problems took a lot of time and patience to solve.Today we are an established name in assessments and have the highest number of college clients in the country  and great presence in corporate" says Harpreet.