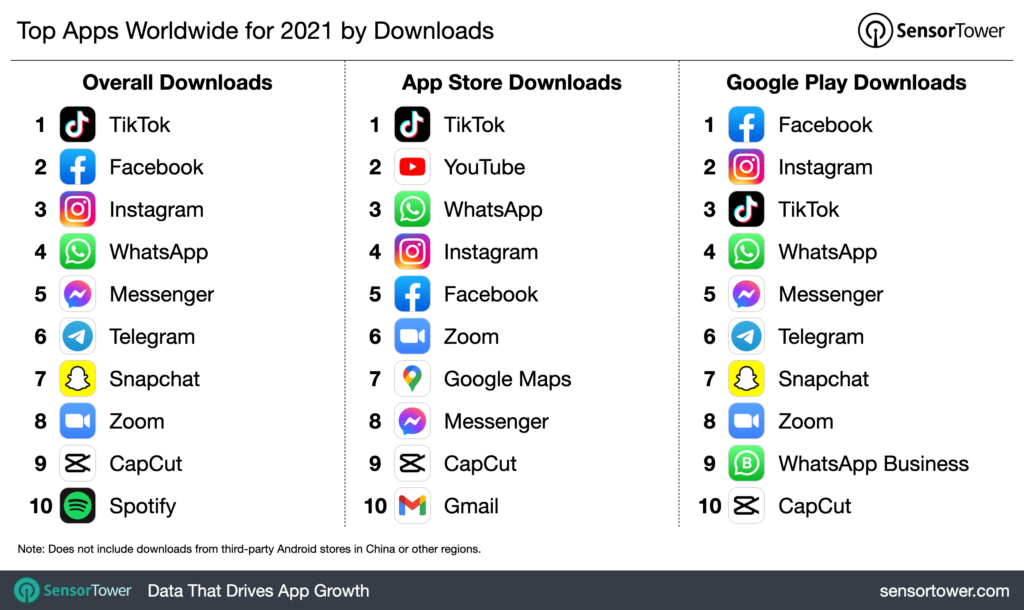 TikTok is unstoppable.
According to a new tech estimate, the video-driven social media app will be the most popular site in 2021, beating out last year's top pick, Google.
According to data from web security company Cloudflare, TikTok even outranked other well-known domains that outranked it in 2020, such as Amazon, Apple, Facebook, Microsoft, and Netflix.
Cloudflare discovered that TikTok, which rose from seventh to first place on Google in 2020, received some "assistance" from the pandemic, propelling the app to the top this year.
According to Cloudflare, TikTok and Google alternated for the top rank throughout the year, with Google reigning triumphant in October and November.
On days like Thanksgiving and Black Friday, however, TikTok took over — and outranked Google.com, which includes Maps, Translate, Photos, Flights, Books, and News.
TikTok was the most popular app in 2021, with Google coming in second and Facebook coming in third. Microsoft and Apple rounded out the top five. Amazon was ranked sixth, followed by Netflix, (7) Youtube, (8) Twitter, (9) and WhatsApp, which was ranked tenth.
According to new study, TikTok surged from seventh most popular site a year ago to first in 2021.
TikTok, which is extremely popular among the younger population, has sparked the creation of new platforms such as Instagram Reels, YouTube Shorts, and Triller. The viral app announced in September that it had reached 1 billion monthly active users around the world.
The Chinese-owned Tiktok, like other social media networks, is being scrutinised by the authorities.
During a US congressional hearing in October, a TikTok official denied giving information to the Chinese government and stated that the company had taken precautions to protect US data.
Former President Donald Trump attempted to ban TikTok from US app stores, claiming that it collected data from American users that could be accessed by China's government and presented a national security threat to the United States.
Later, President Biden reversed Trump's order, but asked for a broader assessment of foreign-controlled apps.
TikTok made $2 billion (approximately Rs.15,109 crore) in income in the first 11 months of 2021, up 67 percent year over year from $1.2 billion (roughly Rs. 2,15,102 crore). Sensor Tower predicts that the app would be worth $2.3 billion (approximately Rs. 17,368 crore) by the end of the year, bringing its total lifetime value to $3.8 billion (roughly Rs.28,703 crore).
By the end of the year, gaming app income is expected to reach $52.3 billion (approximately Rs. 3,95,192 crore) globally, up 9.9% YoY from $47.6 billion (about Rs. 3,59,655 crore) in 2020.
Tencent's Honor of Kings is the highest-grossing iOS game, with $2.9 billion (approximately Rs. 21,907 crore) in revenue, up 16 percent year over year from $2.5 billion (roughly Rs.18,885 crore). PUBG Mobile is expected to be the most profitable game in the overall gaming category this year.