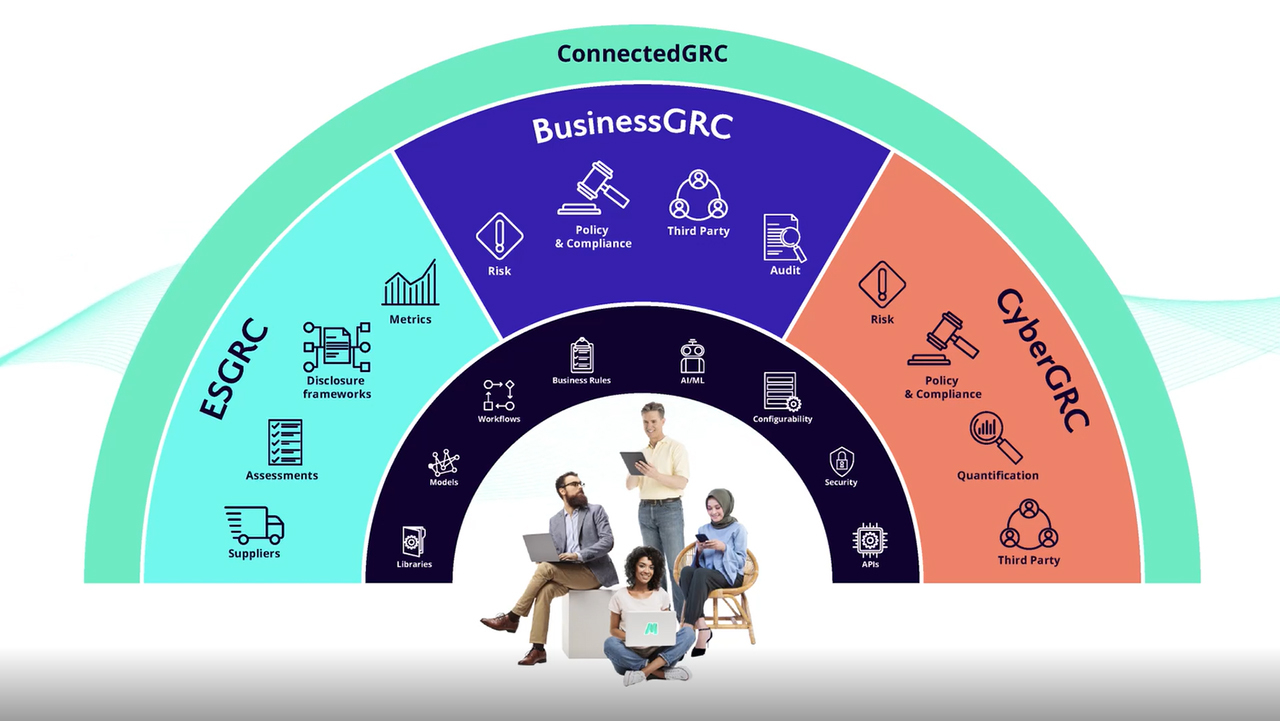 India's risk and compliance landscape today is more complex than ever before. Watchdogs are introducing new policies and modifying existing ones to safeguard businesses and consumers. Regulatory guardrails are getting stronger while regulators increase their focus on areas such as data, privacy, compliance, operational resilience, and business continuity.
As per a media report, 250 companies in India were penalized for non-compliance by the government and quasi-government bodies in 2022. The cost of non-compliance is clearly becoming more expensive than investments in technology. For example, in the recent Data Protection Bill the penalty for non-compliance is over 60 million dollars. Highly regulated industries like healthcare, banking, energy, and financial services, are challenged not just by the pace of change but also the intense pressure associated with potential fines. 
Operational risk, cyber risk, market, and geopolitical risks are thwarting growth for businesses in India and can cause significant impacts. Risks are also no longer happening in silos and are highly interconnected with implications across the enterprise. For example,  the recent cyber attack on AIIMS exposed critical vulnerabilities. The ransomware affected outpatient and inpatient services, including smart lab, billing, report generation, appointment scheduling and other services across the organization. 
The good news is that a more Connected Governance, Risk, and Compliance (GRC) journey is being powered by recent innovations and can have a notable impact on improving your risk posture. Here are six innovations driving next generation GRC. 
Quick, Easy, and Secure Configurations with Low code/No-Code
When it comes to GRC solutions, there's no one-size-fits-all. Every organization is unique and so are its requirements. The solution should be simple allowing organizations to configure the products as per their specific use cases. Low-code and no-code development platforms help simplify customization within a software product. This allows non-developers the ability to personalize applications to their specific needs.
No-code helps even non-tech teams to upskill and configure their own product experiences with simple drag-and-drop interfaces, personalized applications, and options to create and change fields, and build reports and templates. It also ensures all configurations are automatically saved and applied to the given environment even after upgrading to newer versions.
AI/ML Engines Power GRC
AI and machine-learning based GRC programs offer cognitive search functions, significantly increasing the speed at which companies can locate data and other relevant information. AI recommendation engines are redefining risk, compliance, audit, third-party, and ESG programs. By learning from the large amount of data that organizations already have, these engines can recommend actions, reduce repetitive tasks, and improve efficiency. However, AI requires good governance and checks and balances to ensure biases do not disrupt the positive intent.
Instant Connected GRC Insights 
Decision makers need a panoramic view of their organization's GRC posture to make informed business decisions. GRC solutions that support easy data sharing allow organizations to obtain an extensive, contextual, and more precise view of risks instantly — within minutes, not hours or days. The data-sharing capability can be configured in a few simple clicks to get a personalized report offering a unified risk view.
Quicker, Easier Frontline Approach to Operational Risk Assessments 
The frontline plays a key role in risk management. Using advanced GRC solutions, organizations can empower frontline employees with either a simple, intuitive approach or a more detailed option to complete timely, observational risk assessments. This way organizations can enhance their risk awareness. 
Curated Regulatory Intelligence
Many organizations find it difficult to keep pace with the constantly evolving regulatory landscape. Advanced GRC solutions are available that organizations can use to access multiple regulatory content providers. These comprehensive sources of regulatory intelligence enable organizations to capture regulatory content from more than 700 jurisdictions and 5,000 regulatory authorities. 
The best GRC solutions offer easy integrations with regulatory content providers allowing organizations to access regulatory inventory, where they can view regulations that are curated to their unique risk and regulatory profile. 
Leveraging Advancements on the Cloud 
In the modern-day GRC landscape, organizations are meeting business demands by harnessing cloud services. Continuous Control Monitoring (CCM) capabilities in a GRC solution allows to automate control testing across cloud environments, initiating remedial actions, and mapping cloud security controls with internal protocols and compliance standards such as NIST CSF, PCI, ISO 27001, and HIPAA. GRC cloud innovations enable a greater level of flexibility, scalability, and security. An example of this is the AWS Security Hub, a cloud security posture management service from Amazon Web Services (AWS). It provides continuous control monitoring (CCM) using automated tools and technologies. By continuously testing and monitoring the effectiveness of security controls, it helps improve the compliance posture and reduce audit costs.
These GRC innovations have the potential to power business performance and resilience even in a dynamic and turbulent environment. The need of the hour is forward-looking solutions with innovations to help organizations advance on their GRC maturity curve, drive growth, and make more strategic business decisions. Innovations in GRC are driving a new level of visibility into risks, allowing organizations to take a more proactive stance against issues before they escalate.