Toyota is going to use a conversion strategy involving transforming old cars into sustainable models. The older models from the automaker will be replaced with certain parts, making them eco-friendly. It doesn't involve making new vehicles.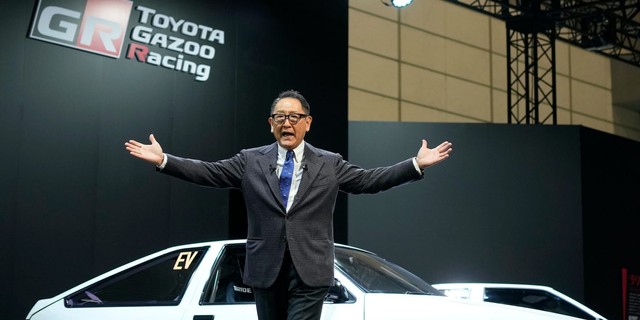 Toyoda, the grandson of the company founder, Kiichiro Toyoda, said Toyota is looking into swapping sustainable technologies like fuel cells and electric motors into older cars in an effort to expedite an industry push toward electric vehicles. "I don't want to leave any car lover behind," Toyoda said at the Tokyo Auto Salon, per the AP. The proposal marks a significant step for Toyota, which has lagged behind competitors in adopting electric-powered vehicles.
The company has faced mounting criticism for its lack of commitment to producing EVs, a reluctance that is in large part due to the high cost of manufacturing the cars and Toyoda's insistence that some markets, particularly the US, aren't ready for them, the Wall Street Journal reported. Instead, the company has sought out alternatives in the form of hybrid cars that run on a blend of gasoline and electric, and hydrogen-powered cars. While Toyota has established itself as a leader in hybrids, the company's dedication to the model has led some to believe it has become a means of avoiding a broader push to electric, the AP reported.
Making EVs
According to Electrek, which tracks the development of electric-powered vehicles, Toyota has generated less than 1% of US sales from non-hybrid zero-emission vehicles and "has the least developed supply chain for reducing carbon emissions." At the event, Toyoda said that while "regulations have prompted a race to put out EVs as early as possible" that is ultimate "not Toyota's approach," per the Wall Street Journal. Despite its hesitancy to adopt EVs, the company still made a goal in December 2021 to sell 3.5 million EVs a year by 2030. At the time, Toyota also pledged to make all models in its Lexus line electric in the US, China, and Europe by 2030.
It was just seven months ago, in May, that Toyota set a target of selling around two million electric vehicles by 2030. On Tuesday, it nearly doubled that target, citing the November climate summit in Glasgow, Scotland, and the Biden administration's executive order aiming to increase electric-vehicle sales. Toyota's president, Akio Toyoda, said at a news conference that the company felt compelled to update its plans to achieve carbon neutrality after seeing the summit. "Each country made their announcements and made clear the energy policies they had," he said.