One of the most recognized brands in households around the world, Tupperware manufactures kitchen products. These products include storage containers, water bottles, kitchen gadgets and serving products. All manufacturing takes place using 100% virgin plastic which gives a good quality end product which could be used for storing food safely. Apart from these kitchen products, the company also manufactures beauty and personal care products which are sold around the world. The company which was at its best in 2013 with each stock worth $96 has experienced a deep dive in stock prices. In the stock market trading on Tuesday, the share of the once growing brand was traded for as low as 3.17 dollars. Their stocks were also at a threat of being delisted by the New York Stock Exchange because they had not filed a report that was required to be submitted annually. In a statement made by the company on Friday, they said that the company's ability to continue its functions remains doubtful and has become their primary concern. They added that they are proactively working to arrange finances to run their logistics.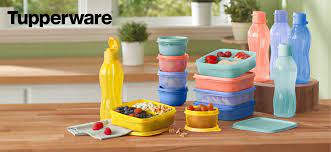 Reasons for Tupperware's declining stock value:
In the past few years, Tupperware has experienced a 90% decline in stock values and as per recent statements made by the company, they might even seize their operations. The probable factors that led to such conditions for Tupperware are:
Decline in the number of sellers: This led to a decrease in their overall sales which went down worldwide. The sales graph which was almost a stagnant line before 2014 started changing from the year 2014-15 when they saw a 0.3 billion dollar decrease in net sales. This was as a direct consequence of the reduce in sales in Asia, Europe and North America where they lost millions of dollars in just one year. Subsequent years were no better and the company has been on a constant decline ever since.
Consumer Pullback on plastic home products: Although the company took the market with a storm in its initial days, there has been a substantial reduction in what the consumers of such products are spending to procure these. Initially, Tupperware was successful in convincing people to shift from traditional steel food containers and other products but with the growing discontent about plastic use it has become difficult for the company to market their plastic as a safe alternative.
Lack of a visionary approach: The future belongs to the newer generations and for a company to survive and thrive in the coming days, it is essential to appeal to younger people. Tupperware didn't realize this until the last few years which led a brand with great recognition to one which the Gen-Z hasn't heard about.
The Pandemic: There are no such thing that I know of which wasn't affected by COVID-19. In Tupperware's case too, the pandemic and the lockdowns that came with it meant a reduced supply chain to its major consumer base in countries like China. Eventually, this led to a further decline in cash inflow.
Failed Attempts:
The company has worked in collaboration with Target twice in the past. While the company used a more direct approach with their employees convincing customers who walked into a Target store to try Tupperware products, this time the company decided to let stores operate more independently citing that customers are more likely to try their products if their shopping experience is as usual with no targeted marketing. They have also made attempts to expand their channels of distribution to Target stores and on E-commerce websites including Amazon. The company also tried making more products that would attract the attention of younger customers but these policies seem to have no avail.
Response:
The CEO of the brand that has been around for over 7 decades, Miguel Fernandez was quoted as saying, "Tupperware has embarked on a journey to turn around our operations and today marks a critical step in addressing our capital and liquidity position. The company is doing everything in its power to mitigate the impacts of recent events, and we are taking immediate action to seek additional financing and address our financial position." in a recent press release.