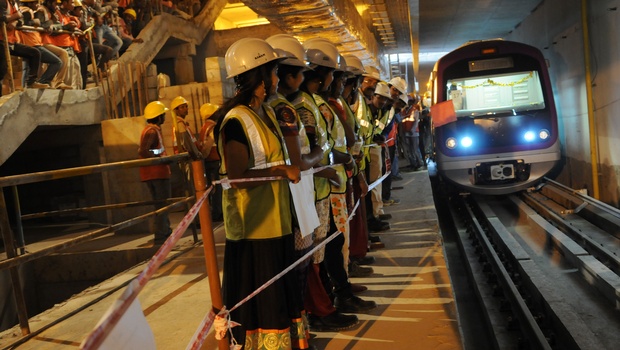 30 April, 2016, Bangalore: The garden city of India, Bangalore adds another gem in its crown as the denizens of the city welcome south India's first underground metro at Dr BR Ambedkar Station on Friday. The new metro will run on a route from MG Road to Magadi Road.
This launch will ease off the pressure created by opposition on Karnataka's Chief Minister Siddaramaiah for unnecessarily delaying the project. In his earlier outings, the CM had blamed the presence of hard rock that had delayed the tunnelling work. However, with this launch, he also revealed that most probably, the rest of Phase I work would be completed by November.
"Rs 9,000 crore would soon be released by the state government for Phase II and Rs 8,100 crore would be released in the next few days. Phase III would have airport connectivity and that RITES Limited, a Bengaluru based engineering consultancy company, had been given the responsibility for the planning and feasibility report preparation of Phase III," quoted CM.
With this move, the government is planning to ease off the traffic problem that has become a common scenario in the IT hub of India. The new underground metro was inaugurated by Union Minister of Urban Development Venkaiah Naidu, this metro will help the commuters to cover 4.8 Km distance in few minutes.
Image- The New Indian Express
Also Read-
Uber Alleges Ola For False Bookings; Sues The Competitor for $7.5 Million
Infosys and Amazon Web Services Collaborate To Accelerate Cloud Migration