As CEO Mark Zuckerberg introduces Meta's newest product, the Meta Quest 3 headgear, enter the virtual reality realm. Before Apple launches its highly anticipated AR/VR headset at the Worldwide Developers Conference (WWDC), amazing news will be made. Prepare to enter the virtual reality experience as we examine the amazing features and developments of the Meta Quest 3.
Introducing the Meta Quest 3: A Leap into the Future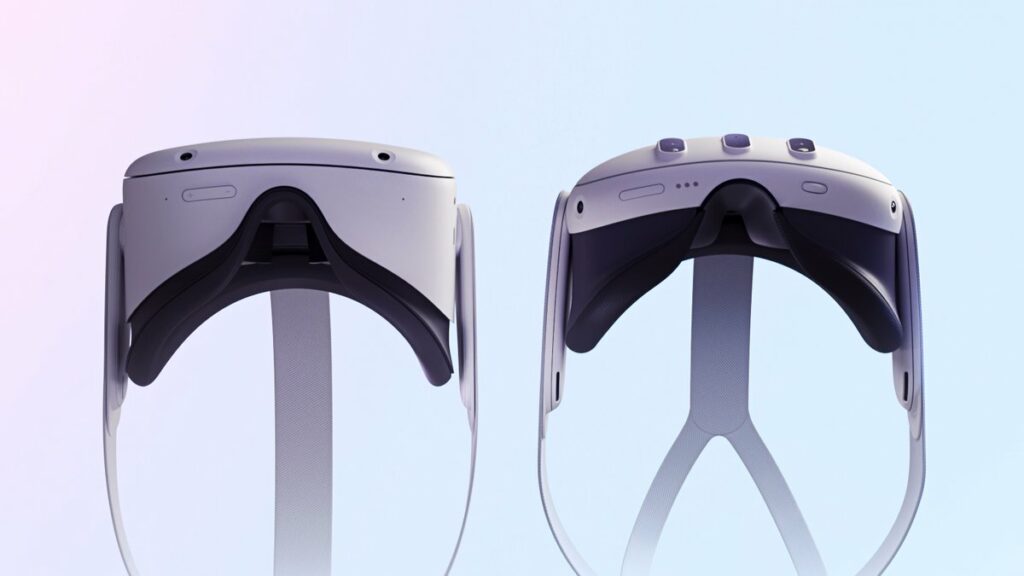 With its cutting-edge virtual reality headgear, the Meta Quest 3, Meta has unexpectedly onto the stage. With its improved features and advancements, this enhanced gadget is poised to change the virtual reality experience. Imagine entering a high-resolution color mixed reality environment where eye-popping vivid and realistic graphics come to life.
With its high-resolution display and pancake optics, the Meta Quest 3 guarantees an unmatched visual experience. By ensuring that every detail is sharp and distinct, this ground-breaking technology immerses users in a world of breathtaking images. The headgear is powered by a next-generation Snapdragon chipset created in conjunction with Qualcomm Technologies to manage the enhanced pixel count, ensuring slick performance and fluid graphics rendering.
Additionally, Meta has concentrated on refining the Quest 3's appearance and comfort. The headset delivers a sleek and comfortable fit and has an optic profile that is 40% thinner than that of its predecessor. The Meta Quest Touch Pro Controllers, which offer improved control and accuracy for a completely realistic VR experience, will be available as an update for users. The Quest 3 also has hand-tracking functionality out of the box, enabling users to interact with virtual items just with their hands using Direct Touch technology.
Any new headset must be compatible with current VR content, and Meta makes sure that the Quest 3 meets this need. Users will have access to a sizable selection of more than 500 VR experiences, games, and applications for the Quest 2. Additionally, Meta has revealed the impending release of a number of thrilling new VR and mixed-reality games, assuring users of a wide variety of material to discover and enjoy.
The Quest 3 Unveiling and Apple's AR/VR Headset Launch
Just before Apple's highly anticipated AR/VR headset introduction at WWDC, Meta announced the Quest 3 at a deliberately planned moment. Consumers are anxiously expecting the game-changing advancements that both of these tech titans are bringing to the table as the battle between them in the AR/VR arena heats up. The conflict between Meta and Apple promises to push the limits of immersive technology and provide consumers all across the world with even more remarkable experiences.
Join the VR Revolution
The Meta Quest 3 VR headset is at the cutting edge of innovation in the field of virtual reality, which is still undergoing rapid change. The Quest 3 provides users with an unmatched virtual reality experience because of its cutting-edge capabilities, improved graphics, and a wide variety of content. The potential for AR/VR is boundless, whether you're a devoted VR fan or you're just interested in the newest technical developments.
Conclusion
The AR/VR market's competition between Meta and Apple is very thrilling. There is growing interest in Apple's planned AR/VR headset debut at WWDC as a result of Meta's Quest 3 VR headset's popularity. Undoubtedly, the rivalry between these two digital behemoths will spur innovation and expand the frontiers of immersive technology.
The ultimate beneficiaries of this conflict are the customers, as Meta and Apple both want to provide cutting-edge experiences. The high-resolution color mixed reality and improved visual capabilities of the Meta Quest 3 promise to take users to new levels of immersion. Apple's AR/VR headset, which combines its svelte design aesthetics with formidable technology, has the potential to revolutionize how we engage with virtual worlds.
We may anticipate a boom in originality and developments in the VR content environment as these firms compete against one another. Users will have many alternatives thanks to Meta's large selection of VR experiences, games, and applications, as well as the impending launches of new games. With Apple's arrival into the market, the standard for immersive entertainment is expected to rise thanks to its own collection of unique experiences and content.
So get ready to see the AR/VR industry's titanic fight. A revolution where borders are broken and virtual worlds come to life is about to start thanks to the Meta Quest 3 and Apple's AR/VR headset. Prepare yourself for a future when virtual reality permeates every aspect of our lives and provides many opportunities and life-changing experiences.