India is incredible in the traditional art form but the artisans, who toil heart for this global recognition, are not shining. Majority of craftsmen, whose exquisite crafts have brought global recognition to our country, are unfortunately struggling without the basic amenities. These craftsmen are combating hard for providing education, health facilities and living for their family members even though they are the third-largest population in India. 

Need of UTHHAN
The Indian craftsmen are run of the meal people. Most lines share of them is living below the poverty line and low income from their work they are unable to earn their daily bread and butter. It has been observed that the value of an artisan product is encaged on the way of the presentation along with quality. The inability of artisans to showcase their product according to the global standards has added to their misery. The lack of financial benefit made them shift to an alternate source earning, which has ruined the traditional craft. To overcome this obstacle a joint initiative between artisan community organizations and Golden Era Royal Group (GERG) called "UTHHAN" is born in April 2012. UTHHAN is the first initiative in India where profit from artifact sales goes directly to artisan families without any middlemen. The intuitive display of products in UTHHAN mobile and web applications help artisan products to be showcased to a global crowd without any charges. The project is trying to open various retail outlets exclusively allotted under the banner with the help of Government bodies.
Connectivity and Accessibility
UTHHAN enabled mobile and web platforms for artisans to sell their products directly without any middlemen. UTHHAN exhibits a wide range of products which are value for your money.  The Government has not structured the Artisan payout and treated the craftsmen shift the same as labor charges. The work undertook by an artisan is not labor but a skilled task, which need precision and talent. Even though his craft is admired by millions of people across the globe the work is devalued. This leads to financial apathy. It is heartbreaking to see that these unrecognized heroes are not even paid for their talent, even though our country is known for its culture and heritage. There are millions of artisans are still struggling for their one-time food. If this condition persists for a long time there will be no artisans in India.
UTHHAN plays a vital role in upgrading artisans by giving away the profit of artifacts sale directly to artisans family and a total of 10000 plus families are part of these initiatives across India as of now. Our artisan families are spread through Kerala, Tamil Nadu, Karnataka, Telangana, Odisha, and Uttar Pradesh aided by 50+ coordinators. Now they can download our mobile or web application and register for free. Once the registration is completed artisans can upload their products with a price decided by them. The products are cheaper for consumers as well since there are no middlemen.
Uthhan for Tech
We understand deeply about the technology and we dive into bring User-friendly mobile application for Android users. From Uthhan android app, Artisans can sell and scale up their business inside the mobile application itself. Here is the download link from Google Play Store: https://play.google.com/store/apps/detailsid=com.uthhan.com.navigationnew
How UTHHAN has empowered artisans till Now
UTHHAN mobile application is launched in multiple languages (English, Hindi, Kannada, Tamil, and Malayalam & Telugu).

Enrollment of more 10000 plus artisan families already completed.

Artisan Identification Card (AID) is issued to the families under the scheme.

More than 100 plus NGOs and artisan organizations are helping us to identify & enroll artisans across India.

A wide array of products from artisan families is already displayed.

UTHHAN is already giving revenue to more than 5000 plus artisan families.

UTHHAN toll-free number is inaugurated by Shri. P.J. Kurian (Deputy Speaker, Rajyasabha) which is helping the underprivileged artisan families to contact us and share their ideas directly without any middlemen.
UTHHAN future Projections
Setting up industrial sheds for bulk manufacturing.

UTHHAN outlets across major cities in India.

50000 families under the project.

Educational scholarships, Life insurance, and housing for at least 5000 families.

Setting up colleges for artisans with skill-related courses.

Job for at least 3000 graduated Artisan youths under the scheme.
UTHHAN Initiative in Odisha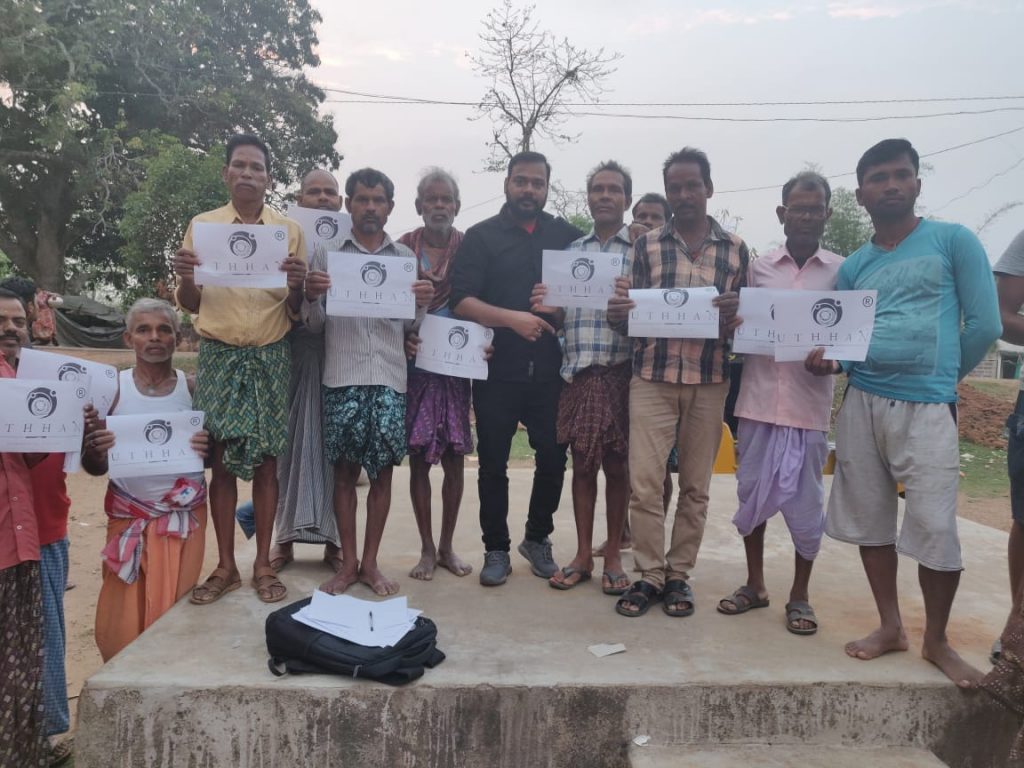 Founder's Bio
Mr. Leemon Ravi has started his career as a Quality Engineer in Siemens after the successful completion of B.E – Mechanical (Gold Medalist) from LBS College of Engineering. His association with Ocwen Financial solutions as a Cadd engineer, ICICI bank as a financial officer and HDFC bank as a Territory manager has helped him to excel his career as an entrepreneur. As the Chairman and Managing Director of Golden Era Group Of Companies ( GERG), he is currently associated with many business projects in financial, housing and software segments.
With a vast experience of more than 13+ years in financial, engineering and software segments his vision is to revolutionize the travel industry concept by infusing and nurturing young and creative minds backed by pioneers in the respective areas.
For more info visit uthhan.org
You can download the app from Play Store.