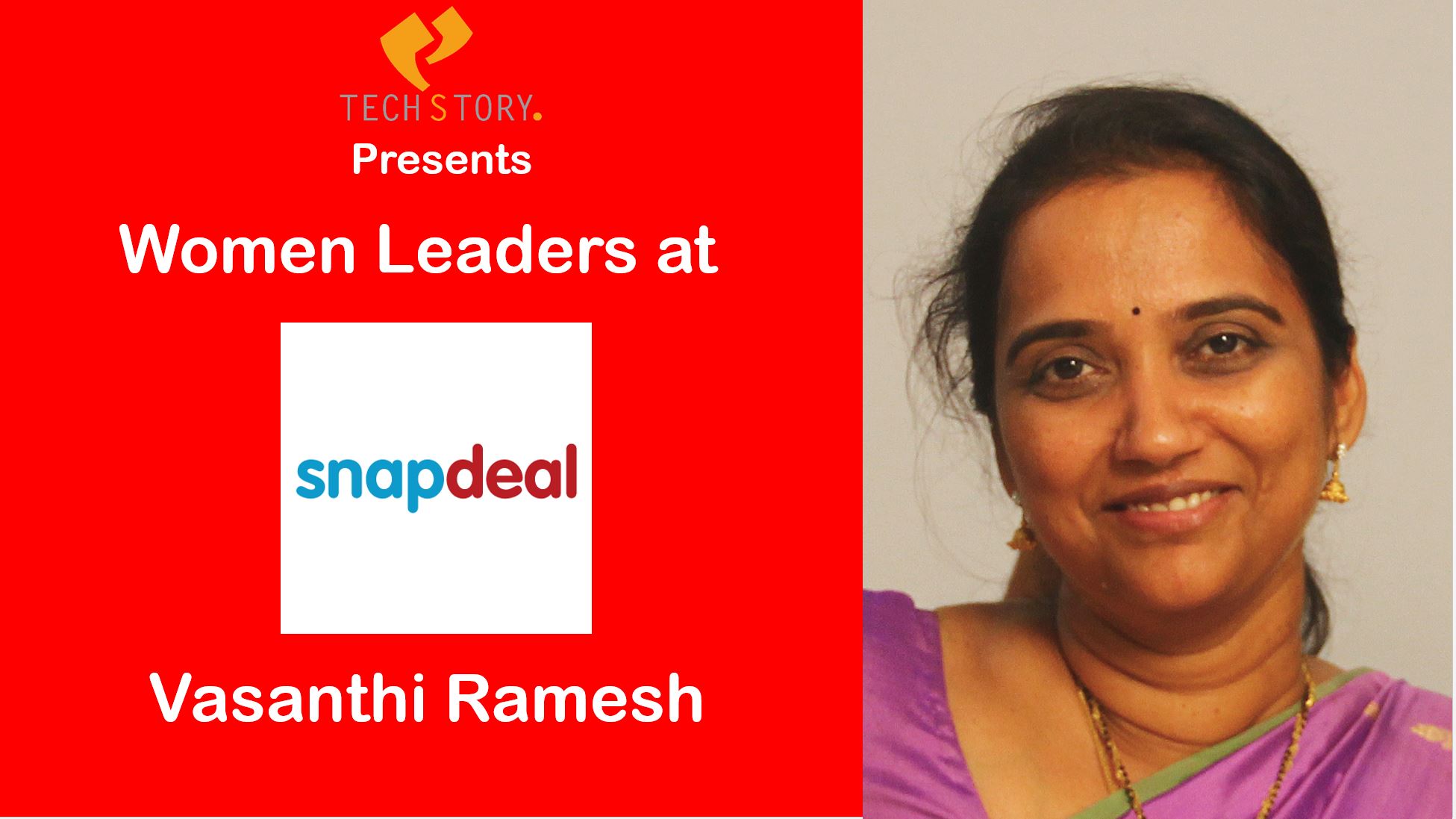 Vasanthi Ramesh is the Associate Vice President for Customer Promise and Return in Snapdeal. Vasanthi has a rich experience spanning for over 24 years in the IT industry and has handled various positions. In this interview with TechStory, Vasanthi talks about her roles and responsibilities in delivering the customer promise and also about her being a women leader at Snapdeal.
As an AVP responsible for Customer promised and returns you play an extremely critical role in shaping the Snapdeal experience for customers. Can you elaborate a little about your role? In your role, what are some of your key priorities?
I head the engineering for customer promise and return management. This role gives me the opportunity to solve both business and technical problems. The customer promise is a complex problem of predicting the delivery dates using machine learning and big data. Most of the e-commerce platforms under promise and deliver on time, at Snapdeal our goal is to be accurate in our prediction and to deliver on time. So, we built platforms that learn from past data on deliveries and provide an accurate 2 day range of delivery promise.
The returns work is to build technology for optimising the returns operations to reduce cost, detect fraud and also provide the best return experience for the customer.
As an AVP in Snapdeal, I also get to learn a lot from my peers and get to be part of the planning of roadmap and strategy for Snapdeal.
Key priorities are:
To lead technical teams that build robust platforms to make, plan and manage delivery promise, to make returns frictionless for customer and cost effective for Snapdeal
Define the strategy for promise and returns and to plan the roadmap for delivering world class products that delight our customers.
Grow teams that imbibe the Snapdeal culture and goals.
What kind of trends are you seeing when it comes to returns?
Returns is a complex part in a true Market place. All parties involved customer, seller, and 3PL are unhappy to be debited and it is the onus of the market place to resolve the issue with minimal friction. Most e-commerce take the easy routes.
Refund the customer and take the loss, this increases customer fraud and increases the operating costs.
Restrict refund and provide replacement as the only option. This reduces the customer trust and decreases customer delight.
Make draconian rules for returns that increases CPS and not a great experience for neither customer nor the seller.
Some of the trends in returns involve open deliveries, QC at doorstep, engaging specialist to trouble shoot (in case of electronics). Most of them addressed few areas only.
At Snapdeal we are working on technologies that will look at the whole returns process holistically. We are building systems that consider return policies, data captured for quality at various hops in the journey, customer and seller ratings, fulfilment modes and multiple other factors to decide on the return flow. It is exciting and also highly challenging problem and we are seeing some good needle movement in our metrics.
[box type="shadow" align="aligncenter" class="" width=""]Also Read:
Shaping Innovation and Future of Technology at Dell – Mini Shah, Director of Engineering @ Dell Networking R&D Center ![/box]
What kind of measures are you taking to minimize customer returns?
Snapdeal is a true marketplace and we have around 1.8 Lakh sellers in our ecosystem, sending their goods through 100 + couriers to millions of our customers. The number of paths and handovers are all possible areas for compromise in quality and fraud. We are looking at following areas to minimize customer returns
Enhancing the experience for customer, so that there is minimal gap in what is viewed in Product page to what is delivered.
Ensuring the quality of the product from seller to customer.
Systems and process to help resolve the issue with the product rather than return the product.
What are some of the most challenging situations you have come across in your current role? How did you overcome the situation? What were your learnings?
When I started I had no team, just a single goal to deliver customer promise and four months to take it to production and to resolve the multiple technical gaps we had in returns management. The challenge was to build a team, understand the current processes in delivery and returns and define strategy for accurate promise and frictionless returns. It sounds doable, but the biggest challenge was in collating the delivery data, none of the 3PL partners had integration and all we had was past data. Also, on-time delivery and returns are critical for customer satisfaction, a single bad experience implies losing a customer. So every decision we had to take has to be discussed with multiple stakeholders and every single metric needs to be monitored to measure the success.
My way to overcome challenging situation is to dissect it into blocks and focus on the fundamental blocks first. My key learning from this challenge was not to multi task when building fundamental blocks.
My focus was on:
Getting the right talent and built a core team
Spending time with all stakeholders to understand the current return system.
Analyse the major issues in returns and tackle them one at a time.
Defining phases for delivery and aligning with the metrics so that we monitor the metrics for course correction.
The team successfully built a promise engine that predicted a 2 day promise for 90% of our deliveries, using ML technologies. The return team delivered slotted pickups and a 24 refund process.
Can you tell us about life as a Woman Leader at Snapdeal? How does Snapdeal help its women folks to succeed?
Snapdeal has an open culture. The work force is diverse in technical experience, age group and also in cultures. This culture is across all levels and creates a flat structure at work. There are no hierarchies and lot of transparency in all decisions taken. As a woman, I find Snapdeal to be a conducive place for all woman leaders. There is no discrimination of who you are, but there is pure meritocracy in the work done.
Snapdeal has an open hiring policy, and hence we have a healthy ratio of all the genders. Women in tech in Snapdeal are delivering technical platforms as part of various teams. There are women managing development teams like seller platform, website, handling program management for large cross team projects, defining product for some niche areas, designing the UI for various Snapdeal portals and apps, ensuring the quality of the products, supporting databases and the entire release management of projects. Women are contributing equally in building the technology for Snapdeal.
Also, Snapdeal has numerous programs under the Advitya charter that helps women get mentorship, leadership skill training, guidance for handling work during maternity, health and counselling programs. These programs ensure a larger woman workforce at Snapdeal and enable more woman to become leaders at Snapdeal.
[box type="shadow" align="aligncenter" class="" width=""]Also Read:
Sai Kavitha – Business Intelligence Director, Head – Wise Group, Motivational Speaker – There Is No Stopping A Determined Woman ![/box]
What is your success mantra – some of the key learnings in life that you stick to?
Work hard, be who I am and have fun both at work and home.
Some of the key learnings that I stick to in my life:
Be nice to everyone, believe in the three H's – happiness, healthy habits and be humane.
You cannot be the master of all things, so hire the right people. Keep learning so that you can question intelligently and make right decisions.
If there are too many undone things in life, you are not planning well or not prioritising. Focus, plan and prioritise. All of us need course correction, either daily, weekly or monthly. I do mine daily.
Learn to live two lives, your professional life and your personal life. There should a solid line between the two. Both require equal time and dedication. You learn, deliver and are rewarded in both the lives.
What advice would you give your 20 year old self?
Never listen to people who say you can't. If you have the right passion know your goal and focus on your next step, success will follow.
How easy / difficult it is for women in tech to break the glass ceiling? What would be your advice to other women trying to break the class ceiling?
It is tough to break the glass ceiling, especially for Indian women. There are two types of glass ceilings, one that we create on our own and one which some organisations create for women leaders.
We are culturally a patriarchal society and we are constantly exposed to this thought in media, society and in few cases in our families. It affects our thinking over the time and sometimes we tend to create glass ceilings on our own. My simple advice is that every time you hit a glass ceiling, spend some time for introspection. The usual reasons are family responsibility, physical strain, dominating peers and lack of professional guidance. All of these can be easily fixed. Seek advice and take courses that will help you tackle such situations. Measure family time in quality and not in quantity. Your success is what will inspire your kids.
Look for organizations that do not have glass ceilings. I believe to build a career and to thrive in your work, the organisation should challenge an individual, reward and also provide opportunities to experiment. Snapdeal has the right parameters:
Challenges and the support to deliver it: There is great support from all the teams involved in delivering challenges under customer promise and return management. There is lot of interest in the work that is done and I find my peers and my superiors involved in the progress on a daily basis.
Meritocracy: Snapdeal has a well-defined performance management system that caters to helping all employees achieve their goal. As part of the Snapdeal culture the information flow from your manager to you is almost on a daily basis. This helps you understand what is expected and how to correct your deliverables.
Learning: There are no barriers when one wants to know about a subsystem or contribute to a subsystem. The technical leadership at Snapdeal advocates an open source culture that allows anybody to contribute to any project.
Work-life balance: There are good policies that enable women to handle work pressures and family. The organisation has good policies and programs to enable women succeed.