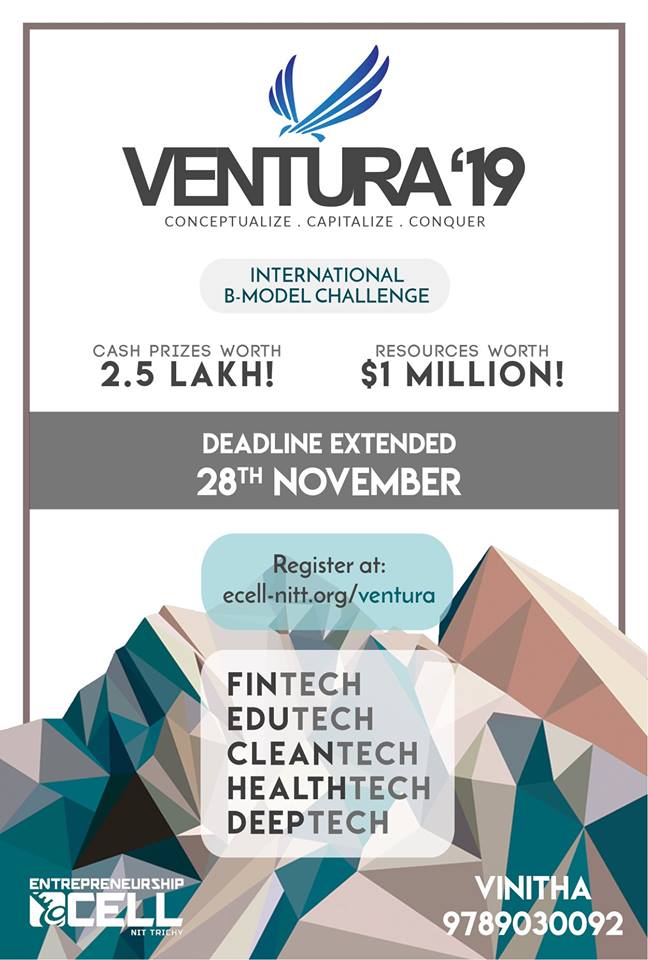 The Entrepreneurship Cell of NIT Trichy presents Ventura'19 – an International Business Model Challenge. One of the largest in South India, it provides an ideal platform for emerging entrepreneurs to ideate, network, learn, and grow, and also puts aspiring startups through a rigorous process to equip them with the necessary skills and tools to build themselves from the foundation.
Through a journey of 4 months, from mentorship to varied resources, it provides a platform for those willing and able to take the next step in the journey of entrepreneurship. With a rich history of now-famous winners and participants, it reflects the event's mission to elevate ideas that have the potential to accelerate the development in their respective sectors.
With prizes worth 2.5 lakhs to be won and resources worth 1 million USD, Ventura'19 is back with a stronger edition, to take a step forward in realizing the vision of revolutionizing the startup ecosystem. With 250 colleges from 22 states participating year in year out, the reach of Ventura is clearly substantiated.

This edition of Ventura invites innovative solutions in 5 sectors that they believe, are going to change the world.

Sectors:
Fintech
CleanTech
DeepTech
HealthTech
EduTech
Incentives:
Coverage of top ideas in top Newspapers and Online media.
Comprehensive 2-month Mentoring Period with Seasoned Entrepreneurs and Professionals with years of experience for top 50 teams.
Free Legal / IP Consulting.
Cloud Credits from IBM.
Cash Prizes worth 2.5 Lakhs.
Extended Mentoring for winners from each sector.
Business Planning Software for top 50 teams.
Financial Consulting and Fundraising support for winners from each track.
Networking Opportunity with India's most reputed VCs, Entrepreneurs, and Angel Investors.
Opportunity to secure incubation for their plans from the judges who reach the final round.
A chance to pitch in Bangalore Entrepreneurship Conclave to top VCs, and Angel Investors for top 50 teams.
You can visit ecell-nitt.org/ventura.html for more details.

Register at https://www.f6s.com/ventura19 before 28th November 2018.