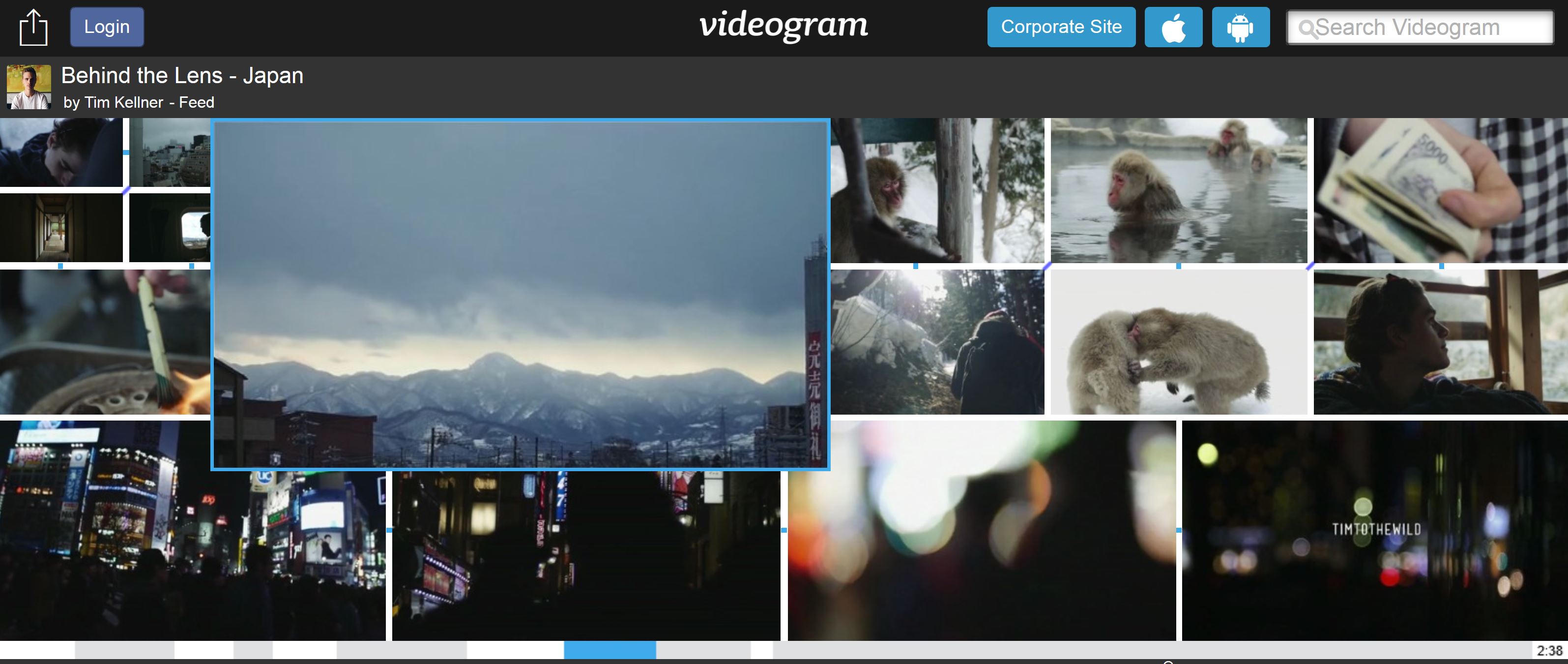 Videos are the ultimate content on web ! They are proven to be the most engaging way in which a story could be told. However in an age of bigdata where approximately 300 hours of video are uploaded to Youtube every minute, finding a piece that you are looking for is a difficult task. A number of companies today are working in the area of making the video viewing experience more relevant and engaging one for the users. Companies such as the Mondo Player, which works to bringing you the most relevant videos one after the other or the Vyu App which helps you figure out what your network is watching and gives you suggestions about what to watch based on the suggestions of or activities of your network. These companies however work with a complete video as a whole. But what about finding the relevant content inside a video?  Videogram, a pictorial summary video platform, now allows you to identify relevant content within the videos.
In times when there is a huge focus on providing personalized content that is relevant to the users and when high speed networks have reduced the patience of internet consumers, it is surprising how little has been done to provide the most relevant content within videos to the users. Currently, all videos available are represented by a single thumbnail. And a large number of times, these thumbnails can be misguiding. The thumbnail says something else but when you click on the video it actually turns out to be something else. Also having a single thumbnail represent a video limits the relevance of the video when you try to share it socially, the part of the video that you might want to share might come very later in the video but you end up sharing the entire video anyways.
[box type="shadow" align="aligncenter" class="" width="600″]Videogram is a pictorial summary of video. Videogram allows users to get a quick overview of a video's contents at a glance without watching the video from beginning to end. [/box]
The visual summaries are suitable as interactive thumbnails on video publishers sites and they can also be used to help consumers browse through videos (like they do for images). Videogram allows the consumer to start the video from a point of visual interest (smaller clips) on mobiles thus eliminating the pain points of streaming/buffering a large video on oversubscribed/congested mobile networks.
To generate a Videogram, a video is auto segmented based on the color features of each frame. The segments are also clustered according to their similarities. Videogram has introduced an importance score to rank the segments. A segment is considered to be important if it is long and rare. Keyframes are extracted from highly ranked segments and sized according to their scores so that more important keyframes are presented as bigger frames. The frame-packing algorithm puts the different-sized keyframes in a compact "comic book" format.
Videogram is a platform for both B2B & B2C market where both consumers as well as enterprises (Publishers, Content owners, Other mobile/web video apps) can make use to the Videogram software to represent their video content.
Consumers can upload their home videos and mobile generated videos and share the videogram either publicly or privately. Publishers, content owners & mobile/web video app developers can use the Videogram API to create videogram of their video assets and embed the videogram player into their web sites/native apps thus replacing the video thumbnails with videogram. Unlike traditional video media, Videogram will adapt itself to any reasonable window size. YouTube standards from 560×340 through 1280×745 are fully compatible, as are non-standard arrangements like banner and skyscraper. Dynamic resizing is fully supported – once the parent object has new dimensions the videogram will expand or contract to fit.
Users using the Videogram platform to represent their videos have seen a  30% jump in user engagement. Videogram also enables more monetization for video creators by allowing  adverts to be placed at multiple entry points of the same video. By allowing a single video to be represented as multiple videos has drastically improved the CTR.
Videogram is owned by  Cinemacraft. Cinemacraft is a Tokyo-headquartered start-up that provides an alternative to the traditional video embed for publishers and content creators. Cinemacraft sits at the intersection of content marketing, discovery, and social engagement. Videogram was launched by Cinemacraft in 2012.
The company is funded by 500startups, NTT Docomo, Turner Broadcasting, Samsung Venturs and Tyra Banks Fierce Capital Fund, Videogram has worked with Fox Pictures, Sony Pictures, Capitol Records, Disney,  HBO, Jennifer Lopez, L'Oreal, Warner, CBS, ABC, ESPN Turner Broadcasting and many more. In India, they have worked with brands such as  YRF Films, Bornfree  entertainment- Bobby Jasoos, TIPS industries and Priyanka Chopra's In My City.
In 2015, Videogram will be planning to roll out their monetization with Videogram software that will allow video creators to place their advertisements smartly.
Comments
comments