On 12th June 2014, Infosys announced the appointment of Dr Vishal Sikka as its first non founder CEO. Vishal Sikka took over as the CEO & MD of Infosys from 1st August 2014. For the Indian IT industry which is going through a paradigm shift, the appointment of Vishal Sikka reinforces the advent of an innovation era. The appointment of Vishal Sikka as the CEO of Infosys was cheered by the Industry .As part of our effort to track the business side of technology at techstory, we will keep tracking the Vishal Sikka strategy in our articles. This is the first in our series of articles. Below are some of the key highlights of the Vishal Sikka strategy so far.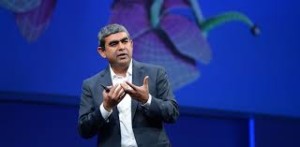 Building a customer centric organization
For an industry which is working hard to become as customer focused as possible and trying to provide their clients with solutions which they could not have found on their own, Vishal Shikka, the man known for his customer engagements during his time at SAP, is seen as a perfect CEO for Infosys.Being based out of California will give Sikka a chance to work closely with Infosys clients (60% of Infosys revenues come from the US). Sikka is said to have met a number of Infosys clients already. Although Sikka will be based out of California, he will be working out of the Infosys headquarters in Bangalore for "atleast a week" every month.
Focus on senior management
On the day Sikka was named as the CEO of Infosys, 12 senior executives were elevated to the position of executive vice president. This move was done with intent to stop the senior level exodus that Infosys has witnessed in the last few months.
Employee Engagement
On July 2014, Sikka connected with over 160,000 Infosys employees asking them what was the main area of innovation that their clients were focusing on. In the first week after he took over as the CEO, he approved the promotion of 5000 employees.
A definite focus on innovation
In an effort to create a culture of innovation, Sikka made sure that 20 of his top employees got an insight into design thinking in the first 2 weeks as his appointment as the CEO. Sikka has had multiple meetings with venture capitalists seeking their views on get the company to work on its innovation agenda. Being based out of the Silicon valley, which is a home to some of the most disruptive technology startups, also gives Sikka an added advantage to recruit, work closely with and make investments in companies.