Have you ever been in situation when in a conference room everyone wanted to share some information and had to go through the tedious process of taking each other phone numbers or email ids  to send the information. Furthermore, imagine having this conference at a nice hilltop resort where there was no connectivity ! Having a group conversation there would be impossible. The Vojer Platform now solves this problem.
[box type="shadow" align="aligncenter" ]Vojer Platform is a mesh networking platform with a focus on location-based micro-interactions that enables secure and anonymous peer to peer communications for humans, devices, sensors etc.[/box]
Vojer Platform specifically focuses on private, secure, location based micro interactions that do no require network connectivity for users to start having a conversation. The platform allows you to start having conversations simply by having a unique name (which btw you can change later). No registrations, no forms, no phone numbers, no email ids required to get started with using Vojer.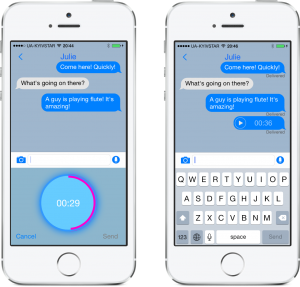 The platform supports service-to-service, robot-to-robot, robot-to-sensor, human-to-sensor, human-to-service, human-to-robot and human-to-human interaction.Basically all those who can interact peer-to-peer and create ad hoc communities can interact using Vojer.
In this ever connected world where there are so many messengers available today.
How is Vojer different ?
Vojer is Location Specific
These days people mix their work and leisure time, employ GTD (Getting Things Done) techniques to manage their time and lot of apps to manage incoming information flows. Vojer interactions are bound to specific people and locations. One interacts with a specific service or a person at a specific place. Once done, the interaction is over and the user can move onto another interaction. Vojer specifically focuses on micro-interactions, while other apps do long-living interactions with one's attention widely spread.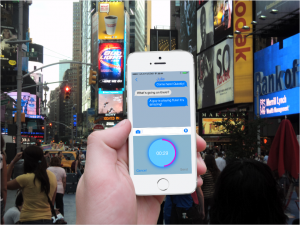 Vojer is Secure
Security and Privacy are becoming more and more important to users these days. Vojer has made all communication encrypted by default. No intermediaries on the way – encrypted messages passed directly between peers. Also all communications on Vojer are anonymous – platform support peers with no signups, registrations or verified accounts.
Being able to work off grid and avoiding mobile carrier networks, public Wi-Fi and any public networking infrastructure provides a great relief to those who are concerned about third-parties controlling those networks as well as monitoring and collecting usage data . Same applies to those customers who need to provide their services at certain locations without public internet due to their security policies.
Vojer is Offline
There are a lot of times that you need to work without data and network coverage. Either because data coverage is not available or is too expensive to use. Areas just outside the city, mountains, national parks have weak or no signal. Sometimes even places within the city such a parking lots or even spots inside your office migth have  no connectivity. When you are in conjusted areas such a music concerts etc, connectivity can be an issue. Since Vojer does not require network or data connectivity for peer to peer communication , Vojer can be used as a communication channel in such places. In times when you are travelling abroad, you need to pay heavy charge for roaming facility. There will be no need to connect with  roaming facility using the Vojer app. Users can use the app directly.

Vojer Releases
The first product on Vojer Platform is Vojer Messenger released in December 2014. Vojer Messenger handles secure and anonymous human-to-human communication enabling them to text, take and share photos and voice messages. The messenger is currently available on iOS platform.
Team Vojer is focusing on specific use cases and targeting a very focused group of users with their Vojer Messenger. The company is currently focusing on business users who need to work with groups for a small amount of time and in a non conneceted space. For example Managers in the oil field, People who work in forest areas, video recordings that happen in distant locations etc.
Growth Plans
Team Vojer plans on creating more such peer to peer messaging applications targeted towards specific group of users. The company is currently not actively looking for funding. Although getting funded at this point in time will help them grow faster.
Demo of the Vojer Messenger
More about Vojer