Following the allegations that short sellers are using predatory practices such as 'Naked shorting' against stocks of AMC Entertainment Holdings, shareholders of AMC are now saying that they suffered huge losses due to different practices of short sellers.
Even though there were rumors of the high rate of naked shorting of AMC shares in the past few months, the shareholders realized it when FTDs (failure to deliver) of shares Increased in an unprecedented manner. A higher FTD of shares of a single company means that stock brokers and traders are engaged in naked shorting.
What is Naked Shorting?
Naked Shorting is a practice followed by short sellers where they open short positions in the market without borrowing any share of that stock in the first place. Such short positions without borrowing actual shares will lead to the creation of 'phantom stocks' in the market, which do not exist.
A higher number of phantom stocks usually ends up harming the liquidity of the shorted asset. Share prices of the stock are also diluted due to the existence of such 'phantom stocks'
Proper short selling happens when a broker lends shares to an investor, and he shorts those shares in the market hoping for a downfall in the prices.
When the broker is giving investors shares that they do not have (also called nonnatural locate), then that leads to Naked Shorting and Phantom shares in the market.
According to Moshe Hurwitz, a fund manager based in Atlanta, nonnatural location is illegal and constitutes fraud. Despite being illegal in the United States, investors use naked shorting as short selling practice by using loopholes in the regulatory systems and discrepancies between paper and system data.
Naked Shorting in AMC Shares
In recent months, failure to deliver data on AMC shares are on a rise without any possible explanation as to why it is happening. According to reports, there were 19 million AMC FTDs (failures to deliver) in December 2022. In June 2022, FTDs of AMC shares touched 9 million in a single trading session.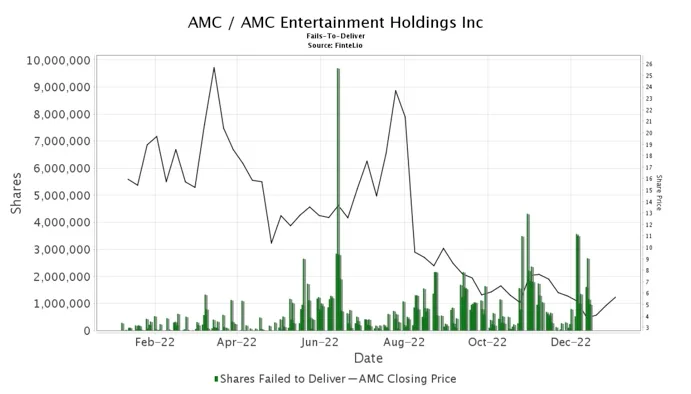 Even though shareholders strongly believe that the naked shorting of AMC stocks is happening at a large level, the top management of AMC Entertainment Holdings Limited has so far not taken any concrete measures to address the issue.
More and more companies are now looking into possibilities of naked shorting of their stock as a high number of phantom stocks could lead to a short squeeze.
A few days ago, Genius group, a micro-cap ed-tech company, appointed a former FBI director to investigate allegedly illegal trades involving its shares. The appointment came after the shares of the company surged by more than 1000 percent in the past few months.